Special Features: Co-create Value for a Sustainable Future
- Initiatives to Achieve Carbon Neutrality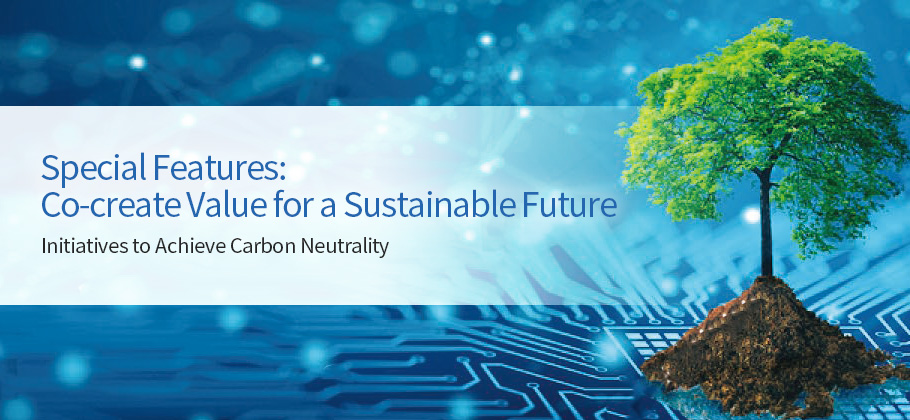 Contribution to the Sustainable Development Goals (SDGs)
Throughout its history, the Daigas Group has operated with the aim of fulfilling its mission to contribute to the good of customers and society.
Since starting to supply gas in 1905, we have striven to provide products and services that can meet the needs of customers and society while keeping in mind our motto of "service first." During that time, we have also shown our strong commitment to developing, researching, and putting into practical use various new technologies that can fulfill customer demand for convenience and energy saving. Moreover, as a corporate group that conducts business mainly in the field of energy, we recognize that the reduction of greenhouse gas (GHG) emissions, which is a key solution to climate change, is one of our most important missions. To achieve a low-carbon or carbon-free society, we have implemented various initiatives, including increasing the use of renewable energy, developing and facilitating the widespread use of state-of-the-art technologies and energy equipment, and encouraging the use of LNG.
In addition, to address natural disasters, which are becoming more numerous by the year, we have adopted measures to protect infrastructure, which is required to function as usual even amid natural disasters, and to prepare for its early recovery. We have thus striven to increase resilience to natural disasters.
The Daigas Group believes that these initiatives will enable us to contribute to the achievement of the Sustainable Development Goals (SDGs).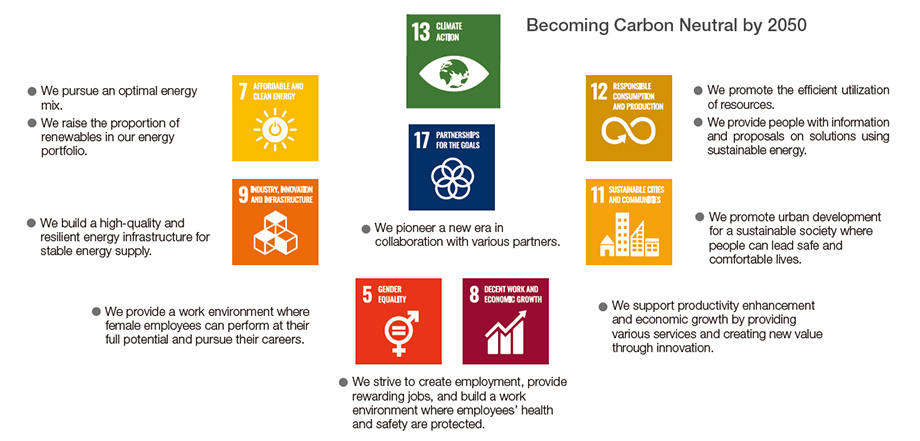 Initiatives to Achieve Carbon Neutrality
The Daigas Group aims to become carbon neutral by 2050 through the decarbonization of city gas through innovations such as methanation and the decarbonization of electricity by increasing the share of renewables in its power generation portfolio.
In addition, because initiatives for the steady reduction of CO2 emissions will be essential in the intervening years, we will pursue contributions to society-wide CO2 emission reduction efforts.
As a way of indicating our initiatives for the realization of a carbon neutral society, we announced our Carbon Neutral Vision in 2021.
Road Map to Carbon Neutrality
We aim to achieve our carbon neutrality goal through our ongoing initiatives including methanation R&D and renewable power generation capacity development and other activities as shown in the road map below.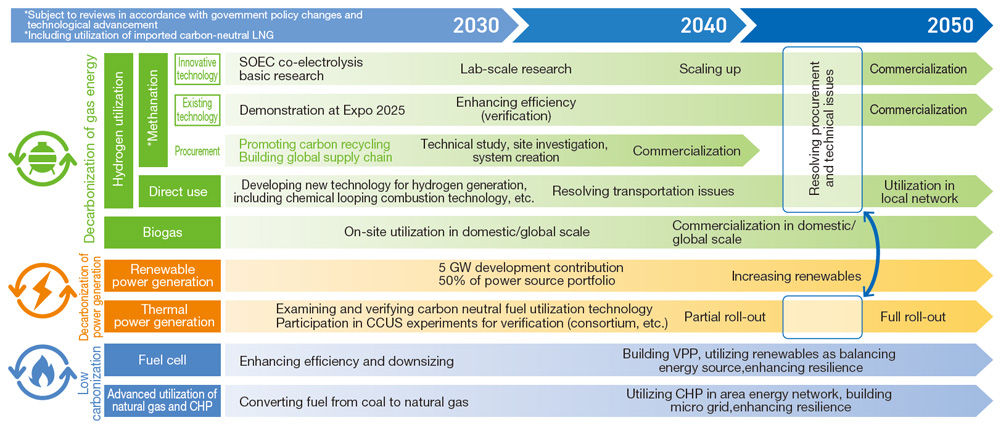 *

Methanation
Methanation is a technology that synthesizes methane, the main component of city gas, from hydrogen and CO

2

.
Synthetic methane has the advantage of being able to use existing city gas infrastructure and gas appliances without changing them, and it can also be deployed in areas where electrification is difficult.
Also, by recycling CO

2

and combining it with hydrogen derived from renewable energies, it will be able to contribute to the carbon neutralization of city gas in the future.
In the Green Growth Strategy and Sixth Strategic Energy Plan announced by the Ministry of Economy, Trade and Industry in collaboration with other relevant ministries and agencies, a target of injecting synthetic methane by 1% into existing infrastructure by 2030 was declared.
Decarbonization of Gas Energy

Decarbonization of Power Generation

Low carbonization