Daigas Group Carbon Neutral Vision
Aiming to Become Carbon Neutral by 2050
The Daigas Group aims to become carbon neutral by 2050. We plan to reach the goal through decarbonization of our gas and electricity by introducing methanation* to generate gas with renewable energy and hydrogen and by increasing the share of renewables in its power generation portfolio. We also announced our "Carbon Neutral Vision" in January 2021 to show our efforts to achieve it.
*

Technology to generate methane using hydrogen and CO

2
Vision for the Future

*1

Including solar, wind, and biomass power projects, which are eligible for the feed-in tariff (FIT) scheme

*2

Equivalent to one third of the CO

2

emissions currently produced in our business and by our customers (33 million tons/year)
Our Energy Business in the Era of Carbon Neutrality
How to achieve carbon neutrality should be flexibly selected in light of progress in energy innovation and changes in social circumstances. We aim to achieve our carbon neutrality goal with a comprehensive approach throughout our supply chain including customers, taking into account future technological advances and economic rationality.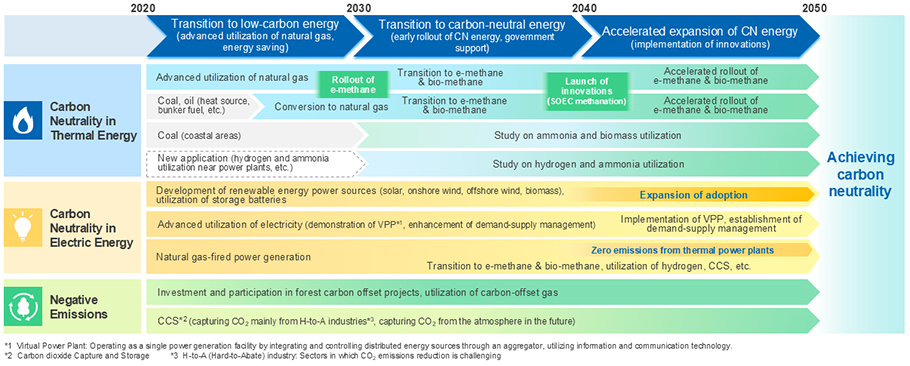 Role of City Gas in Achieving a Carbon-Neutral Society
Heat-based contributions to low carbonization/decarbonization

In the industrial sector that uses coal and oil for technological and economic reasons to generate high-temperature heat, we are promoting CO2 emissions reduction and carbon neutrality through the fuel conversion to natural gas and, in the future, carbon-neutral methane.

City Gas-based energy systems highly compatible with renewables

As renewables are subject to weather conditions, it is important to achieve the best mix between them and decentralized power sources such as CHP and fuel cells that can balance the intermittency of renewables. We are building virtual power plants (VPP) with decentralized power sources aggregated using digital technology to contribute to grid stabilization and further energy conservation.

Enhancing energy resilience

We are committed to contributing to energy resilience enhancement with diverse energy sources as a vital task. This serves as an energy security solution against the risk of increasing natural disasters resulting from climate change and the uncertainty over future technological development to achieve a carbon-neutral society. As one of the diverse energy sources, gas is expected to continue playing an important role.
Road Map to Carbon Neutrality
We aim to achieve our carbon neutrality goal through our ongoing initiatives including methanation R&D and renewable power generation capacity development and other activities as shown in the road map below.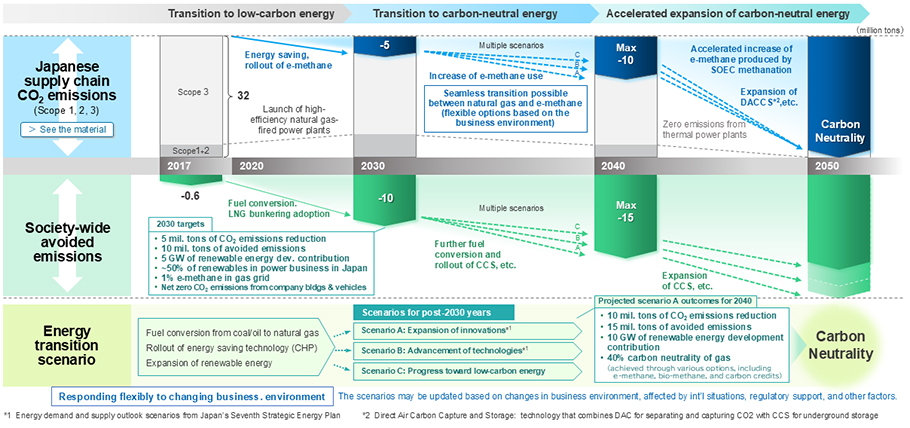 Daigas Group's Efforts
While decarbonization technology is being developed, it is important to reduce CO2 emissions in order to minimize the cost required for achieving a carbon-neutral society using the technology, which would otherwise become considerably highly costly.
We strive to continue reducing CO2 emissions through energy-efficient equipment development and introduction to our customers, fuel conversion from coal to natural gas, and energy management using digital technology.

Becoming carbon neutral requires the reinforcement of power system while maximizing the use of renewable energy. In the meantime, given the trend of Japan's declining population, it is necessary to use existing infrastructure for reducing social costs. These efforts will also ensure energy resilience as well as carbon neutrality.
In this scenario, methanation, a technology to generate gas using renewable energy and hydrogen, can play a key role as a solution to the above by efficiently making heat sources carbon-neutral in area energy networks using existing gas supplying facilities.

▼The figure can be scrolled horizontally.

As a general energy company, we are developing renewable energy power sources. So far, we have installed approximately 700 MW of such power sources including onshore wind, solar, and biomass in Japan and abroad.
As renewable energy development continues to increase its importance in achieving a carbon-neutral society, we are striving to boost renewable energy power generation capacity by building diverse power sources such as offshore wind and geothermal while expanding our business models.

Click for further information
Close Collaborations with Various Partners for Carbon Neutrality
We plan to work in industry-wide and cross-industry alliances and collaboration with the government offices for projects that requires support from relevant parties. Examples of those projects include large-scale carbon recycling, overseas supply chain development, and hydrogen utilization.
Promoting Carbon Recycling
■Exploring carbon recycling with energy business operators and our customers in an extensive range of indastries including steel and chemical.
■Studying specific measures for the efficient capturing of CO2, in collaboration with industrial players.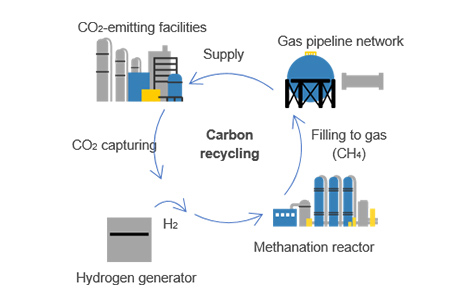 Building an Overseas Supply Chain
■Building a supply chain with the aim of generating carbon-neutral methane abroad for import to Japan.
■Creating alliances with plant manufacturers and trading companies. Collaborate with the government regarding system creation and other matters for imports from overseas.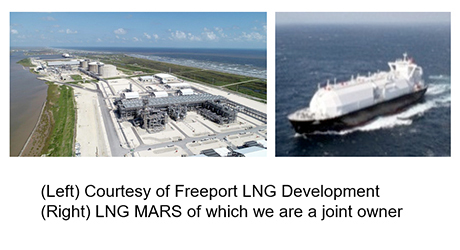 Utilization of Hydrogen and Other Resources
■Promoting the utilization of carbon-neutral fuels such as hydrogen and ammonia at local networks, power plants, and our customers while proceeding with the novel hydrogen generation technology development project on which we are currently working.
■Acquiring technology development information and expanding partnership through consortiums.