Consideration for the Value Chain and Stakeholders
Major Value Chain and Stakeholders
The Daigas Group is responsible for the entire process, from the procurement and transportation of natural gas through city gas production and power generation to the supply* and sale of gas and power, as well as equipment maintenance. The Group is committed to contributing to the good of various stakeholders through a wide range of opportunities.
*

In April 2022, Osaka Gas Network Co., Ltd. took over the city gas pipeline business of Osaka Gas Co., Ltd.
■ Major Value Chain and Stakeholders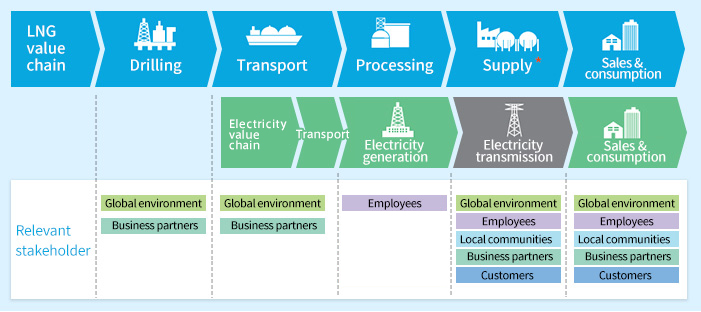 City Gas Value Chain of the Daigas Group
The Daigas Group procures natural gas, which is a stable and environmental energy source, from suppliers outside Japan, and provides the gas to customers.
The Group underpins the safety and peace of mind of customers by procuring natural gas in a stable manner and building a solid security and accident-prevention system. At the same time, the Group has been expanding the scope of its business and enhancing its city gas value chain.
Procurement (mining)
To ensure stable procurement of raw materials, we are working to further diversify our suppliers.
Transportation, production and supply
The Daigas Group supplies city gas through a total of approximately 63,300 km of pipelines (of which approximately 62,800 km are managed by Osaka Gas Network Co., Ltd.) after importing and receiving LNG and gasifying it (processing it into city gas) at domestic processing terminals. For city gas to be delivered to the customers safely and without worry, we are doing our utmost to take safety, security and disaster-prevention measures in each process.
International Energy Business
In our international business, we take part in gas field development and seek out opportunities to participate in new projects in other countries. We are also actively expanding the scope of our business, including expanding our international LNG bases and our energy business in Asia.
Electricity Value Chain of the Daigas Group
Diversity in Power Sources
Osaka Gas is focused mainly on thermal power generation using natural gas, which is a clean energy source with a low environmental impact, in combination with FIT-based generation using photovoltaic, biomass, and wind energy sources.
Furthermore, as an environmentally friendly pricing plan, our customers can now choose a pricing plan (E-ZERO/E-SHARE) that uses an FIT-based power source or power generated by a residential fuel cell, Ene-Farm type S.
■ Composition of electricity sources owned by Osaka Gas and status of use of non-fossil-fuel certificates (in kWh) (based on a power generation plan spanning April 1, 2022, to March 31, 2023)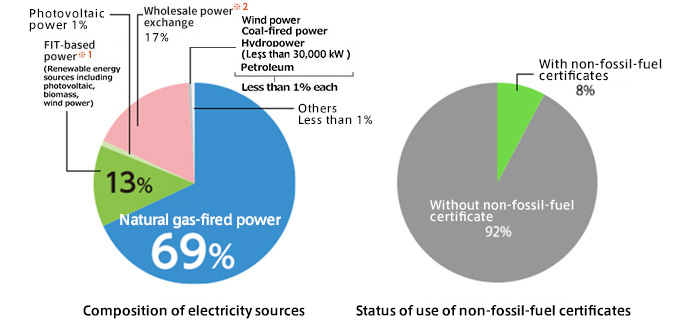 ・Our CO2 emission coefficient (adjusted) for FY2022 is 0.335 kg-CO2/kWh (estimate).
We offer some of our customers a virtually zero CO2 emission pricing plan that combines photovoltaic power/FIT-based power along with non-fossil-fuel certificates, as well as a pricing plan that uses surplus electricity generated by Ene-Farm type S, a residential fuel cell. The composition of power sources of other pricing plans that do not have a specific power source is as shown above.
*1

Part of the cost for us to procure this electricity is covered by the levy collected from all electricity users, including those who are not our customers. The CO

2

emissions of this electricity are treated as having the average CO

2

emissions of electricity nationwide, including thermal power generation.

*2

Electricity traded via this market includes hydrogen power, thermal power, nuclear power, FIT electricity and electricity generated from renewable energy sources.
Power supply mechanism
The Daigas Group began supplying electricity to households and business operators such as restaurants and merchandise shops in April 2016 following full liberalization of the retail power market. The Group provides electricity to its customers, using power transmission and distribution networks operated by Kansai Transmission and Distribution, Inc. or other companies, which means that the service quality and reliability will remain the same as before. The Daigas Group has established a solid electricity supply system whereby power supply will not be suspended even if problems occur at power plants operated by the Group.
■ Flow of Electricity Supply

A representative from the general power distributor (such as Kansai Transmission and Distribution, Inc.) visits customers' residences every four years to inspect household electrical equipment.
Promotion of Activities for Sustainability Together with Business Partners
Osaka Gas's task of delivering city gas to customers cannot be achieved without the cooperation of not only Daigas Group companies but also various business partners. We believe it is necessary for the Daigas Group to control the social and environmental effects that are generated in these business processes in the most responsible manner and in close cooperation with our business partners.
The Daigas Group has formulated the Daigas Group Procurement Policy as a way to fulfill its CSR in procurement activities and has disclosed it together with the Daigas Group Procurement Policy for Suppliers on Osaka Gas's website. New materials suppliers are briefed about the policies before starting business transactions with the Daigas Group. Major suppliers are to be asked to reconfirm the content of the policies during an annual sustainability activity survey as part of our follow-up efforts.
We also conduct questionnaire surveys on sustainability activities, which are answered by LNG suppliers, gas appliance makers and companies involved in the gas business on a consignment basis, including gas service chains and construction companies.
In addition, under our "Green Partner Initiative," our business partners recognized as being active in environmental management are registered as "Green Partners." Suppliers other than those previously covered are now being covered by the initiative. At present, however, other parties are also eligible to register. We will continue to work with our suppliers to fulfill our CSR and aim to promote mutual prosperity along the entire value chain, from LNG drilling to marketing, sales and consumption.
Activities at overseas business bases
Based on the "Daigas Group Code of Business Conduct," Osaka Gas overseas companies have summarized work rules in an "Employee Handbook," which each employee receives, and the companies also ensure that employees become familiar with the content. Through such efforts, employee awareness grows with respect to human rights, work standards, the environment and anti-corruption measures.
Daigas Group Procurement Policy
Procurement Policy in line with the UN Global Compact, etc.
In June 1992, Osaka Gas established the Code of Conduct for Procurement Activities, containing basic policies regarding procurement activities and the CSR Procurement Guidelines, which listed CSR-related requirements for its business partners. In April 2020, these rules were revised into the Daigas Group Procurement Policy and the Daigas Group Procurement Policy for Suppliers so that the Daigas Group could work with suppliers on global social issues. The term "Compliance," put first in both policies, means that in purchasing, employees should act as responsible members of society by following the letter and spirit of all relevant laws, as well as accepted norms and corporate ethics. "Relevant laws" means not only the relevant laws of countries where we do business, but also laws and regulations related to fulfilling corporate social responsibility regarding labor and human rights, including the 10 principles of the UN Global Compact. Among the contents of the Daigas Group Procurement Policy for Suppliers, points to note about efforts for social sustainability, in particular, have been put together into the Daigas Group Procurement Guidelines for Suppliers for easy reference.
Daigas Group Procurement Policy(Established in June 1992; Revised in April 2020)
1. Compliance
2. Open Trading
3. Fair Dealing
4. Contribution to Environmental Conservation
5. Trusting Relationship
Daigas Group Procurement Policy for Suppliers(Established in June 1992; Revised in April 2020)
1. Compliance
2. Quality and Safety Enhancement
3. Fair Price
4. Deadlines
5. Maintenance and After-Sales Service
6. Respect for Human Rights
7. Fair Working Conditions and Respect for Workers' Rights
8. Safe and Healthy Working Environment
9. Contribution to Environmental Conservation
10. Ethical Corporate Management
11. Sound Corporate Management
12. Policy Enforcement System