Medium-Term Management Plan 2023
In March 2021, the Daigas Group formulated and announced the "Daigas Group Medium-Term Management Plan 2023 'Creating Value for a Sustainable Future'" that covers the three years from FY2022.3 to FY2024.3. Under the Medium-Term Management Plan 2023, we have committed to creating "value for a sustainable future" with our stakeholders and achieving further growth as a corporate group that provides value that contributes to solving social issues in order to realize a sustainable society.
Positioning of the Plan and Key Initiatives Therein
Under the Medium-Term Management Plan 2023, we strive to build up momentum for a further growth of our business as a corporate group that provides solutions to achieving a sustainable society, focusing on creating value for a sustainable future with our stakeholders.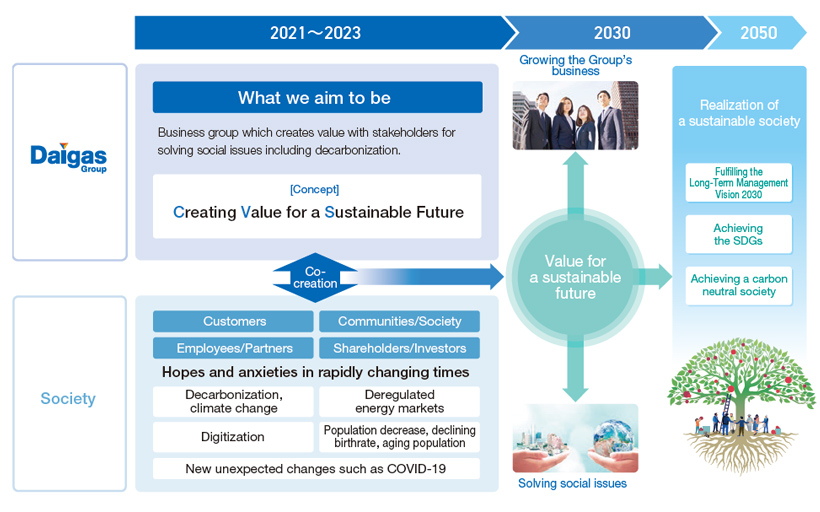 Key strategy
I. Co-create Value for a Sustainable Future
Pursuing the creation of value for solving social issues alongside stakeholders.
II. Evolve Our Corporate Group
Building a robust business portfolio and strengthening the management foundation to support the enhancement of our business portfolio management.
Key initiatives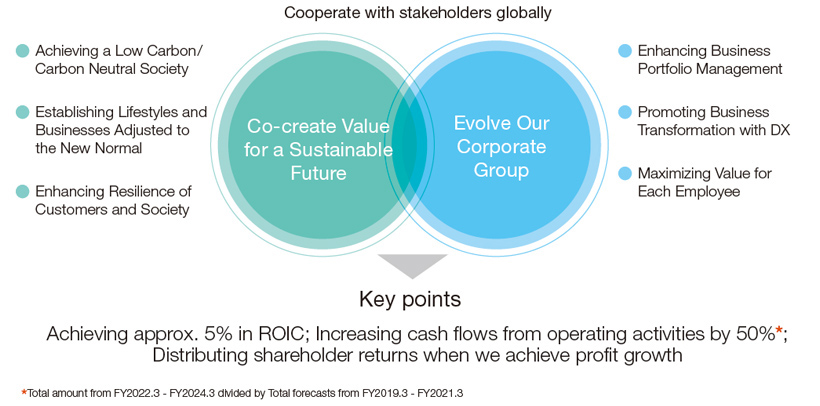 Management Indicators
We aim to enhance our earning capabilities through growth of our existing business and growth by investment and to ensure shareholder returns depending on our profit growth while maintaining our financial soundness. We also strive to achieve growth in each of our business segments, which are Domestic Energy, International Energy, and Life & Business Solutions.

*1

ROIC = NOPAT / Invested capital
NOPAT = Ordinary profit + Interest expenses - Interest income - Income taxes
Invested capital= (Business unit) Working capital + Non-current assets


(Group-wide) Interest-bearing debts + Shareholders' equity (average of the beginning and the end of each fiscal year) Interest-bearing debts excludes risk-free leased liabilities to us.

Excluding temporary impact on Domestic Energy Business (time-lag effect of Gas Business and Electricity Business).

*2

Excluding short-time fluctuation factors that affect profits

*3

Calculated with 50% of issued hybrid bonds as equity

*4

Excluding temporary impact. (Time-lag effect of Gas Business and Electricity Business)
We aim to achieve proper capital allocation to secure sufficient funds for investment and shareholder returns while minimizing external borrowing by enhancing our capabilities to increase cash flows from operational activities as well as replacing our assets.

Daigas Group Charter of Business Conduct and Initiatives to Realize Value for a Sustainable Future
In March 2021, the Daigas Group announced the Daigas Group Medium-Term Management Plan 2023: Creating Value for a Sustainable Future.
In formulating the medium-term management plan, the Group newly identified important aspects (materiality). In identifying materiality, the Group held discussions with the relevant organizations within the Group and extracted medium- to long-term items with an impact on society and the environment, followed by items with future financial impacts on the Group, based on changes in the business environment and social trends related to sustainability. After considering the impacts of each item, material issues concerning the impact on society and the environment were identified with reference to the opinions of outside experts. Based on these processes, the Group's medium-term management plan advocates "creating value for a sustainable future" as it positions the pursuit of value creation for solving social issues and achieving it together with stakeholders as one of its priority strategies.
At the same time, the Group will strive to accelerate ESG management by revising the Group Charter and Code of Conduct and conducting business management that embraces its corporate philosophy system, medium-term management plan, materiality, and key performance indicators (KPIs).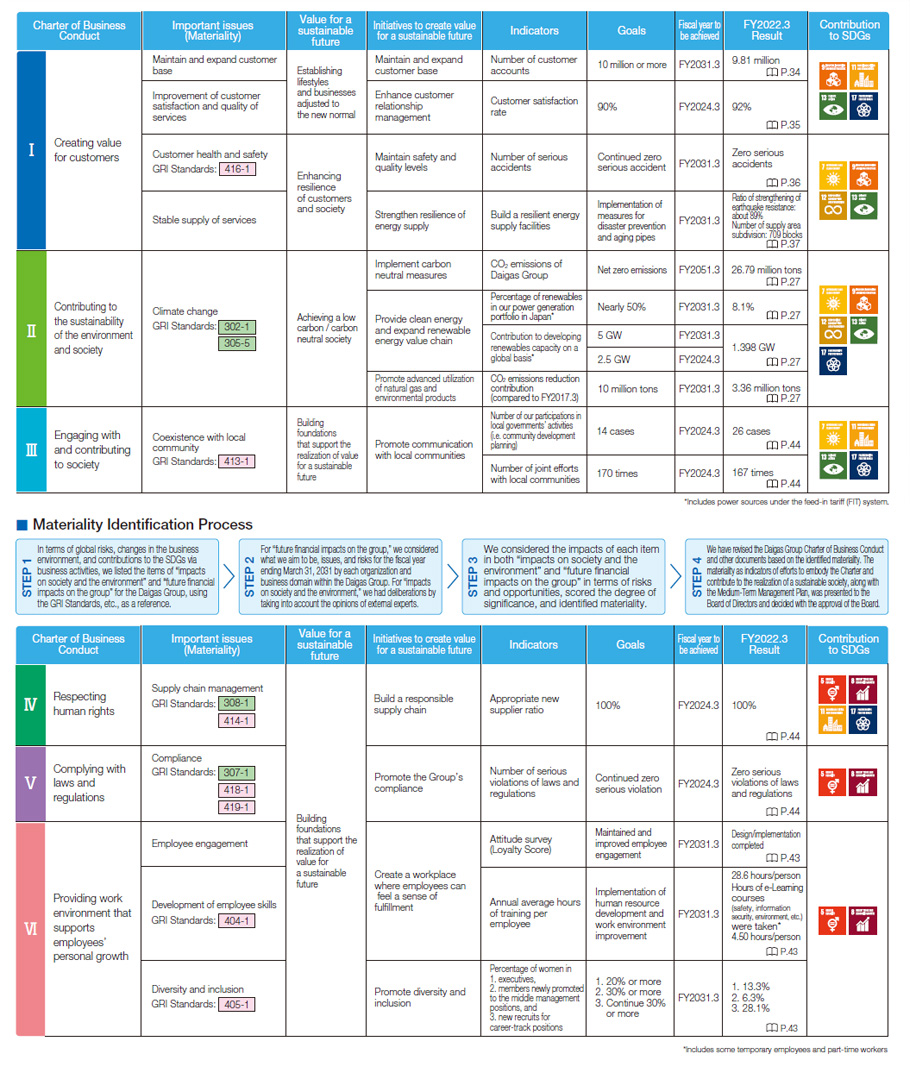 Co-create Value for a Sustainable Future:
Achieving a Low Carbon / Carbon Neutral Society
What we aim to be
As our contribution to achieving a low carbon / carbon neutral society, we strive to become carbon neutral by 2050 through decarbonization of our gas and electricity and through contribution to the reduction of CO2 emissions.
Aiming to become Carbon Neutral by 2050
The Daigas Group aims to become carbon neutral by 2050. We plan to reach the goal through decarbonization of our gas and electricity by introducing methanation to generate gas with renewable energy and hydrogen and by increasing the share of renewables in its power generation portfolio. In the meantime, the Daigas Group set the following targets for 2030 as the milestones for the Group's contribution to the reduction of CO2 emissions throughout society.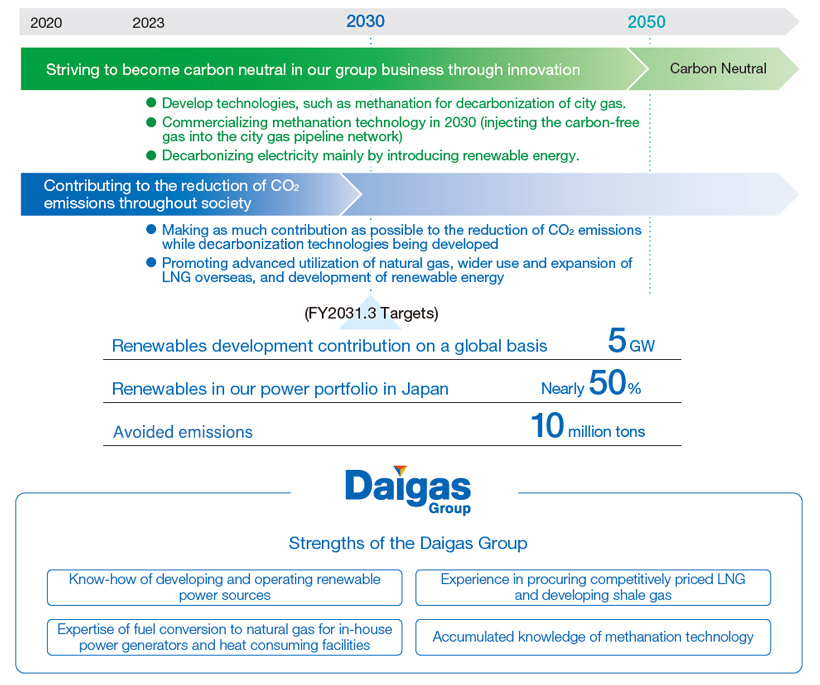 Key initiatives:
Implement carbon neutral measures, provide clean energy and expand renewable energy value chain, promote advanced utilization of natural gas and environmental products
Road map to carbon neutrality
We aim to achieve our carbon neutrality goal through our ongoing initiatives including methanation R&D and renewable power generation capacity development and other activities as shown in the road map below.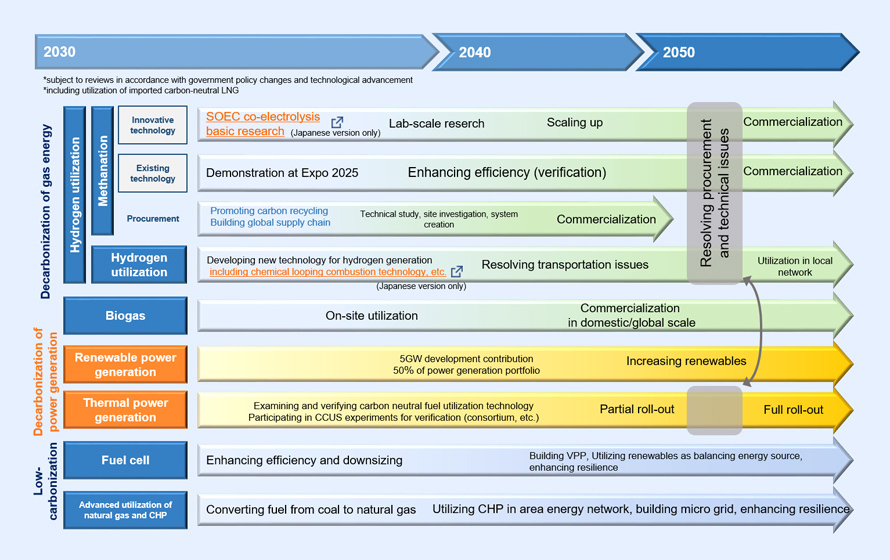 Renewables development contribution on a global basis
Osaka Gas will proceed with developing and holding power sources, and expanding its electric power procurement efforts, aiming for our further target of 5 GW renewables development contribution by FY2031.3.
As of March 31, 2021, the Daigas Group had contributed a total of approximately 1.05 GW to the development of renewables in Japan and overseas.
■ Renewables development contribution*1

*1

Including power projects which are eligible for the feed-in tariff (FIT) scheme

*2

Including power projects under construction and for which decisions have been made

■ Targets for Medium-Term Management Plan 2023
CO
2

emissions reduction contribution
Several initiatives have been taken from FY2018.3 to FY2021.3. These include cryogenic power generation at our LNG terminals, the introduction of renewable energy sources in Japan and high-efficiency thermal power generation in both Japan and abroad, the introduction of fuel cells and gaspowered air conditioning and high-efficiency hot-water heaters at customer sites, and conversion to the use of natural gas as a fuel in both Japan and abroad. These efforts have resulted in a total of approximately 5.60 million tons in CO2 emissions reduction contribution.

We aim to contribute to the reduction of CO2 emissions by 10 million tons* in FY2031.3.
*

Reduction in CO

2

emissions by society and customers (compared with FY2017.3)
Co-create Value for a Sustainable Future:
Establishing Lifestyles and Businesses Adjusted to the New Normal
What we aim to be
We globally provide services as optimal solutions to each customer's adjustment of their lifestyles and businesses to the new normal.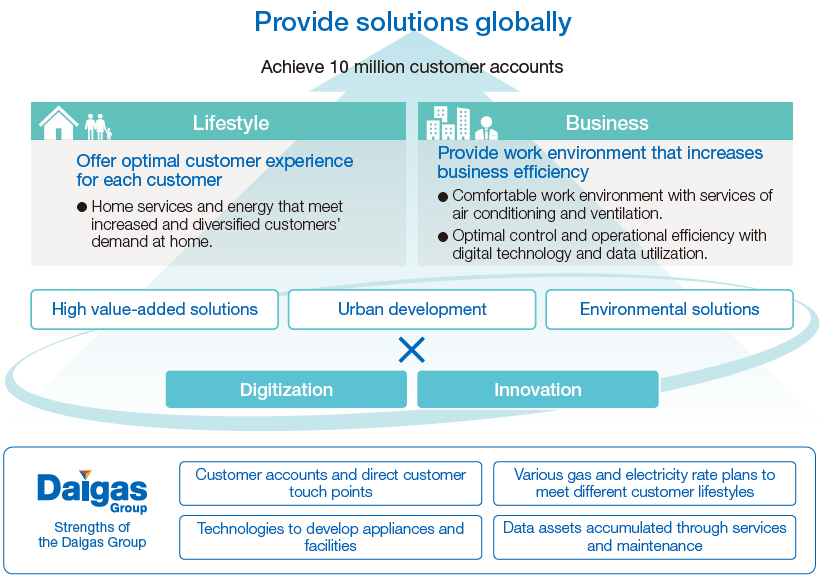 Key Initiatives:
Maintain and expand customer base, and enhance customer relationship management
DX for solutions in the era of new normal
One of the Daigas Group's strengths has been our network of in-person customer contact points based on our approximately 200 service chain partners across our supply area. By combining this real network with digital contact points, we aim to offer a customer experience of the highest quality through an omnichannel strategy, such as offering services at the most appropriate timing for our customers. As part of our efforts to achieve this target, in FY2022.3 we will launch the "Sumai LINK Platform (tentative name)," a life service platform that will enable customers of all generations to digitally access services offered by the Company and our partner companies.

We aim to increase the user base of devices such as the "ENE-FARM" residential fuel cell system in the "Tsunagaru de series" of IoT-compatible gas devices, the "ECO-JOZU" highly energy efficient water heater, and the "Sumapiko" alarm device to 300,000 units by FY2024.3. To that end, we will utilize the strengths of our group companies with unique technology in the digital sphere such as the OGIS-RI Group and Palette Cloud, Inc., while also utilizing the capabilities of the Daigas Group as a group, including coordination with partner companies such as Bitkey Inc. Additionally, we will take steps to grow earnings by offering the expertise we obtain in the course of the above measures to companies outside the Group.
Lifestyle and businesses solutions in the era of the new normal
The Daigas Group has focused on expanding its range of value-added rate plans and its services related to household affairs and residential facilities in a way that suits to customers' lifestyles and needs, such as through the Style Plans and With Plans. Looking ahead, we aim to quickly achieve our target of 10 million customer accounts prior to FY2031.3 by expanding services in new fields.

In our ESP (energy service provider) business, which we also aim to expand, we plan to provide onestop solutions for services better suited to the commercial and industrial customers in the age of the new normal, such as ventilation and air conditioning. For low carbon / carbon neutral needs, we are offering solutions such as D-Solar service and fuel conversion to natural gas for in-house power generation and heat equipment.

In the Osaka Gas Chemicals Group, we will proceed with the establishment of systems for the development of new products of fine materials for the photoelectron materials market, while continuing to develop activated carbon and the wood preservative and coating agent "Xyladecor" as highvalue- added products. Additionally, in the Osaka Gas Urban Development Group, we will promote advanced urban development, including the "Umekita" project near Osaka Station, which is linked to regional and real estate development initiatives on a group-wide basis. In housing development, the group continues increasing the ratio of properties in the Greater Tokyo area through Prime Estate Co., Ltd., its acquired company in Yokohama. Additionally, we have been making efforts to expand into new business domains such as logistics which has been growing in response to the expansion of e-commerce business due to the COVID-19 pandemic. In future, we will continue to create high-quality lifestyles and business environments for customers through real estate solutions that fulfill the needs of customers and society.
International energy business - North America
Wider use of natural gas
In North America, the pillar of the International Energy Business, we are steadily proceeding with projects in which our participation is already decided, including the Freeport LNG Project and the Sabine Shale Gas Project. While steadily proceeding with projects in which our participation is already decided, we aim to create an earnings platform and improve our business promotion by acquiring new projects in production or development. In the USA, there has been increased demand for stable power supply due to factors such as the decommission of aging coal-fired power plants and the expansion of renewable energy sources. Since participating in North American natural gas thermal power plant projects in 2004, we have acquired projects, mainly in the USA northeast including the PJM Market, one of the largest wholesale power markets in the USA. In addition to expanding profit contributions, we have accumulated expertise on power plant operations, including fuel procurement and sales of electric power to the market. We are taking measures to accelerate the accumulation of business expertise by promoting more independent power plant operations, while making further efforts to achieve sustainable growth in the IPP business in North America.
Expansion of renewable energy business
In addition to the investment in solar project developer, SolAmerica Energy, LLC, we will also consider opportunities to participate in renewable energy businesses, an area that is expected to grow significantly in the USA.
Driving business development in North America
We have designated Osaka Gas USA Corporation as our regional headquarters in North America, which is responsible for the business development of the Freeport LNG Project, Sabine Shale Gas Project, and IPP projects, including renewable energy. With Osaka Gas USA Corporation gaining control over the decision making on asset acquisition and replacement with agility, we expect the acceleration of our earnings growth in North America, aiming for a fourfold increase from FY2021.3 to FY2024.3
■ Forecast for Profit* in North America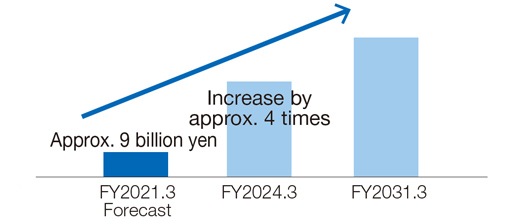 *

Operating profit + Share of profit (loss) of entities accounted for using equity method
International energy business - businesses in Asia, trading, decarbonization
Asia
Scene at onsite survey in Singapore

Southeast Asia, where natural gas demand is expected to grow, is a key region for the Daigas Group. We will steadily grow the natural gas sales business in Singapore and Vietnam and the energy services business in Thailand and Indonesia in which we have already participated. We will also consider expanding new businesses such as participation in projects for LNG terminals and natural gas-fired power plants, as well as renewable energy development projects in collaboration with our local partner companies.
Trading
A natural gas liquefaction project in Texas, USA started from December 2019, which has increased the number of countries with suppliers we source from. We also entered into a new type of procurement where LNG procurement prices are indexed to Henry Hub prices, one of the price indexes for natural gas in the USA, in addition to traditional procurement in which LNG prices are generally linked to the crude oil price. The diversification of price indexation will help stabilize LNG prices when crude oil prices fluctuate. In addition, by investing in liquefaction projects, we will contribute to ensuring pricecompetitive LNG procurement by focusing on the low-cost procurement of the raw materials for gas in the USA market.
We established Osaka Gas Energy Supply and Trading Pte. Ltd., an LNG trading company in Singapore, and aim to reduce costs for energy resource procurement while responding to customer needs through the utilization of the company and our group carrier fleet, and optimization leveraging our diversified procurement portfolio.
Decarbonization
We continue exploring new potential projects and technologies such as CCS/CCUS and hydrogen to capture great opportunities presented by the globally accelerating wave of decarbonization businesses. In addition, we also identifying and responding to the needs for carbon neutral LNG supply.
Co-create Value for a Sustainable Future:
Enhancing Resilience of Customers and Society
What we aim to be
We aim to enhance energy resilience for customers and society by reinforcing gas supply chain infrastructure for stable supply and expanding energy network combined with distributed power sources.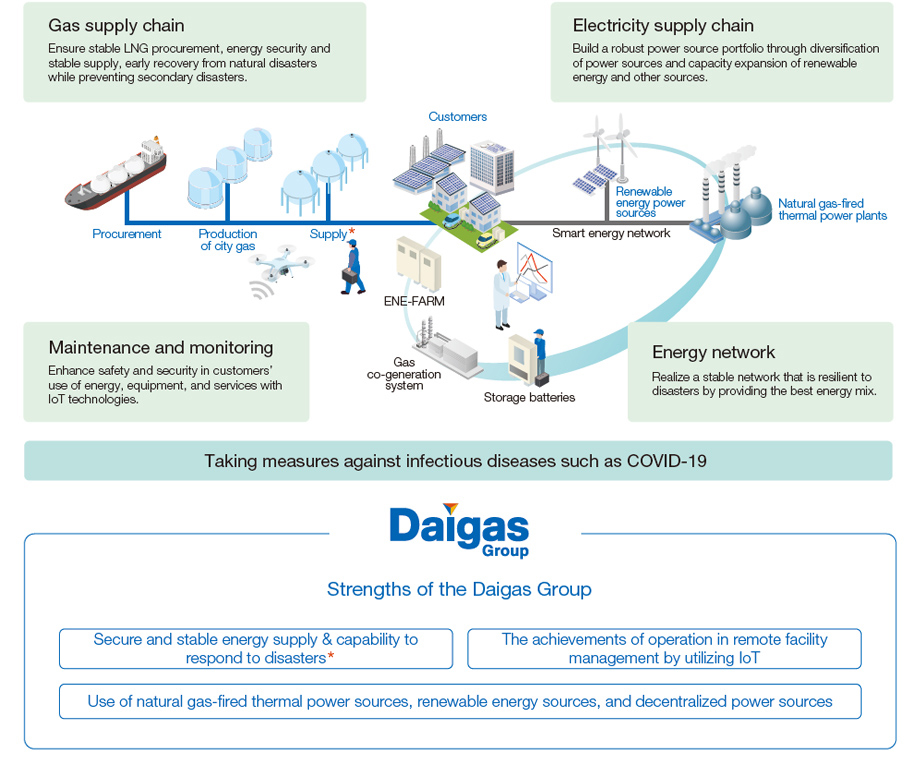 *

In April 2022, Osaka Gas Network Co., Ltd. took over the city gas pipeline business of Osaka Gas Co., Ltd.
Key Initiatives:
Maintain safety and quality levels, and strengthen resilience of energy supply
Pursuit of resiliency and efficiency at LNG terminals, power plants and gas supply networks*
In order to enhance energy resilience, we plan to improve productivity while pursuing safety as a priority. In gas production, we are increasing efficiency and lowering costs by utilizing smart factory technologies for remote monitoring and operation. In our gas pipeline network operation, we are enhancing both security and productivity through digital transformation.

In order to minimize the impact of large scale natural disasters on customers, we are expanding remote operations and strengthening the earthquake resistance of our facilities while ensuring stable energy supply on a daily basis. In the meantime, we are enhancing our post-disaster quick recovery measures and service recovery status visualization system.

*

In April 2022, Osaka Gas Network Co., Ltd. took over the city gas pipeline business of Osaka Gas Co., Ltd.
Distributed power sources to enhance resilience
Residential fuel cells
"ENE-FARM type S"

In light of the expected heightened risk of natural disasters due to climate change and the greater reliance on renewable energy, we need higher levels of resilience and safety of the electric power supply than ever before. We have been already combining renewables and gas cogeneration in specific locations to establish a number of microgrids, where local power supply continues even during an outage. We have been also conducting verification tests on a VPP incorporating 3,600 ENE-FARM units. We plan to further develop projects such as building a new energy network by combining multiple energy sources in view of the shift to a society with decentralized power sources.
Disaster prevention measures (earthquake countermeasures)*
*

In April 2022, Osaka Gas Network Co., Ltd. took over the city gas pipeline business of Osaka Gas Co., Ltd.
Preventive measures
We are advancing efforts to minimize damage caused by earthquakes, such as promoting the spread of intelligent gas meters (residential use) that automatically stop gas when large shakes are detected, and actively adopting polyethylene pipes for lowpressure gas pipes.
Intelligent gas meters

Highly flexible polyethylene pipes
Emergency measures
We are stepping up our preparedness for earthquakes, by dividing the pipeline network into blocks, which enables gas supply suspension only for severely damaged areas, and having in place a Central Control Back-up Center which will take over the Central Control Office of the head office if it is affected.
Segmenting the pipeline network into blocks
Recovery measures
We have stockpiled materials and equipment and carried out system maintenance for post-disaster quick recovery. In addition, a system to visualize the recovery situation provides gas recovery information in an easy-tounderstand manner to customers in areas where gas supply is suspended when a large-scale earthquake occurs.
System to visualize the recovery situation
Evolve Our Corporate Group:
Enhancing Business Portfolio Management
What we aim to be
We plan to evolve into a group of enterprises with a robust business portfolio by promoting each business unit's autonomous growth and optimally allocating resources throughout the Group. We strive to improve our business portfolio management and governance while enhancing profit earning capabilities of each business unit by introducing ROIC.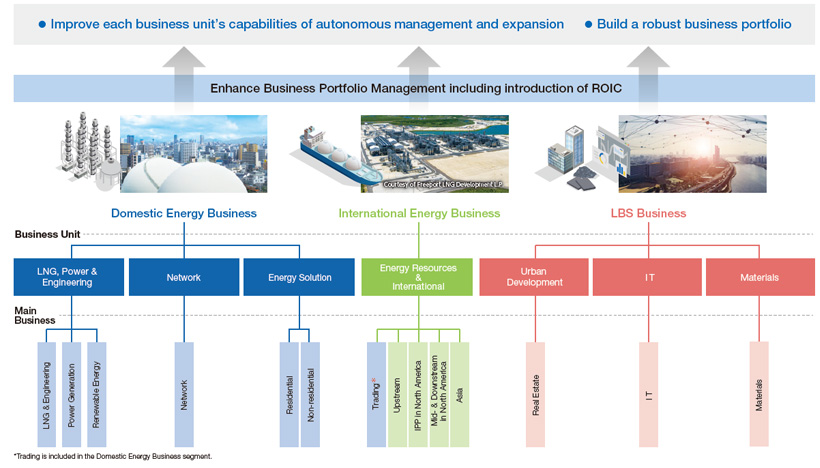 *1

In April 2022, Osaka Gas Network Co., Ltd. took over the city gas pipeline business of Osaka Gas Co., Ltd.

*2

trading is included in the Domestic Energy Business segment.
Enhancing business portfolio
In order to create value for a sustainable future, we need the growth of earnings and capital efficiency of each business unit and a robust portfolio comprising those businesses. Under CVS 2023, we are improving our business management through the introduction of ROIC as a new management indicator, with the aim of boosting the earning capabilities of each business unit with more focus on the balance sheet.
At the same time, we are increasing the business control functions of each business unit, which enhances their flexibility and agility in business operations. We are also introducing more frequent review of our business plan and resource allocation at the group headquarters. These measures are efficiently improving the robustness of our business portfolio while enabling it to quickly adapt to change.

Introduction of ROIC


Evolve Our Corporate Group:
Promoting Business Transformation with DX
What we aim to be
We will proactively leverage digital technology, which is progressing rapidly, for our business, and accelerate innovative service creation, data management evolution, and operational process innovation to continue providing value amid rapid change in society and the working environment as well as changes in customer values. We will launch the DX Committee and the DX Promotion Office for implementing effective and swift digital transformation under the leadership of top management.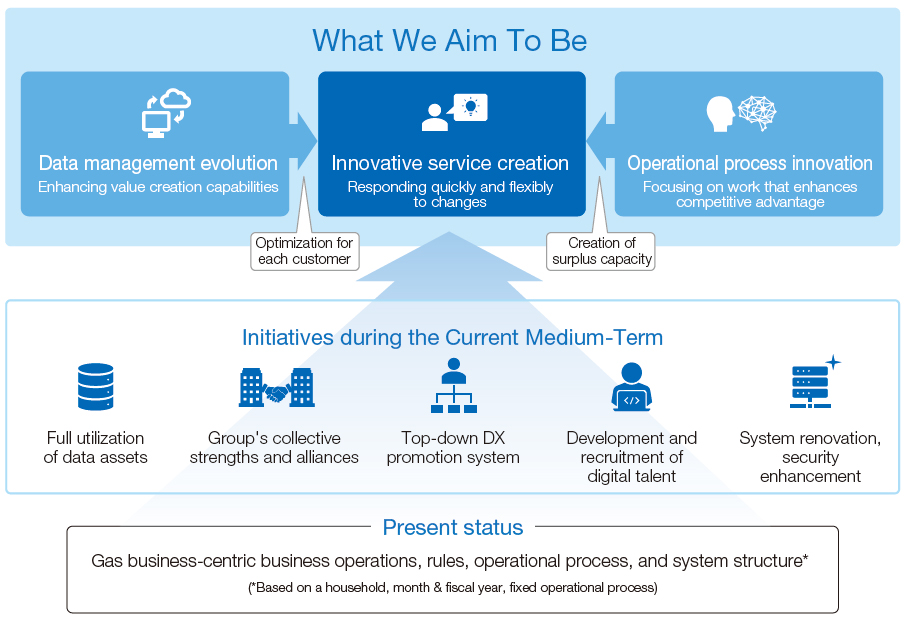 Basic policy
We will change our business operations to enable them to respond rapidly and flexibly to any changes to enhance productivity dramatically to create value sustainably for realizing the Medium-Term Management Plan 2023 and the Long-Term Management Vision 2030. In the new age in which both our customers and services rapidly change, we will aim for transformation of the business itself and for innovation as a corporate group that can keep on changing by revising constantly and flexibly our business model, operations, rules, and systems that used to be taken for granted. In order to make a major transformation to realize our vision, we will work on building a promotion system driven by top management, strengthening human resources development, demonstrating the comprehensive strength of the Daigas Group including OGIS-RI Co., Ltd., and building alliances with our partner companies.
DX promotion system
In addition to DX promotion at each organization for realizing what we aim to be, we established the "DX Committee" and the "DX Promotion Office" in April 2021 to increase our top commitment and to accelerate DX by demonstrating direction, coordination, and support functions from a group-wide perspective. As a group-wide initiative, we will aim for realizing the vision and business transformation.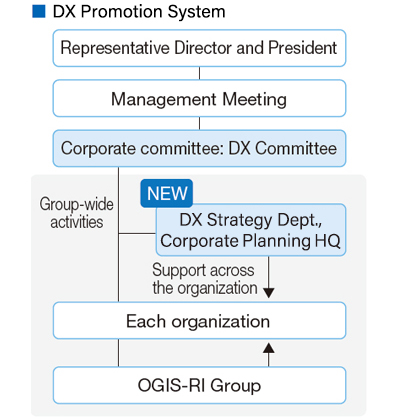 Key initiatives
Practicing innovative service creation
We will offer various services with higher value by incorporating trends and the diverse needs of customers without delay. This does not only refer to the development of new businesses and new services, but also leads to increasing sophistication in existing businesses, resulting in an increase in customer accounts, business opportunities, and net sales as well as raising business operations to the next level. In rapidly changing times, it is important to "accelerate the trial and error cycle". We will acquire skills through practice, innovate the system itself and foster customs and mindsets across the entire Group, which enable the Group to move forward with new initiatives aggressively and quickly.
Data management evolution
The Group has been leading efforts to utilize data, placing "Business Analysis Center" at its core. In the future, utilizing valuable assets such as data as our strengths is the key to value creation and growth strengths. For example, if we can catch customer's needs from data, we can offer services optimized for each customer. We will continue to create new value in customer experiences and our supply chain by developing our initiatives in the past and evolving data management further.
Operational process innovation
We will thoroughly review our internal operations from "the perspective of customers," not from an internal point of view. We will also focus on merging and abolishing operations as well as standardizing and aggregating different procedural operations among organizations to broadly redesign the entire operational process. Furthermore, the workload for remaining operations will be reduced with digital technologies such as AI and RPA. Through these transformations, Group employees will be able to generate extra power to work on more nonroutine and discretionary operations as well as operations that require higher expertise and judgment in a pleasant working environment. This will allow employees to devote more energy to providing better value to customers.
Human resources development
We will enhance programs in sequence by leveraging the knowledge on the development of human resources that can utilize data, an effort that we have been making proactively for years while accumulating expertise on creating innovative services and drastic transformation on operational processes. In addition, we will provide a wide range of experience and practical chances for employees of various ages and positions, including "TORCH," a program for new business creation for young employees, training schemes for executives and manager-level employees and new business development collaborated with venture capitals. Furthermore, we will help employees grow by providing them feedback on upskilling through these programs.
Evolve Our Corporate Group:
Maximizing Value for Each Employee
What we aim to be
We intend to build an organization with diverse talent and ways of work where employees can achieve personal growth through challenging tasks and feel a sense of fulfillment through social issue resolution.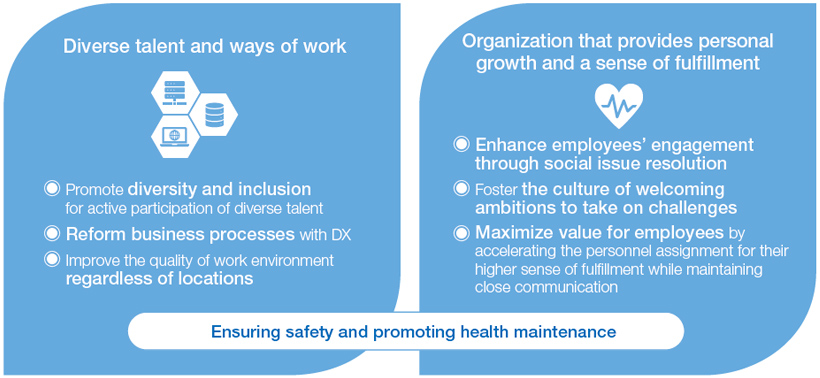 Promotion policy
The Daigas Group is committed to promoting diversity, equal opportunity, and inclusion in the organization in order to be a corporate group with diverse talent that continues creating new types of value.
We aim to be a group of enterprises that provide a work environment that values uniqueness of each employee, tolerates no discrimination, acknowledges employee diversity including gender, age, physical disabilities, nationalities, form of employment, lifestyles*1, religions, sexual orientation*2, and gender identity*3.
We provide support in realizing highly productive way of working and suitable work-life balance for each employee as a basis for them to pursue their career opportunities.
*1

Lifestyles: Working styles that meet the needs required in one's various life stages such as raising children and caring for family members.

*2

Sexual orientation: The tendency of sexual attraction, such as homosexuality, heterosexuality, bisexuality.

*3

Gender identity: Self-recognition of gender where one belongs to, including transgender.
Diversity promotion system
In 2013, the Daigas Group established the "Diversity Promotion Center" within the Human Resources Department of Osaka Gas as a specialized department for promoting diversity. We proceeded to formulate the "Diversity Promotion Policy" in 2014, and have taken an active approach toward this policy by including it in the Long-term Management Vision announced in 2017.
The targets set forth in the policy are linked to the materiality "Diversity and Inclusion." Progress we have made on achieving these targets is reported at the ESG Council every year, and relevant activities are, in principle, reported monthly to executives through direct distribution or by being posted on the Group portal site. Items related to promoting diversity are also included in the Daigas Group's Employee Attitude Survey* to ascertain the extent to which this sentiment has diffused throughout the entire Group.
*

Daigas Group's Employee Attitude Survey: A survey conducted annually to confirm changes over time in the attitudes of Group employees.
Key initiatives
Promoting diversity, equal opportunity and inclusion
With a wide variety of business development and innovation, the Group strives to contribute to the comfortable living of customers and business growth through new value creation that corresponds to the times. In order to achieve these goals, we are working on hiring and developing a variety of human resources that are active in Japan and overseas.

In addition, we aim to become a company at which all employees can find not just employment but also personal growth through their work. We have introduced careercourse- specific human resources systems designed to respect and put to full use the individuality and autonomy of employees, and we have been conducting a wide range of training.
Osaka Gas, for example, has introduced an employee evaluation system that is highly objective and a structure that allows employees to develop their careers voluntarily by offering a program to develop employees who can play active roles globally and Management by Objectives (MBO).

[Major Initiatives]

・Overseas business training systems
・Studying-abroad programs
・Provision of human resources development menu to the Group
Also, we believe that it is essential for all Group employees to share the understanding that diversity is a management strategy and we have made various efforts such as arranging a forum for child rearing employees to participate in together with their supervisors, providing diversity training for all employees, and holding the Diversity Promotion Forum.
[Major Initiatives]
・Child Rearing Employee + Supervisor Forum
・Diversity promotion training for all employees
・Holding a Diversity Promotion Forum
・Extensive information provision through Group portal site and online newsletters
・Holding luncheon meetings on all sorts of themes
Child Rearing Employee + Supervisor Forum

[Major Activities] Raising awareness in Osaka Gas employees

In order to raise awareness of diversity promotion, we believe that it is important for male employees to understand and participate in childcare, and in addition to our system allowing employees to take childcare leave, we have set up an original method of providing paid leave we call "nurturing leave*" as our system for providing support. About 90% of all eligible employees take nurturing leave, and more than 80% of this population are male employees. As for childcare leave, the number of male employees who take childcare leave is gradually increasing, and male employees are becoming more aware of childcare and participating in more active roles.
■ Number of Employees Taking Childcare-related Leave System (persons)
FY2017.3
FY2018.3
FY2019.3
FY2020.3
FY2021.3
Male employees who took childcare leave
1
4
5
14
17
Employees who took nurturing leave (Rate)
168
(76.7%)
198
(88.8%)
201
(84.1%)
201
(93.1%)
111
(93.3%)
Of which, male employees
149
172
178
172
97
*

Osaka Gas's original system for providing paid leave. Employees can take one day off within the first 3 months after a child's birth.
Initiatives to Ensure Safety and Promote Health Maintenance
Convinced that ensuring employees' safety and maintaining/ improving their physical and mental well-being are keys to all our operations, the Group has been undertaking efforts to treat and prevent employees' diseases. In 1975, we raised "promoting fitness" in our management policy and established the Osaka Gas Health Development Center. Since then, the Company and Group companies have been working on thorough health checkups and individual health guidance by health care professionals.
Based on the idea that being healthy for an entire lifetime has great significance not only for employees but also for society, we put together our attitude for Kenkou Keiei* (employee health management), which we described in the "Daigas Group Corporate Principles," the "Daigas Group Charter of Business Conduct," and the "Daigas Group Code of Business Conduct," into the "Daigas Group Declaration of Health and Productivity Management" in March 2021.
In addition, in order to create a workplace where employees can work safely, based on the idea that ensuring safety and maintaining and improving physical and mental well-being are key to all operations, we declared in the "Daigas Group Code of Business Conduct" that we will prevent work accidents and promote fitness.
*

Kenkou Keiei® is a registered trademark of Nonprofit Organization Kenkokeiei.
Daigas Group Declaration of Health and Productivity Management
The Daigas Group believes that we can create value that meets the expectations of customers, society, shareholders and employees by ensuring that our employees stay healthy both mentally and physically, and fully exercise their abilities, individuality and initiative, and thereby remain motivated and satisfied with their jobs.
The Daigas group will work as one to maintain and improve the health of employees and create a vibrant workplace filled with people who are mentally and physically energetic, with the aim of becoming a corporate group that powers continuous advancement in customer and business life.