Establishing Lifestyles and Businesses Adjusted to the New Normal
We aim to utilize the Daigas Group's strengths in solutions and innovation and create value together with stakeholders, thereby establishing new lifestyles and businesses adjusted to the new normal.
Holding "Internet-based Promotion Campaign" Allowing People to Participate Online from Their Own Homes
In anticipation of the age of COVID-19 and even afterward, the Daigas Group has focused on creating opportunities for new contact points with customers. In 1955, we began holding our annual promotion campaign, an exhibition event for customers using the Company's gas. Now, we hold this campaign every year in approximately 100 event spaces in commercial facilities and other venues, with total attendants numbering over 400,000 people. We adopted an online format for the first time in FY2021.3 as the 66th year holding this campaign. We provided a variety of content, including introductions to products and services by video, etc., as well as a lottery that customers could apply for online.
This format enabled customers to participate from anywhere at any time that suits them. As a result, a total of over 400,000 customers participated in the lottery.
Additionally, we also implemented our new social contribution program "Tsunagaru Project" at the campaign. The project is an initiative in which we donate 10 yen per lottery entrant to an eligible NPO as aid money. As a result, we donated a total of approximately 4.07 million yen to 10 organizations.
We will offer enduring support for the lives of our customers directly facing environmental changes, and vigorously and continuously develop new solutions and services based on digital technology that fulfill customers' expectations.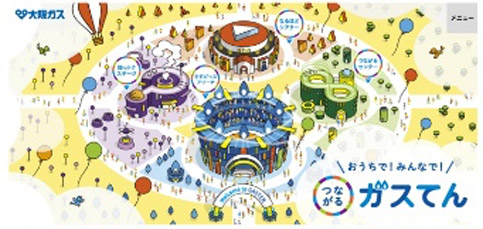 "D-Solar" - a Solar Power Generation Service for Private Consumption*
In June 2020, we released "D-Solar," a solar power generation service for private consumption as part of the Daigas Group's efforts to achieve a decarbonized society. In this service, we install solar power generation systems on the rooves of our customers' facilities and supply the electric power generated to the customers, enabling customers to "reduce CO2 emissions" and "strengthen BCP measures" with zero initial investment. The electric power generated by these solar power generation systems has zero CO2 emissions. Additionally, in the event of power outage, the solar power generation systems can secure power source during the daytime, and thereby allow businesses to continue and resume activities early.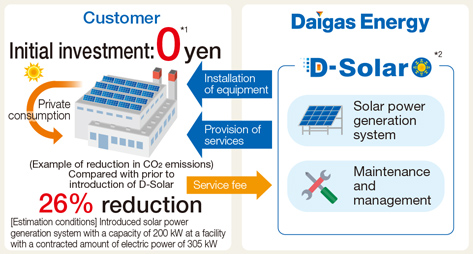 *1

"Initial investment" here refers to construction-related expenses associated with the introduction of D-Solar (construction fees, equipment fees, design and technical expenses, etc.). There may be separate expenses associated with revenue stamps depending on the amount of the contract, structural calculations to assess whether it is possible to install solar panels on the building, etc.

*2

Prescribed screening is required when entering into contracts.
"D-Aqua," a One-stop Water Treatment Service*
In response to recent growth in demand among customers for solutions that address environmental issues, the Daigas Group entered into a business alliance with Miura Co., Ltd. and Aquas Corporation with the aim of creating a one-stop service by enhancing maintenance services in water treatment services and expanding our range of products. Looking ahead, we have renamed our water treatment services to "D-Aqua," and will strive to further improve the service. We will provide our customers with a one-stop service for utilities as a whole, including the use of well water and industrial water, as well as wastewater treatment through our partnership with these two companies in addition to technology for addressing energy and environmental issues.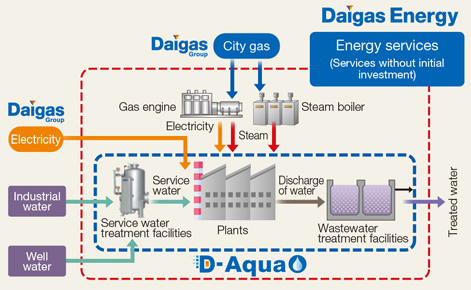 *

""series: Products and services offered by Daigas Energy Co., Ltd., a wholly owned subsidiary of Osaka Gas. These products and services contribute to (1) Digitalization, (2) Decarbonization, and (3) Decentralization.