Achieving a Low Carbon / Carbon Neutral Society
We will utilize the technical capabilities and business expertise that we have developed as a group over many years to create value together with our various stakeholders, and thereby achieve a low carbon / carbon neutral society.
Succeeded in Prototyping a New Type of SOEC, a Key Technology to Realize "Innovative Methanation," Which Contributes to Decarbonization of City Gas
We have been conducting basic research on highly efficient and innovative methanation*1 technology, a promising technology for the decarbonization of city gas, and have succeeded for the first time in Japan in prototyping a practical-sized cell used for a new type of SOEC*2, which is the key to realizing this technology. We believe that this technology will have potential uses not just for the decarbonization of city gas, but also for the efficient manufacturing of carbon neutral fuels such as hydrogen and synthetic liquid fuels, and other substances. Accordingly, we will accelerate our research and development efforts through industry-government-academia collaboration, and alliances with various business partners, as we aim to establish this technology around 2030.
*1

Methanation is a technology using hydrogen (H2) and carbon dioxide (CO

2

), instead of natural gas, to generate methane.

*2

Solid Oxide Electrolysis Cell: An electrolysis element that uses solid oxides. Electrolysis is performed on steam and CO

2

at high temperatures.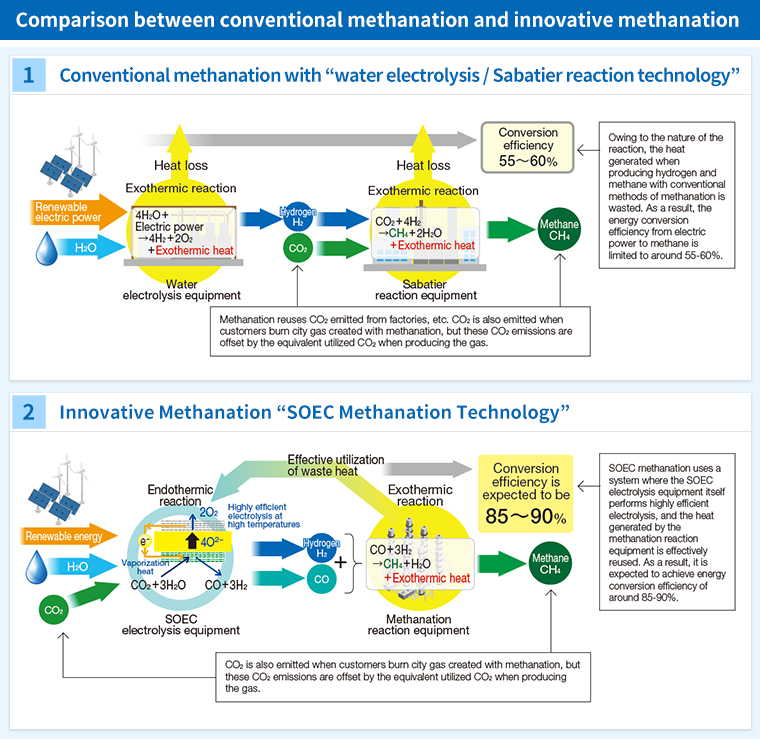 Working with Various Stakeholders to Contribute to the Development of Renewables
In FY2021.3, we endeavored to contribute to the development of renewables by collaborating with various stakeholders. In terms of developing power sources, we acquired a solar power plant by investing in D&D Solar GK, which was established to hold solar power asset, together with Development Bank of Japan Inc. Additionally, we also focused on developing various power sources, including joint investment in an onshore wind power project and participation in a biomass power project.
With regard to procuring electric power, we entered into a bilateral contract with West Holdings Corporation for the long-term procurement of electricity generated at thousands of small-scale solar power facilities to be developed by West HD in FY2022.3.
■ Development of renewables (main projects since 2020)