Activities for Promoting Communication with Society
Aspects Determined as Materiality
Principle and Outline
The Daigas Group operates in a business that is rooted in communities, and we could not succeed in our business in the absence of good relations with local residents. To help local residents better understand our business, we are pro-actively disclosing information and increasing the transparency of our company operations, as well as communicating with the general public.
We are also helping to foster the next generation by utilizing the resources that the Group has garnered in its business activities to offer education on energy, the environment, food, fire and disaster prevention.
Communication with the Next Generation
Energy and environment education
Energy and environment education program
"Rethinking Lifestyles to Make Them More Earth-friendly" class

The Daigas Group employees and alumni traveled to elementary, junior and senior high schools to teach lessons on energy and the environment in order to help children think about and understand increasingly important environmental issues. Osaka Gas instructors tour about 180 schools a year to offer two programs, including Eco-Cooking. In FY2021, a total of 260 teaching sessions were held, in which 7,616 elementary school and junior high school students participated.

In addition, Osaka Gas runs the Gas Science Museum (located on the premises of the Senboku LNG Terminal) where visitors can learn about energy and the environment.
■ "Energy and Environment Education" Total Track Record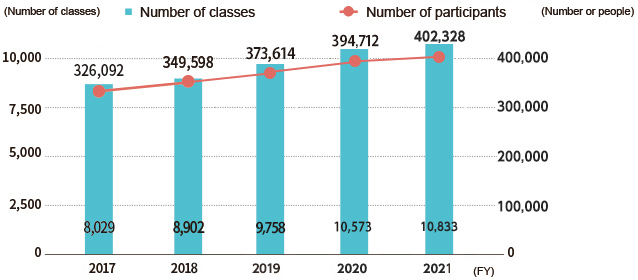 Biodiversity education
Fire education and disaster response education
Left: Upper elementary school teaching materials (A4, 40 pages, full color)
Right: Teacher handbook (with worksheets, and supplementary teaching materials for the class, A4, 40 pages, full color)

"Lessons in Disaster Response," in which children learn in a workshop format how their lives can change during a disaster and useful knowledge for disaster preparedness

The Daigas group has developed two fire education programs for children—one workshop style and one classroom style. The aims are to teach children how to start and manage a fire safely and how to cook with flames. By giving children the chance to learn about fire and become familiar with it physically, they will be enriched and develop greater hardiness.

In response to the increased need for disaster response education following the Tohoku earthquake and tsunami of 2011, we created an original textbook for an upper elementary school on the theme of disaster response—Lessons in Disaster Response—that we distribute to local elementary schools (a revised version was issued in January 2020). The textbook teaches children about natural disasters in Japan. While studying it, children take a workshop designed to impart useful knowledge about the changes that take place in people's lives when a disaster strikes. The textbook also contains a checklist of items to prepare and things to do at home to prepare for emergencies. Over a period of seven years, the textbook has been used widely—at junior high schools, high schools, and universities, as well as by local governments and local residents' associations. Over 180,000 textbooks in total have been distributed.

In 2020, videos created based on the textbook were uploaded to our website.
Food education
Left: For late elementary grades (A4, 32 pages, full color)
Right: Teachers' guide (with worksheets, A4-sized, 64 pages, single color)

The Daigas Group also engages in food education. We hold food education seminars and workshops for schools and childcare providers and produce and distribute the Food Education Book, a teaching text for elementary schools (280,000 copies distributed since 2008). We have developed a Japanese Soup Stock Workshop for teaching Kansai-area cooking flavor/culture, as well as a wide range of cooking workshops in collaboration with local universities and governments on the themes of local production for local consumption and food and health. We also hold a Kinki region contest of the "With Gas National Parent-Child Cooking Contest."
The "Japanese Soup Stock Workshop" was first held in FY2018 as a new area-based, workshop-style traveling program to pass on Japanese-soup-stock-based healthy and rich food culture to the next generation. As of March 31, 2021, 34,216 people had attended 1,041 workshops.

In FY2021, under the influence of COVID-19, we made available on our website cooking videos for elementary school students as well as videos of the food education seminars held for schools and childcare providers.

We plan to continue hosting such food education activities together with local communities as an ongoing initiative.

Elementary school visiting class on how to make soup stock, which aims to contribute to improving children's eating habits
Participation in Society
Direct exchange of opinions between representatives of consumer groups and management
In order to incorporate the views of as many people as possible to improve business and operations, Osaka Gas creates opportunities to gather the opinions of people, such as members of consumer groups.
Once a year, there is a direct exchange of opinions between Osaka Gas's management and representatives of the Kansai Consumer's Association Liaison Commission, an organization of local consumer groups throughout the Kansai region. This exchange has been taking place for over 30 years, beginning in 1986. At the meeting in FY2021, Osaka Gas reported Daigas Group's efforts in response to the COVID-19 pandemic. Specifically, we presented infection prevention measures taken by service shops and those engaged in safety-related duties, as well as consumer response activities and social support activities, related to COVID-19. The Kyoto Consumer Cooperative presented its business activities and food drive activities.
On a regular basis, Osaka Gas actively conducts educational activities, targeting consumer groups and consumer centers. In FY2021, we gave a lecture on the "Selection of Energy Resources Leading to Ethical Consumption" at a symposium sponsored by the Consumer Affairs Agency.
We will also continue to undertake public relations activities as part of our efforts to promote consumer-oriented business operations.
Participation in business/industry groups
Osaka Gas has joined the following business/industry groups as a member to work with other companies in improving and solving social issues and problems.
Membership of professional institutions
・Osaka Chamber of Commerce and Industry (Hiroshi Ozaki, Advisor to Osaka Gas, has been serving as the President of the Osaka Chamber of Commerce and Industry since December 2015.)
・Kansai Economic Federation
・Kansai Association of Corporate Executives
・Japan Business Federation
・Japan Gas Association (Takehiro Honjo, Chairman of Osaka Gas, has been serving as the Chairperson of the Japan Gas Association since April 2021.)