Engaging with and Contributing to Society (Charter Ⅲ)
We act in accordance with the Daigas Group Charter of Business Conduct to contribute to the realization of a sustainable society.
■ Materiality of Charter Ⅲ
Charter of Business Conduct
Important Issues (Materiality)
Value for a sustainable future
Initiatives to create value for a sustainable future
Indicators
Goals
Fiscal Year to be achieved
Ⅲ
Engaging with and contributing to society
Coexistence with local community
Building foundations that support the realization of value for a sustainable future
Promote communication with local communities
Number of our participations in local governments' activities (i.e. community development planning)
14 cases
FY2024.3
Number of joint efforts with local communities
170 times
FY2024.3
Co-Creation with Local Communities (FY2022)
Materiality Indicators
Management Approach
Why the topic is material
The Daigas Group operates a business that is rooted in and supported by local communities. We believe that our various contributions to local communities will lead to a virtuous cycle leading to the development of both the Group and society.
Boundary
Within and beyond the Group
Management systems and performance
Indicator (GRI Standards: 413-1)
Communication with local communities (Number of local government projects participated in (community development plans, etc.), number of joint efforts with local communities on creating value)
Commitment
Based on the "Daigas Group Code of Business Conduct" and the fact that, as a member of society, we care about the issues faced by society, we strive to revitalize the community by contributing to urban/community development concepts as well as co-creating with stakeholders.
(International and domestic standards)
(In-house policy and standards)
・Daigas Group Code of Business Conduct
■ Social Contribution Promotion structure
Responsibilities
Under the ESG Committee, the Social Contribution Subcommittee deliberates and reports on cross-sectoral social contribution activities within the Daigas Group. Organizations in charge of promoting co-creation with local communities formulate wide-area activity plans, while each business site implements various initiatives, taking advantage of local networks.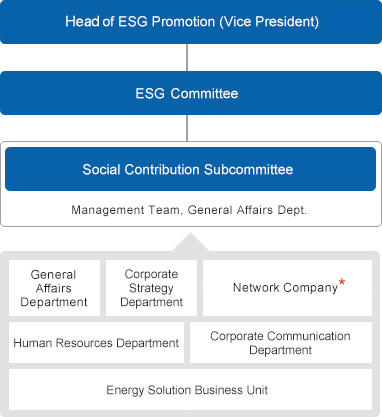 *

Effective April 2022, Osaka Gas Network Co., Ltd. was incorporated as a result of the legal separation of Network Company, the former pipeline business unit of Osaka Gas.
Performance
To be reported in FY2023.
Specific actions taken regarding materiality
To be reported in FY2023.