Complying with Laws and Regulations (Charter V)
We act in accordance with the Daigas Group Charter of Business Conduct to contribute to the realization of a sustainable society.
■ Materiality of Charter Ⅴ
Important Issues (Materiality)
Value for a sustainable future
Initiatives to create value for a sustainable future
Indicators
Targets
FY2022
Results
Fiscal year to be achieved

Compliance
Building foundations that support the realization of value for a sustainable future
Promote the Group's compliance
Number of serious violations of laws and regulations
Continued zero serious violation
Zero serious violation
2024.3
Compliance (FY2022)
Materiality Indicators
Management Approach
Why the topic is material
The Daigas Group's view on compliance is that it entails sensible corporate activities based on sound ethics with a particular focus on observing laws and regulations. To maintain the trust of stakeholders, it is vital to ensure that our directors, officers, and employees uphold compliance.
Boundary
Management systems and performance
Indicator (GRI Standards: 307-1, 418-1, 419-1)
Promotion of compliance by the Group (Number of serious breaches of laws and regulations)
Commitment
The Daigas Group is committed to fulfilling its social responsibility in line with the Daigas Group Code of Business Conduct, revised in accordance with the United Nations Global Compact. The Code forms the basis of the Group's other internal rules. The Group's directors, officers, and employees also comply with the laws and regulations related to each of their operations.
(International and domestic standards)
・U.N. Global Compact
・Universal Declaration of Human Rights
・Unfair Competition Prevention Act
(In-house policy and standards)
・Daigas Group Code of Business Conduct
・Board of Directors Rules
・Internal Audit Rules
・Rules for Personal Information Protection
・Privacy Policy (on the handling of information of customers and shareholders)
Responsibilities
The Daigas Group has established "Compliance / Risk Management Subcommittees" under the "ESG Committee," in order to consider cross-organizational measures and share information, etc. The Compliance Office in the General Affairs Department promotes compliance across the Daigas Group as a whole, and we have also selected "Heads of Compliance" at each Business Unit, Company,* and Core Affiliate, as well as "Compliance coordinators" and "staff who serve as key personnel in the compliance efforts" at each organization of Osaka Gas and each affiliate, as part of efforts to enhance compliance across the Daigas Group as a whole.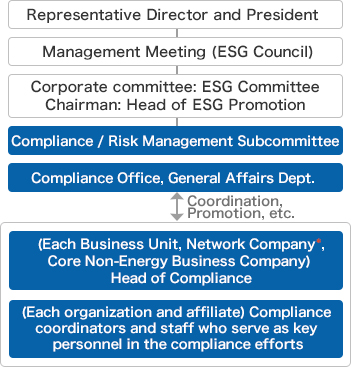 *

Spun off into Osaka Gas Network Co., Ltd. in April 2022.
Performance
There were no serious violations of laws and regulations in FY2022 in our group. We will continue to promote compliance with laws and regulations.
Specific actions taken regarding materiality
Recognizing that every member of management and employee is the key to ensuring compliance with laws and regulations, we are continually conducting training sessions and employee surveys to raise awareness. According to the results of the awareness survey in FY2022, employees' recognition and understanding of our corporate philosophy, Charter of Conduct, and Code of Conduct has improved, and we will continue our efforts to promote compliance through activities to disseminate them to our employees.