Sustainability Promotion System
and Management
Promoting Sustainability in the Daigas Group
The Daigas Group aims to become a corporate group that helps further the evolution of customers' livelihoods and businesses. To this end, the management and employees act based on the "Daigas Group Charter of Business Conduct ("the Charter")," which stipulates the basic concept of our CSR. As the Group's business field expands, the scope of its stakeholders customers, local communities, shareholders, investors, and employees all of whom are affected by our business operations, is expanding further.
In order to recognize the impact our business activities may have on society and the environment, and conduct business while taking such impact into account, the Daigas Group has been promoting CSR activities. Specifically, in 2009, the Group introduced indicators under each chapter of the Charter to promote CSR activities and visualize their processes. In FY2015, we identified important aspects for the Group (materiality) by turning to the opinions of outside knowledgeable people.
In addition, to promote ESG-conscious management in conformity with global standards, which the Long-Term Management Vision advocates, in FY2021, we renamed the CSR Committee the ESG Committee, and the CSR Promotion Council the ESG Council. Since FY2022, we have set new materiality that contributes to the embodiment of the Charter under this promotion system and the achievement of a sustainable society. We are also striving to appropriately assess our initiatives and our progress in achieving the targets for the respective indicators and ensure that the PDCA (plan-do-check-act) management of the activities will work more effectively.
Sustainability Promotion System
The ESG Council, which consists of executives, deliberates sustainability plans and reports on the results of activities under the supervision of the president. From the viewpoint of integrating the promotion of overall sustainability activities, the Daigas Group has established the ESG Committee, chaired by the Executive in Charge of ESG Promotion (Vice President), who supervises the Group's sustainability activities. Consisting of the heads of related organizations, the ESG Committee coordinates and advances Group-wide activities to ensure that the activities will be conducted in an appropriate and proactive manner.
The Environment Subcommittee, the Social Contribution Subcommittee, and the Compliance and Risk Management Subcommittee have been established to promote CSR activities in a cross-departmental manner.
All these moves represent the Daigas Group's efforts to strengthen sustainability activities to live up to higher social expectations for the Group through communication with internal and external stakeholders.
■ Sustainability Promotion Structure (as of April 1, 2022)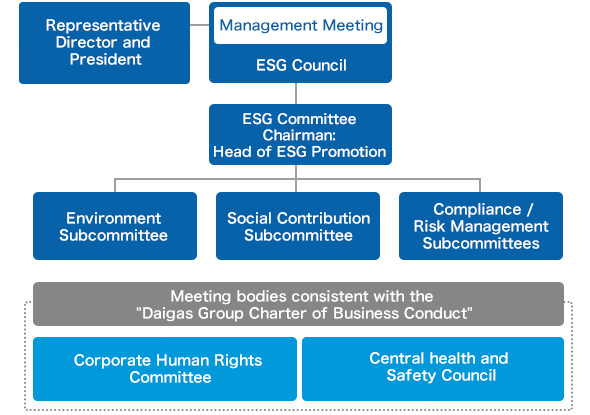 Indicators under Each Chapter of the Charter
Efforts to Promote Sustainability Activities Based on the Charter and to Visualize the Process
In 2009, the Daigas Group introduced indicators under each chapter of the Charter to promote sustainability activities based on the Charter and to visualize the process. Under the Group's policy of promoting sustainability, the indicators cover the medium-term period between FY2018 and FY2021.
In FY2022, the indicators under each chapter of the Charter were integrated into materiality indicators, which have been re-established as indicators for new material issues.
■ Changes to the Indicator Structure

■ Results of Efforts to Achieve Targets Set under Indicators under Each Chapter of the Charter (FY2022)
Charter I: Creating value for customers
Important Issues
(Materiality)
Value for a sustainable future
Initiatives to create value for a sustainable future
Indicators
Targets
FY2022
Results
Fiscal year to be achieved

Maintain and expand customer base
Establishing lifestyles and businesses adjusted to the new normal
Maintain and expand customer base
Number of customer accounts
10 million or more
9.81 million
2031
Improvement of customer satisfaction and quality of services
Enhance customer relationship management
Customer satisfaction rate
90%
92%
2024
Customer health and safety
Enhancing resilience of customers and society
Maintain safety and quality levels
Number of serious accidents
Continued zero serious accident
Zero serious accident
2031
Stable supply of services
Strengthen resilience of energy supply
Build a resilient energy supply facilities
Implementation of measures for disaster prevention and aging pipes
Ratio of strengthening of earthquake resistance: about 89%
Number of supply area subdivision: 709 blocks
2031
Charter II: Contributing to the sustainability of the environment and society
Important Issues
(Materiality)
Value for a sustainable future
Initiatives to create value for a sustainable future
Indicators
Targets
FY2022
Results
Fiscal year to be achieved

Climate change
Achieving a low carbon / carbon neutral society
Implement carbon neutral measures
Group
CO

2

emissions
Net-zero CO

2

emissions
26.79 million t
2051
Provide clean energy and expand renewable energy value chain
Percentage of renewables in our power generation portfolio in Japan*1
Nearly 50%
8.1%
2031
Contribution to developing renewables capacity on a global basis*1
5 GW
1.398 GW
2031
2.5 GW
2024
Promote advanced utilization of natural gas and environmental products
Contribution to reduction in CO

2

emissions
(compared to FY2017)
10 million t
3.36 million t
2031
Charter III: Engaging with and contributing to society
Important Issues
(Materiality)
Value for a sustainable future
Initiatives to create value for a sustainable future
Indicators
Targets
FY2022
Results
Fiscal year to be achieved

Coexistence with local community
Building foundations that support the realization of value for a sustainable future
Promote communication with local communities
Number of our participations in local governments' activities (i.e. community development planning)
14 cases
26 cases
2024
Number of joint efforts with local communities
170 times
167 times
2024
Charter IV: Respecting human rights
Important Issues
(Materiality)
Value for a sustainable future
Initiatives to create value for a sustainable future
Indicators
Targets
FY2022
Results
Fiscal year to be achieved

Supply chain management
Building foundations that support the realization of value for a sustainable future
Build a responsible supply chain
Appropriate new supplier ratio
100%
100%
2024
Charter V: Complying with laws and regulations
Important Issues
(Materiality)
Value for a sustainable future
Initiatives to create value for a sustainable future
Indicators
Targets
FY2022
Results
Fiscal year to be achieved

Compliance
Building foundations that support the realization of value for a sustainable future
Promote the Group's compliance
Number of serious violations of laws and regulations
Continued zero serious violation
Zero serious violation
2024
Charter VI: Providing work environment that supports employees' personal growth
Important Issues
(Materiality)
Value for a sustainable future
Initiatives to create value for a sustainable future
Indicators
Targets
FY2022
Results
Fiscal year to be achieved

Employee engagement
Building foundations that support the realization of value for a sustainable future
Create a workplace where employees can feel a sense of fulfillment
Employee Attitude Survey
Maintained and improved employee engagement
Completion of planning and implementation
2031
Development of employee skills
Annual average hours of training per employee
Implementation of human resource development and work environment improvement
28.6 hours/person
Hours of e-learning
(security, information security, environment, etc.) taken*2
4.50 hours/person
2031
Diversity and inclusion
Promote diversity and inclusion
Percentage of women in 1. executives, 2. members newly promoted to the middle management positions, and 3. new recruits for career-track positions
1. 20% or more
2. 30% or more
3. Continue 30% or more
1. 13.3%
2. 63.%
3. 28.1%
2031
*1

Includes power sources covered by feed-in tariff (FIT) schemes

*2

Includes some temporary employees and part-time workers
■ Results of Efforts to Achieve Targets Set under Indicators under Each Chapter of the Charter (FY2018-FY2021)
CSR
Charter
CSR Indicators
Targets
FY2018 Results
FY2019 Results
FY2020 Results
FY2021 Results
Charter I
Customer Satisfaction Survey: Seven customer service duties
Overall satisfaction rate
91% or more
92%
92%
92%
92%
Satisfaction rate for each of seven customer service duties
86% or more
89% or more
89% or more
90% or more
90% or more
Charter Ⅱ
Environmental Management Indicator
Environmental Management Efficiency (yen / 1,000 m3)
14.2 yen / 1,000 m³
or less
11.6 yen / 1,000 m³
12.5 yen / 1,000 m³
13.6 yen / 1,000 m³
14.0 yen / 1,000 m³
Charter Ⅲ
Communication events
Number of such events held
(environmental education and food education, and visit to the Gas Science Museum)
1,950 events or more
3,710 events
3,414 events

*

The target was revised to 2,700 events or more.

2,979 events

*

The target was revised to 2,915 events or more.

1,742 events

*

The target was revised to 2,600 events or more.

Social contribution activities
Number of such events held
600 events or more
1,099 events
1,085 events

*

The target was revised to 800 events or more.

1,099 events

*

The target was revised to 1,090 events or more.

777 events

*

The target was revised to 1,070 events or more.

Charter IV
Scores on compliance awareness
(Individual) Recognition level of "Code of Conduct"
Higher than the previous year
Up 4.0 percentage points year-on-year (85.6%)
Down 1.2 percentage points year-on-year (84.4%)
Down 1.7 percentage points year-on-year (82.7%)
Up 1.2 percentage points year-on-year (83.9%)
(Organization) Degree of compliance penetration in the organization
Higher than the previous year
Up 4.3 percentage points year-on-year (91.9%)
Down 0.1 percentage points year-on-year (91.8%)
Up 1.3 percentage points year-on-year (93.1%)
Up 0.9 percentage points year-on-year (94.0%)
Percentage of employees receiving the "Compliance Training"
Attendance rate
100%
100% (Number of target employees:
22,349)
100% (Number of target employees:
22,231)
100% (Number of target employees:
23,063)
100% (Number of target employees:
22,835)
Charter V
Employee Attitude Survey
Job satisfaction and attachment to the company
Maintained sufficient levels
Maintain sufficient levels (3.85 for job satisfaction, 4.38 for employees' sense of attachment to the Company / five-scale survey)
Maintain sufficient levels (3.86 for job satisfaction, 4.25 for employees' sense of attachment to the Company / five-scale survey)
Maintain sufficient levels (3.86 for job satisfaction, 4.25 for employees' sense of attachment to the Company / five-scale survey)
Maintain sufficient levels (3.86 for job satisfaction, 4.25 for employees' sense of attachment to the Company / five-scale survey)