Human Resource Development and Rewards
Specific Materiality

Training and Education

404-1

Diversity and Equal Opportunity

405-1
Principle and Outline
The Daigas Group strives to be a company where all employees can attain personal growth through their work. To that end, we have introduced career course-specific human resource systems that respect and make full use of the individuality and initiative of employees, and we provide a variety of training. We are also dispatching employees on overseas assignments or arranging for overseas business training to develop human resources capable of playing active roles globally. Furthermore, we carry out cogent personnel evaluations based on Management by Objectives (MBO) and we have established mechanisms enabling employees to take on the challenges of self-directed career development.
Personnel System
Personnel system fostering each workforce plays a greater role
To realize continuous growth and development of Osaka Gas, the Company introduced a personnel system by which we clarify the roles and expectations for each position, and perform hiring, training, evaluation, and placement appropriate for various job roles. This personnel system allows employees to choose which career track they would like to pursue in Osaka Gas.
■ Overview of Personnel Management System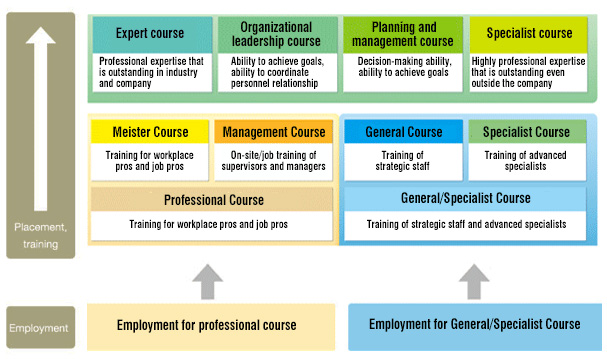 Training System
Training according to all career tracks, job levels and job descriptions
Osaka Gas has training programs for all employee levels that are designed to spur motivation and personal growth.
We have a wide range of training for all positions and job descriptions. In addition to a training system divided by career track courses that employees select to pursue, we have different training programs for junior and new employees, mid-level employees, and executives, as well as a variety of elective training courses.
Training courses by career track
We develop and conduct systematic training so that employees can acquire the skills and abilities required to be successful in the career tracks they select.
Meister Course
This course aims to train job professionals who can produce high results with a wealth of experience and excellent skills, as well as help improve the Company's performance by handing down their skills and expertise to future generations. Each business unit has its human resource development center where employees can systematically acquire the skills and expertise required to accomplish jobs at each workplace. The Human Resources Department provides training designed to improve the ability to pass the skills and techniques on to later generations, across different business units.
Management Course
This course is intended to foster future supervisors and managers who will manage business operations based on a wealth of job experiences and leadership, and help revitalize their organizations and promote the growth of subordinates. To nurture future supervisors and managers, we offer training for selected employees to enhance their management capabilities and leadership.
General Course
This course aims to train personnel who will be responsible for staff affairs, including devising strategies for each business unit and for the entire Daigas Group, and who will lead their organizations with extensive experience in management and other various fields. Twice a year we offer in-house business schooling designed for junior employees and mid-level employees. They learn logical thinking, marketing, accounting, finance, and other knowledge and skills that will serve as the foundation for strategy planning.
Specialist Course
This course is intended to nurture specialists who will devise strategies for each business unit and the Daigas Group, and contribute to decision-making and implementation of the strategies. In addition to the in-house business schools offered by the General Course, we organize in-house seminars to impart advanced expertise in each business field.
Training for all job levels
Training for Junior and New Employees
Training for Junior and New Employees

Osaka Gas designates the first three years as the junior/new employee training period, when employees are given the basis for becoming competent company workers.
After employees acquire the basic conduct and manners during orientation, they undergo follow-up training once a year to improve on the abilities they need at each stage of growth. During this period, each new employee has a personal tutor and advisor (PTA) who helps him or her to learn and grow on the job.
Mid-level Employees Awareness Program
After being with the company for a certain amount of time, when employees change their jobs or responsibilities, they undergo action observation assessment training through aptitude tests and practice tasks. Each employee's aptitude and abilities are objectively assessed, and used to assist them in future self-development and to place them in positions that match their abilities.
Management Skills Training
To strengthen the management skills of supervisors and managers, we are implementing group training that enables participants to acquire the knowledge needed by managers on utilizing in-house systems and managing risk, establishing organizational tasks, and managing subordinates, and helps them to learn the necessary communication skills.
Training for developing human resources leading overseas operation
Overseas Business Training System
Our employee working overseas in the Trainees Program (second from right)

To develop human resources who can play active roles in overseas business, Osaka Gas dispatches personnel nominated to engage in overseas business to locations overseas or domestic locations with an overseas-like environment to complete short-term intensive overseas business training curricula.

[Specific examples of curricula]
Overseas training systems (dispatching nominees to affiliate companies under the Energy Resources and International Business Unit, overseas research institutions, etc.), short-term language study abroad, etc.
Overseas Study System
Employees are sent to overseas universities to enhance their understanding of global business operations and help them acquire management literacy.
Language Study Support
We are supporting English-language study in order to develop human resources capable of playing active roles both inside and outside Japan.
Training Options for the Daigas Group
To enhance measures that support human resource development at the Daigas Group, a range of trainings are offered that are in high demand by group companies. In addition to programs arranged by job level, a self-directed career development support program is also available. The system offers many suitable options for training to encourage self-directed career development and personal growth.
■ Outline of Training Options for the Daigas Group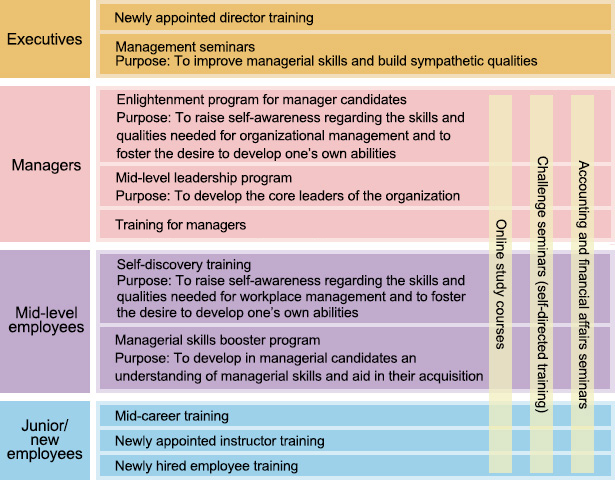 Employee Performance Evaluation and Interviews
Evaluating employees to help them grow
Osaka Gas strives to create a fair system of assessment through meetings between employees and their superiors. These meetings incorporate two assessment indices: (1) performance assessment, which measures how well results are being achieved based on the management by objective (MBO), a performance management system; and (2) role expectation assessment, under which assessment is made of how well action is being carried out on a daily basis.
Under our objective management system, employees set and aim for their own targets, and assessment is based not just on results but also on employees' willingness to take on new challenges and experiment with new ways to reach their goals.
■ Assessment System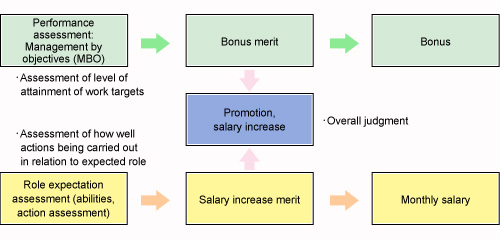 Evaluation on employees' compliance efforts
Since FY2009, compliance efforts have been included in employee performance evaluations. This contributes to better legal compliance and an improved sense of ethics among employees.
Furthering Employees' Careers at Osaka Gas
Self-motivated career design
Once a year, self-observation interviews are held for all employees, who reflect on the state and personal rewards of their jobs and describe their medium- and long-term career hopes and the path they wish to take to get there. These interviews help gather valuable opinions and desires of employees, which managers use to place them in positions that suit their personal goals. The result is the furthering of self-designed employee careers.
Employees can also take the initiative in furthering their own careers under our internal Challenge Programs, which allow them to apply for other jobs at the Daigas Group that they want to try. Since the introduction of this system in FY1989, a total of more than 250 employees have taken advantage of it.
Support for self-development
Encouraging self-development
A "Challenge Seminar Training (100 courses per year)" is available to all employees of the Daigas Group, enabling them to acquire advanced business skills at their discretion.
We also encourage employees to take various correspondence courses in order to improve their skills, and the company subsidizes part of the fees for these courses.
Skill Development Support
Aiming to improve field operational skills
We are offering skills training in the management of terminal facilities, the construction and safety inspection of gas supply pipes, and the installation and repair of equipment to employees of the Daigas Group to ensure that we can safely supply customers with gas.