Improving Occupational Health and Safety
Principle and Outline
Convinced that ensuring employees' safety and maintaining/improving their physical and mental well-being are keys to all its operations, the Daigas Group has been undertaking efforts to prevent employees from developing health problems and support their medical treatment. Positioning health promotion as a priority management policy, we established the Osaka Gas Health Development Center in 1975. Since then, we have been implementing various measures to promote the health of employees, including providing regular health checkups and individual health guidance by medical professionals to all employees, including those of Group companies.
Today, in the era of the 100-year life, being healthy throughout a lifetime is of great importance not only to employees but also to society. Based on this idea, in March 2021 we established the "Daigas Group Declaration of Health and Productivity Management" by summarizing our attitude toward Kenko Keiei* (health and productivity management), which was indicated in the "Daigas Group Corporate Principles," "Daigas Group Charter of Business Conduct," and "Daigas Group Code of Business Conduct." We also established the Daigas Group Action Guidelines "7 Rules for Being Healthy" to encourage employees to live healthy life styles.
In addition, in order to create a workplace where employees can work safely, based on the idea that ensuring safety and maintaining and improving physical and mental well-being are key to all operations, we declared in the "Daigas Group Code of Business Conduct" that we will prevent work accidents and promote fitness.
*

The term "Kenko Keiei®" is a registered trademark of Nonprofit Organization Kenkokeiei.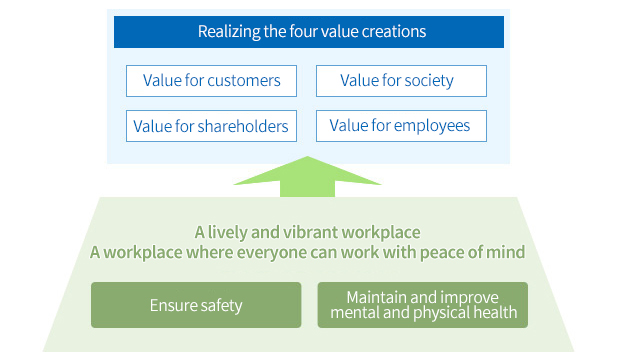 Daigas Group Declaration of Health and Productivity Management
The Daigas Group believes that we can create value that meets the expectations of customers, society, shareholders and employees by ensuring that our employees stay healthy both mentally and physically and fully exercise their abilities, individuality and initiative, thereby remaining motivated and satisfied with their jobs.
The Daigas group will work as one to maintain and improve the health of employees and create a vibrant workplace filled with people who are mentally and physically energetic, with the aim of becoming a corporate group that powers continuous advancement in customer and business life.
Daigas Group Action Guidelines "7 Rules for Being Healthy"
Based on the Declaration of Health and Productivity Management, the Daigas Group has formulated and will disseminate the Action Guidelines "7 Rules for Being Healthy" to ensure and promote healthy lifestyles among employees.
Poster for the 7 Rules for Being Healthy

Weight: Develop healthy habits to achieve or maintain a desirable body weight.
Eating: Develop proper eating habits, such as eating three balanced meals a day, including breakfast.
Exercise: Get into the habit of regular, moderate exercise to improve physical strength and refresh the mind and body.
Drinking: Refrain from excessive drinking. (Drink moderately and enjoyably.)
No smoking: Refrain from smoking during work hours to prevent smoking-related diseases and eliminate passive smoking.
Sleep: Achieve a good work-life balance to allow sufficient time for sleeping.
Stress: Be aware of your stress level and manage it properly (seek help without worrying alone).

We will elucidate the implementation status of the above 7 items through administration of a lifestyle-related questionnaire at the time of health checkups and health guidance/advice to organizations/individuals by the Health Development Center medical staff, and we will then provide feedback to the relevant organizations/individuals.
Promoting health and productivity management
There are various ways, including work style reforms, to create a comfortable working environment and increase employee engagement, such as job satisfaction. In terms of health, we will contribute to maintaining and improving employee engagement by reducing the number of people who need medical care and aiming for a vibrant and energetic workplace through promotion of health and productivity management.
Safety and Health Management Promotion System
In accordance with the Daigas Group Code of Business Conduct, Osaka Gas not only complies with relevant laws and ordinances but also has established its original rules, including the Daigas Group Safety & Health Promotion Regulations and the Osaka Gas Safety & Health Management Regulations. In this way, Osaka Gas works with its Group companies and partner companies to improve the levels of workers' safety and health.
Moreover, the Daigas Group has established the Daigas Group Safety and Health Council to discuss measures for and share information about industrial accident prevention and health maintenance and enhancement.
■ Daigas Group Safety and Health Promotion System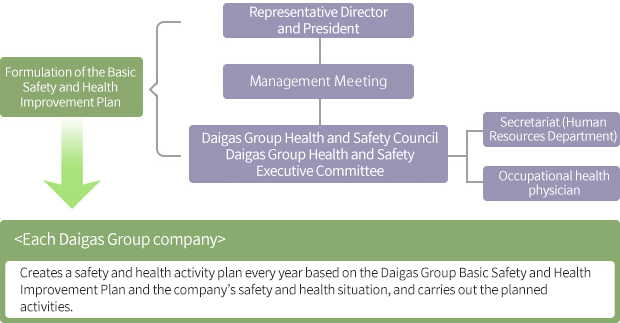 Preventing Injury in the Workplace
Promoting safety and health management activities based on OSHMS
Osaka Gas has been systematically and meticulously undertaking activities aimed at preventing workplace accidents with establishing the "Osaka Gas Health and Safety Action Plan" based on the Occupational Safety and Health Management System (OSHMS), which was established by the Minister of Health, Labour and Welfare.
Based on the Plan, each organization of Osaka Gas is working on reducing the number of incidents leading to absence from work due to workplace accidents to zero. The Plan, consisting of three priority themes-prevention of transportation-related accidents, prevention of general work accidents, and prevention of accidents through collaboration with business partners-is designed to enhance the level of workplace safety by implementing improvement measures under the PCDA (plan-do-check-action) cycle.
Each Daigas Group company is working on establishing the PDCA cycle to improve safety and health-enhancement activities in accordance with each company's safety and health situation while maintaining the current safety and sanitary management system and in line with the Daigas Group's Basic Safety and Health-Improvement Plan (FY2022-FY2024).
■ Health and Safety Action Plan
Click the link below for more information.
■ Goals for FY2022
Item
Goals for FY2022
Accident causing absence (Osaka Gas, other party)
0
Accident causing no absence
Osaka Gas
Negligence 0
Other party
0
"Accident Indices" for evaluating safety activities
If an industrial accident occurs at Osaka Gas, the Company division concerned investigates and identifies the cause and takes measures to prevent a reoccurrence. The case is shared company-wide through a portal or other means, to ensure that similar accidents will not occur.
To assess safety activities at each workplace, we also use the "Accident Indices," which uses a unique formula to calculate the degree of the accident in terms of seriousness and impact. The "Accident Indices" was created to establish a common, company-wide standard for labor accidents in all business segments, from gas processing and supply to sales.
Also, we honor organizations that meet their prescribed accident index targets to recognize their efforts as well as to raise awareness.
Daigas Group's safety education efforts
"Safe Driving Education"
Class at an on-site driver training center

The Daigas Group and its partners use a large fleet of vehicles in their work. We implement unique measures to ensure that all our vehicle operators master reliable driving skills and improve their driving manners so that everyone in the community can trust the Daigas Group's commitment to safe driving.

The Safe Driving Training Center run by Osaka Gas offers safe driving education with a focus on practical training, and we are seeking to extend safe driving practices throughout the Daigas Group to improve safety across the Group as a whole. In FY2022, a total of 14,230 employees from 32 companies, including Osaka Gas, took part in this safe driving program.

The Osaka Gas intranet and email are used to share and disseminate information across the Group as a whole to reduce accidents.
"Education for foremen and health and safety managers"
In accordance with Article 60 of the Industrial Safety and Health Act, we conduct safety and health education for those who are newly charged as foremen (first line supervisors) or others to directly guide or supervise workers in operations, by inviting a lecturer from the Japan Industrial Safety & Health Association. The Daigas Group holds training sessions five times a year for newly appointed managers who need foreman education. Approximately 150 people take the training. (In FY2022, six training sessions were held, including one training session, which was postponed in the previous year to prevent COVID-19 infection, and were attended by 136 participants.)
As a countermeasure against COVID-19, the number of participants
was reduced to half to ensure social distancing, and group
discussions were conducted using PCs and a projector to avoid crowding.
Prevention of general work accidents
Heat stroke prevention measures
Osaka Gas has introduced work clothes with built-in fans as part of measures to improve the working environment and prevent heat stroke in the summer with extreme heat (except for workers handling raw gas because fans are not explosion proof). In FY2019 we started considering the introduction of fan-equipped work clothes and conducted research using monitors to assess the required quantity and needs. The fan-equipped work clothes are made using a fabric suitable for fitting fans while following the design of the current ones. Also, the fan-equipped work clothes allow the use of a full harness safety belt, which has been mandatory from January 2022 due to a revision of the Industrial Safety and Health Act.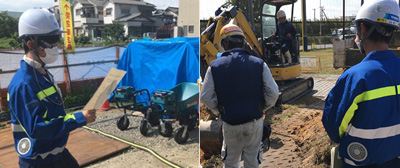 Fan-equipped work clothes
Prevention of fall accidents
Scene of squat exercises,part of a health-enhancement physical training program being conducted before the start of the day

Fall accidents occur frequently nationwide, accounting for one-quarter of industrial accidents.


Osaka Gas strives to prevent fall accidents by introducing health-enhancement physical training to workplaces and giving laptop tote bags to employees.
Older workers have come to constitute a larger portion of the entire working population at the Daigas Group, resulting in an increase in the number of accidents involving workers on duty, including stumbling. In FY2018, we introduced health-enhancement physical training company-wide. We have changed the conventional exercise program centered on stretching to health-enhancement physical training that strengthens muscles and the body trunk, including squats and standing on one leg.

In 2019, an employee slipped down the stairs with a laptop in his hands. A similar accident occurred in FY2018, too. To address this matter, we have been promoting company-wide measures to prevent similar accidents.
To avoid a similar accident, you should not walk around the office (especially up and down the stairs) while holding an open laptop in your hands. So, we encourage employees to carry laptops and documents in bags to keep both hands open while walking.

Moreover, to promote the habit above, we have given laptop-carrying bags to organizations that wanted them.
We have also created a poster encouraging employees to keep both hands open while walking and sent it to each and every organization.
Introduction of laptop tote bags

Enlightenment poster
Joint safety activities with partners
Safety & Health Monthly Report

Osaka Gas works closely with affiliates and partners at the sites of gas business activities. In particular, we strive to boost the level of safety by working closely with our partners through the Health and Safety Promotion Council to exchange safety-related information and hold a range of training and safety activities.

The Council, with 78 member companies, primarily in the manufacturing sector, promotes voluntary safety and health activities, with the goal of zero lost-time injury. As a key activity, the Council has designated a disaster prevention month in both the first half and second half of the year, during which we conduct safety patrols (cancelled in FY2022 due to the COVID-19 pandemic) jointly with them. It also issues a Safety & Health Monthly Report that provides useful information on company efforts in preventing workplace accidents and promoting employee health.

At piping works, we work with partner companies in organizing exercise sessions to enhance physical performance and prevent accidents involving older workers falling from, or tipping over, stepladders.

Safety patrol with partner (Cancelled in FY2022 to prevent COVID-19 infection)
Maintaining and Improving Health
Regular health checkups and health guidance
Health checkup at the Daigas Group Health Development Center

Osaka Gas holds regular health checkups as required by law, and all employees expected to take them had planned checkups at the Daigas Group Health Development Center within the Human Resources Department.
The Center also offers health checkups and health counseling services to employees of Osaka Gas and its affiliates. In FY2022, 14,230 employees of 32 companies (the total number from Osaka Gas and its affiliates) received health checkups at the Center.
Daigas Group Health Development Center
In general
Health checkups
Half a day
About half a day
Explanation of health checkup results
On the day
Later date
Judgment of work classification
On the day
Later date
Health promotion class
On the day
Advice on health promotion
Special health guidance (in the first session)
Later date
Interviews with people experiencing a high level of stress
On the day
To be conducted after evaluating the stress level through a prior medical questionnaire (Stress checks specified by law are conducted separately.)
No
Reservation for thorough examination
On the day
Medical staff make reservations on the spot (legally mandated item).
To be made by oneself
Efforts related to the Action Guidelines "7 Rules for Being Healthy"
Promotion of measures to prevent lifestyle-related diseases
We will increase the number of employees working to improve their lifestyle habits by carrying out specific activities in line with the Action Guidelines "7 Rules for Being Healthy."
In FY2022, a "Healthy 7 Level Check!" sheet was created for employees who received a health checkup based on their health checkup results and prior medical questionnaire and was given on the day of the health checkup to enable them to easily understand how healthy their lifestyle was. When giving the sheet, a public health nurse/nurse praised good points to motivate employees to further improve their lifestyles. In addition, we held the Healthy 7 Olympics (6 types of categories and no smoking category) to encourage employees to actively work on the 7 Rules for Being Healthy.

Furthermore, to enhance awareness among young employees of their risks of contracting lifestyle-related diseases in the future deriving from high blood pressure and excess blood glucose, we analyze the results of their latest health checkups, based on which a health condition sheet is distributed to each employee. On the sheet, each employee will be shown his/her probability of developing lifestyle-related diseases within seven years and a comparison with the average probability for all employees who underwent the checkup. The Company will use the results when it gives advice to young employees to help maintain and enhance their health.

We are working on enhancing employees' consciousness toward health from an early life stage, with the aim of reducing their risks of contracting lifestyle-related diseases in the future.
■ Specific Initiatives Related to the 7 Rules for Being Healthy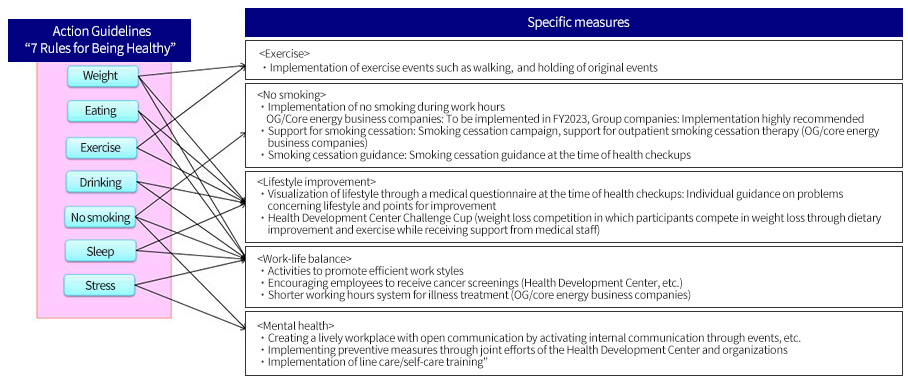 Health condition sheet based on which advice will be given to
young employees to help maintain and enhance their health

Individual guidance on problems concerning lifestyle and
points for improvement through visualization of lifestyle
■ Healthy 7 Lifestyle Habit Monitoring Indicator: Total of Osaka Gas and Three Core Energy Business Companies
Unit: %
FY 2021
FY 2022
National data*
Obesity rate (men)
34.6
34.2
33.0
Breakfast skipping
19.6
21.5
3.1
(Reference)
Exercise at least twice a week
24.4
25.7
28.7
Drinking 2 go or more
22.9
19.8
27.9
Smoking rate (men)
25.8
24.7
27.1
Smoking rate (women)
2.0
2.1
7.6
Rest from sleep
71.6
70.7
78.3
・The figures shown for indicators other than obesity rate and smoking rate are the total of men and women.
・Breakfast skipping: Percentage of respondents who answered they skip breakfast three or more times a week
(Nationwide: Percentage of respondents who answered they do not eat breakfast [reference])
・Exercise at least twice a week: Percentage of respondents who answered they exercise at least 30 minutes a day at least two days a week
・Drinking 2 go or more: Percentage of respondents who answered that the amount of alcohol consumed on a drinking day is 2 go or more
・Rest from sleep: Percentage of respondents who answered they get enough or moderate rest from sleep
*

From the National Health and Nutrition Survey (Ministry of Health, Labour and Welfare, 2019 [data on sleep from the 2018 Survey])
■ Other Results
Promotion of measures to enhance mental health
The Daigas Group implements various measures to enhance mental health in order to promote early detection and prevention of mental disorders.
・We conduct a group analysis of stress checks and provide feedback to the general affairs department of the organization to promote improvement of the working environment in the organization. Depending on the issues, the medical staff will conduct detailed group analysis of stress checks and provide feedback to the head of the organization and exchange views on how to create a better workplace. In this way, the general affairs department of each organization and the Health Development Center are working together to improve the working environment.
・For mental health measures for younger employees, we conduct a health questionnaire for new employees. For employees in their second year of work, we conduct a stress questionnaire and individual interviews at the time of a health checkup. Based on the results, we take appropriate measures in cooperation with their supervisors.
・For managers/supervisors, we provide mental health training centered on case studies.
Interview with employees in their second year of work regarding stress

Mental health training for managers and supervisors
Helping employees manage and maintain their health
Easy and quick exercise

Medical staff hired by the Daigas Group visit its business offices to provide health education to employees. This measure is designed to create a working environment that ensures workers' health and comfort, and encourages them to work on enhancing their health on their own.

We are providing employees with health management information via the Health Development Center website.

To help employees relieve shoulder stiffness and backache and avoid a lack of exercise, we have created a video titled "Easy Workout and Exercise," which introduces a workout and exercise that can be easily done even during remote work. Employees exercise while watching the video before meetings or when they are waiting their turn during health checkups.
■ Trainings by Occupational Safety and Health Staff (FY2022)
| No. of such events held | No. of participants | Description |
| --- | --- | --- |
| 8 | 357 | Measures for heat stroke, COVID-19, mental health, etc. |
Measures against infectious diseases
Since late January 2020, when the spread of COVID-19 infection was confirmed overseas, Osaka Gas has been promoting various preventive measures against COVID-19, based on its Business Continuity Plan in Response to COVID-19 Pandemic.
Major actions taken
・At offices, we take preventive measures such as placing hand sanitizers, encouraging hand washing, and setting up partitions.
・At LNG terminals and power plants, in addition to the measures taken at offices, we implement infection prevention measures during commuting.
・In order to prevent the spread of infection among employees, we encourage teleworking and staggered working hours. As part of efforts to create an environment that facilitates teleworking, we have improved the remote access environment and introduced a web conferencing system, social media for business use, etc. Also, we are promoting the use of teleworking and staggered hours systems by expanding the scope of eligible employees and the frequency of use.
・Depending on the spread of infection, we cancel or postpone business trips and cancel, postpone or hold online training and seminars involving gathering of people.
・From June 2021, the first to third workplace vaccinations for COVID-19 were performed for employees working for the Daigas Group and its partner companies in response to the announcement of the government's policy on COVID-19 vaccination at workplaces.
・At the call center, in FY2021 we increased the distance between the operator seats and shortened business hours to receive inquiries regarding switching to "Osaka Gas Electricity" and purchasing of gas appliances. In addition, since April 2021, we have shortened the business hours of the call center and encouraged customers to make inquiries through the Internet.
・We encourage employees to install the COCOA (COVID-19 Contact-Confirming) app on their company mobile phones.
2021 TOPIC) Osaka Gas recognized as an Outstanding Organization for Health & Productivity Management (five consecutive years)
In March 2022, Osaka Gas was certified as a "Health and Productivity Management 'White 500' Company for 2022" (large enterprise category) under the commendation system introduced by the Ministry of Economy, Trade and Industry and Nippon Kenko Kaigi*1 to recognize outstanding enterprises engaging in Kenko Keiei*2 (health and productivity management). This is the fifth straight year Osaka Gas has been awarded this certification.

The "White 500" award is intended to encourage business corporations to establish a work environment in which companies active in managing their employees' health from business and strategic viewpoints can be commended socially. The certification was given to us this year in recognition of our overall efforts.
*1

Nippon Kenko Kaigi
The Nippon Kenko Kaigi is an organization that takes practical actions, based on collaboration among private organizations with full administrative support, to extend the healthy lifespans and provide appropriate medical care for all individuals in Japan, a country facing a rapidly aging society with fewer children. The organization aims to encourage workplaces and communities to achieve specific measures to overcome health-related challenges based on collaboration among private organizations, including economic associations, medical-care associations and insurers, as well as municipalities.

*2

Kenko Keiei
"Kenko Keiei" is a registered trademark of Nonprofit Organization Kenkokeiei.