Communication Between Employees and Company
Principle and Outline
The Daigas Group believes that it is important for employees and the company to work together to realize the healthy growth of each group company with a sense of mutual trust and tension. To this end, we promote communication between employees and the company by opinion exchanges at informal meetings between the labor union and management and various study committee meetings, as well as workplace visits by the President of Osaka Gas to group companies and organizations.
Dissemination of the Corporate Principles
Activities for dissemination of the Corporate Principles
The Daigas Group has established the Daigas Group Corporate Principles, aiming to become a corporate group that powers continuous advancement in customers' lives and businesses. The guiding principle of our business activities is to create value for society, value for shareholders, and value for employees, with the creation of value for customers as the first priority. Each and every employee is responsible for creating value for customers, society, and shareholders, and the creation of value for employees is the foundation for the other three kinds of value. In order for our employees to practice and realize our corporate principles on their own, we are working to promote employee understanding and awareness of the "Daigas Group Corporate Principles" as well as the "Daigas Group Charter of Business Conduct" and "Daigas Group Code of Business Conduct."
We are working to raise awareness of our principles throughout the year by delivering messages from the President and the Head of ESG Promotion (Vice President) through the intranet, putting up posters, and providing training opportunities, including e-learning and training programs in the form of case studies and discussions at each organization.
Labor-Management Relations
Cooperation between labor and management to resolve issues
Osaka Gas has adopted a union shop system, in which all employees, except those in management positions, are members of a labor union, pursuing sound and good labor-management relations.
The Osaka Gas Workers Union consists of approximately 4,100 members, including those temporarily transferred to affiliated companies, etc. The workers union and management exchange opinions at informal meetings and various study committees on overall corporate activities, including actions regarding various management issues, as well as changes in working conditions.
We strive to build, maintain and strengthen sound and good labor-management relations based on mutual understanding and trust.
Message from the workers union
Maintaining stable labor-management relations based on mutual trust even in a changing business environment
Keiko Kabumoto Chairman, Central Executive Committee Osaka Gas Workers Union
(As of August 31, 2022)

The Osaka Gas Workers Union is approaching its 50th anniversary as a new organization, formed in 1973 through the merger of its predecessor labor union and another employee union. During this period, the background of the times has changed dramatically; however, its fundamental policy has remained unchanged: our members support each other and are united in resolving problems emerging each time, aiming to realize the happiness of each and every one of our members so that we can all experience happiness through union activities that enhance our motivation to live and work.

Through informal meetings with the President and management members, informal sessions with each organization, etc., the Workers Union makes proposals for measures as a checking and partner function on business management by directly conveying the voices of union members in the field.

In addition to addressing the issues at hand, we are also placing importance on medium- to long-term perspectives and working to build a strong organization while responding to changes in the business environment and the company's moves toward sustainable growth.
Continued from FY2022, as the COVID-19 pandemic has a major political, economic, and social impact in FY2023, significant changes are occurring in the business environment and the way our union members work. As remote operations have been more common in our union activities, we have reaffirmed the importance of face-to-face communication and dialogue at the same time. Under these circumstances, in the current mid-term action plan, we aim to create even greater connections between the workers union and its members, linking our activities to the next generation to continue grow further. We will continue to maintain equal and good labor-management relations, which we have inherited from our predecessors through our long history, and will work to develop the company and realize happiness for all union members and their families through cooperation between labor and management.
President's Workplace Tours
Setting up opportunities for direct dialogue between the President and Group employees
With the aim of fostering a sense of unity among employees, the Daigas Group provides opportunities for the President to visit workplaces and engage in direct dialogue with employees.
The President communicates his thoughts on "a corporate group that powers continuous advancement in customers' lives and businesses," which is clearly stated in the Daigas Group Corporate Principles as what the Group aims to be, and engages in a frank exchange of opinions with the members at each workplace, thereby working to foster a sense of unity within the Group.
In FY2022, a total of seven tours were held at the Energy Resources & International Business Unit, Osaka Gas Customer Relations Co., Ltd., Osaka Gas Singapore Pte. Ltd. and other locations. After the tours, the President's remarks and an exchange of opinions are included in the company newsletter to share them with Group employees.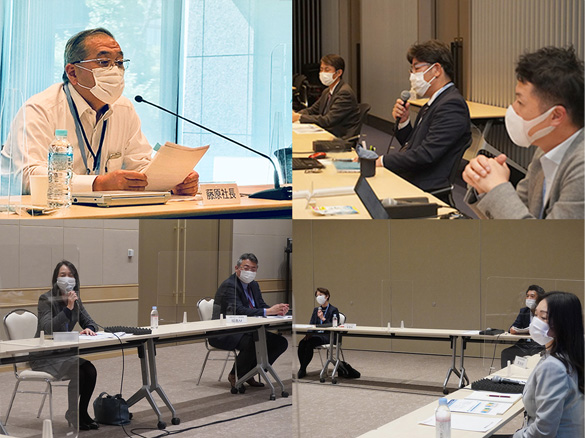 The President's visit to a workplace
Company Award System
President's Award to boost employee morale
Osaka Gas presents the President's Award every year to honor employees who have made significant contributions to the company's activities to boost employee morale. Awards are presented to regular and contract employees at Osaka Gas and employees of affiliated companies for their outstanding achievements in business operations and contributions to the environment, the community, and other aspects of society, passing on skills, the safety field, etc.