Communication Between Employees and Company
Principle and Outline
The Daigas Group believes it important that employees and companies enjoy mutual trust and respect if they are together to help Group companies achieve sound growth. Views are exchanged during informal meetings between labor unions and the management team and at the meetings of various exploratory committees, and communication between employees and companies is being encouraged through such approaches as workplace visits by Osaka Gas' president to Group companies and organizations.
Dissemination of the Corporate Principles
Activities to disseminate the Corporate Principles
The Daigas Group has established the Daigas Group Corporate Principles. The Group aims to become a corporate group that helps customers both on the livelihood and business fronts for their "further evolution." To that end, the Group promotes our business activities with the aim of creating "value for society," "value for shareholders" and "value for employees" as well as "value for customers," our top priority. Each and every employee plays a primary role in creating value for customers, society and shareholders, and creating value for employees is the basis of the other three values. To ensure that every employee puts the Corporate Principles into practice and thereby achieves the objectives defined in it, we are pursuing various activities to promote understanding and dissemination of the "Daigas Group Corporate Principles," as well as the "Daigas Group Charter of Business Conduct" and "Daigas Group Code of Business Conduct," among employees.
Throughout the year, we are working to disseminate the Corporate Principles, for example by sending messages from the President and the Head of ESG Promotion (Vice President) on our intranet, posting posters, providing e-learning, and providing training opportunities in the form of case discussion at each organization.
Labor-Management Relations
Labor and management cooperation to resolve issues
Osaka Gas has a union shop system in which all employees except those in management level are union members.
The Osaka Gas Workers Union has about 4,200 members, including workers seconded to affiliate companies, and its goal is amicable labor-management relations. The labor union and company management hold council meetings and review committee sessions at which they discuss changes in working conditions, management issues, and company business in general.
Through opinion exchanges that build up mutual understanding and trust, the two sides form, maintain, and strengthen solid and amicable labor-management relations.
Workers union comment
Efforts to Maintain a Stable Labor-Management Relationship Based on Mutual Trust Even in a Changing Business Environment
Keiko Kabumoto Chairman, Central Executive Committee Osaka Gas Workers Union

More than 50 years have passed since the Osaka Gas Workers Union was formed through the 1973 merger between its predecessor labor union and another employee union. During this period, union members have supported each other and have been united in resolving problems facing individual members each time they emerged—a fundamental policy that has remained unchanged despite the significant changes that have occurred in society. The union activities are aimed at achieving the happiness of all union members. Through their union activities, the members tried to find more meaning in life and an enhanced sense of fulfillment from work to feel greater happiness.

Effectively as a partner of the Management, the Union has monitored and checked the Management's decisions and other activities by making policy proposals at informal meetings with the President and executives, and separate informal meetings with officials of regional divisions. Through these meetings, the Union has conveyed the voices of union members directly to the Management.

We have undertaken union activities not only by tackling issues requiring immediate attention but also taking medium- and long-term viewpoints into consideration. While responding to the changing business environment and the company's movement toward sustainable growth, we are working to build a resilient organization.

As in FY2021, in FY2022, while the spread of COVID-19 has been significantly affecting politics, the economy and society, the business environment and union members' work styles are also undergoing major changes. Even under such circumstances, to fulfill our role as a workers union, we are promoting various people-centered activities. One of these efforts is to listen to the members and have discussion between labor and management about the impacts of such changes on their work and personal lives whenever necessary.

We will maintain the "equal and amicable labor-management relations" that we have inherited from our predecessors over the Company's long history. Our goal is to bring labor and management together as a team to improve company performance and achieve happiness of the union members and their families.
President's Workplace Tours
An opportunity for direct dialogue between the president and group employees
With the aim of fostering a sense of unity among employees, at the Daigas Group the President goes around workplaces to provide employees with opportunities to talk with the President in person.
Through these workplace visits, the President communicates his thoughts on "what the Group aims to be," stated in the Daigas Group Corporate Principles—"Daigas Group powers continuous advancement in consumer and business life"—and exchanges frank views with the members of each workplace, thereby aiming to foster a sense of unity in the Group.
In FY2021, the President visited a total of six business locations, including Osaka Gas Marketing Co., Ltd., Daigas Energy Co., Ltd., and Daigas Gas and Power Solution Co., Ltd. After each tour, an in-house newsletter reports on the President's on-site visit and how he felt about it in sharing information with employees of the Group.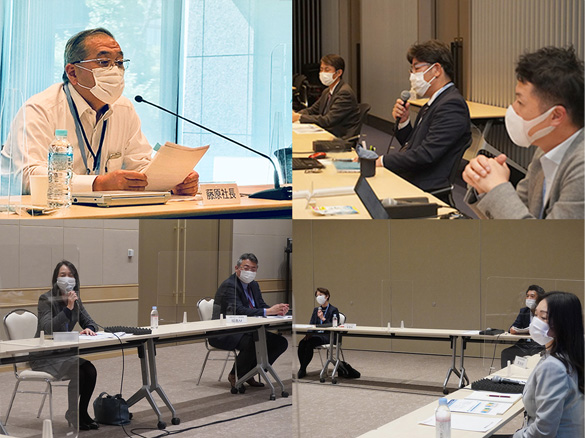 President's workplace tour at "Takarajima Meet Up" at the Product Technology Development Dept., Osaka Gas Marketing Co., Ltd.
(The then president Mr. Honjo is second from left in the upper row.)
Company Award System
President's awards created to build employee awareness
Osaka Gas presents President's Awards in each year to recognize the efforts of employees who have made outstanding contributions in numerous areas and to boost environmental awareness within the company. Employees of Osaka Gas, temporary workers, and employees of affiliate companies are eligible for these awards, given out for remarkable performance at the workplace, for social contributions on behalf of the environment or communities, for the transmission of skills, for safety efforts, etc.