Efforts for Protection of Personal Information
Aspects Determined as Materiality
Principle and Outline
Based on its belief that information is an important asset for companies and should thus be managed properly to prevent leaks or losses, the Daigas Group has put into place a system to suitably use/manage the personal information entrusted to the Group by its customers. We are also striving to enhance our risk management regarding personal information via our "G-RIMS" risk self-inspection system, and to raise employee awareness through e-learning and training.
Privacy Policy
Osaka Gas has established a privacy policy to ensure proper handling of personal information of customers, shareholders, etc. in accordance with the Personal Information Protection Law, the Osaka Gas Rules for Personal Information Protection, etc. The Privacy Policy is posted on our website. We strive to protect the personal information of customers, shareholders, etc. in accordance with this Privacy Policy. We also handle the personal information of employees, etc. in the same manner as customer information. The privacy policy regarding personal information of employees, etc. is posted on the internal portal site. We make efforts to properly protect the personal information of employees, etc.
Protection of Personal Information
Structure for strengthening protection of personal information including affiliates and contractors
The Daigas Group, which handles a large amount of personal information, has established regulations and implemented various safety management measures to protect it.
We strive for the appropriate management of personal information and the prevention of personal information leakage in the following ways: the Vice President in charge of the General Affairs Department serves as the Chief Privacy Officer (CPO); each business unit, the Human Resources Department, and each affiliate have a personal information manager; and we have established a personal information protection system that even covers contractors.
■ Personal Information Protection Structure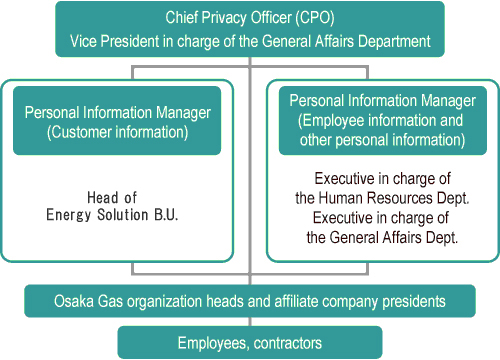 Strengthening risk management through training and e-learning
Every year the Daigas Group uses the "G-RIMS" risk self-assessment system to reinforce risk management regarding personal information management. We also make the protection of personal information a key part of compliance training in efforts to raise employee awareness. And all employees and temporary workers dispatched from manpower agencies with access to an Osaka Gas personal computer are obliged to take basic or case-study e-learning courses. In FY2021, we conducted e-learning courses to help employees learn the importance of information security, information security measures, and related laws and regulations, including the Personal Information Protection Law. In addition, we have enhanced the content of case studies related to personal information protection that can be used for meetings and training at each organization.
FY2021 Information security e-learning session participants: 7,080