Principle and Outline
The Daigas Group holds that human rights ought to be accorded the maximum respect in all circumstances. All executives and employees must be keenly aware of this, and acquire and act on correct knowledge pertaining to human rights. In expanding its business globally, the Group pays careful attention to compliance with local and national laws and regulations, respect for human rights and other international norms, local culture and customs, and the interests of stakeholders. Accordingly, it offers human rights training and conducts educational activities aimed at improving awareness and instilling knowledge of human rights issues.
Systems and Plans for Human Rights Awareness
Group-wide promotion of human rights awareness by the Daigas Group
To promote human rights awareness throughout the Daigas Group, Osaka Gas has established a "Daigas Group Human Rights Committee" headed by the director responsible for the Human Resources Department. This committee decides the activity policy with regard to human rights.
Based on this policy, the Human Resources Department's "Human Rights Center" plans, formulates and administers numerous efforts and events such as human rights training for all job levels, human rights lectures, and human rights slogan contests, and offers cooperation and support to individual organizations. The top award-winning slogans are made into posters that are put up in offices to constantly remind employees of the importance of human rights.
As well, business units and major affiliates have their own "Human Rights Committee," which relays company policies and human rights information to employees, encourages participation in outside lectures and the human rights slogan contest. The "Corporate Human Rights Committee" also exchanges information and opinions with divisions in the Group, all in an effort to understand what must be done across the entire Group. Further, each business unit and major affiliate appoints a "Human Rights Awareness Promotion Leader," who is in charge of dealing with daily issues related to human rights.
The Daigas Group's "Compliance Desks," which accept compliance consultations and reports, also provide a place for employees to seek advice on, and report all matters related to human rights.
<Roles of the Daigas Group Human Rights Committee>
1. Development of the Daigas Group's policy on human rights awareness activities and follow-up on activity results
2. Company-wide coordination of measures aimed at promoting human rights awareness activities
3. Information sharing concerning human rights issues
<Roles of the Daigas Group Human Rights Executive Board>
1. Planning and coordination of measures to be taken at each organization to develop human rights awareness plans and foster Human Rights Promotors
2. Follow-up on progress made concerning human rights awareness promotion plans at each organization
3. Information sharing concerning human rights issues
<Roles of Human Rights Committees at Divisions (business units and core affiliates)>
1. Daigas Group and implementation of a human rights awareness activity plan at each organization based on the company-wide policy on human rights, and reporting of such activity plan to the Human Rights Center
2. Efforts to promote human rights awareness among employees of each organization and provide them with relevant information
3. Establishment of a consultation desk at each organization to deal with human right issues
4. Liaison with administrative authorities with a jurisdiction concerning human rights issues
<Roles of Human Rights Promoters (Each organization)>
1. Delivery of human rights awareness training as lecturers to all the employees of each organization
2. Serving as a primary contact point for human-rights-related consultations at each organization
3. Consultation desk for disabled people concerning reasonable in-house consideration to be taken for such people
<Roles of the Human Rights Center>
1. Daigas Group Secretariats of the Human Rights Committee and the Human Rights Executive Board
2. Study of plans on human rights awareness and implementation of such plans
3. Fostering of Human Rights Promoters and support of their activities
4. Collection and dissemination of information on human rights issues
5. Participation in and response to activities of external human-rights-related organizations
6. In-house consultation desks to deal with human rights issues involving the Daigas Group
■ Organization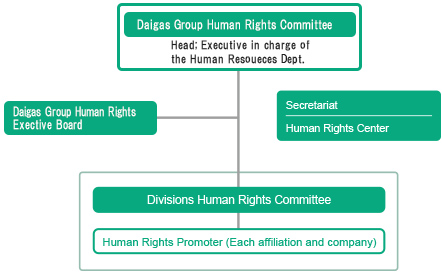 Education and Training for Human Rights Awareness
Education and training efforts in FY2021
Human rights slogan and compliance slogan posters for FY2022

Color universal design certificate

The Daigas Group adopts a human rights awareness slogan and formulates an action plan every year in an effort to foster a workplace culture in which human rights are respected. In FY2021, under the slogan of "foster a workplace culture in which human rights are respected—Start by offering friendly greetings and smiles," we developed and implemented plans to enhance and strengthen the Group's human rights awareness system, and we will improve its human rights awareness and education, disseminate human-rights-related information throughout the Group, actively participate in external activities, and collect various types of information.


We had 9,358 entries for our human rights slogan and also received 10,354 entries for our compliance slogan.

Since FY2018, the Color Universal Design (CUD)*1 mark has been displayed on the human rights and compliance slogan poster as it was again certified by the NPO Color Universal Design Organization (CUDO)*2 as color-friendly to people with "a different color sense."
*1

Color Universal Design (CUD) mark
The CUD mark is certified by CUDO. It is displayed on printed material and other products that are confirmed to be color-friendly to a range of people, including those with "a different color sense."

*2

Color Universal Design Organization (CUDO)
CUDO is a nonprofit organization aimed at building an all-inclusive society by promoting color universal design in posters and other documents to avoid inconveniencing people with "a different color sense." CUDO pledges to help build a society that is friendly to people who were formerly referred to as "color blind" in Japan, elderly people, and people with low vision. (CUDO website)
Human rights training for all levels
Human rights lectures for all employees

The Daigas Group has human rights training for all job levels: directors, managers, and new recruits.

Newly appointed managers learn about "business and human rights" through a training course featuring interactive lectures and video watching. We have human rights lectures for division heads and managers led by outside experts.

In FY2021, human rights training for all employees, given by human rights awareness promoters appointed by each organization, was provided for the first time in the form of e-learning to prevent the spread of COVID-19. Under the theme of "Let's Become Aware and Think about Human Rights Issues!," the training was conducted to encourage employees to think about human rights issues in everyday life, such as COVID-19-related discrimination and malicious slanders on the Internet. About 18,500 people, including those from affiliates, received the training.
■ Group-wide Human Rights Training - Participants
Participants
Implementation period
Total number of persons
Executives
November
23
Organization heads, managers
May, July, August, November, December
491
New employees
April
136
Training for all employees
From August to March
About 18,500
Managers at affiliates
May, November
55
New employees at affiliates
April, June, November, February
175
Employees of affiliate
Year around
-
HR Committee members, etc.
Year around
84
Total
About 19,400
Training for human rights awareness leaders
In training for each division's human rights awareness leaders, participants take a variety of courses outside the company. In FY2021, a total of 57 took these courses.
■ Results of Participation in Courses Outside the Company
Course name
No. of participants
Anti-discrimination and Human Rights Issues Awareness Raising
57
Human Rights and Anti-discrimination Awareness Raising
Buraku Liberation / Human Rights Summer Course
Other