Social Contribution Activities
Aspects Determined as Materiality
Principle and Outline
To meet a wide range of needs of regional communities, the Daigas Group actively uses its resources and is engaged in a wide variety of social contribution activities, including the Small Light Campaign. We will take on an active role in resolving issues facing communities and society as a whole and do our part to stimulate regional activity by developing local culture, history and sports in collaboration with local communities, NPOs and others.
Community Building
Fostering growth together with people in local communities
As an energy service provider focusing on businesses closely related to people's day-to-day lives as well as addressing environmental preservation with a great sense of mission, the Daigas Group is working on giving the public greater safety and security by enhancing people's health and taking measures to ensure disaster prevention in each region. For example, the Group has established an energy system developed by Osaka Gas at the Ibaraki Campus (which opened in Ibaraki City, Osaka Prefecture in the spring of 2015) of Ritsumeikan University. Building the energy system was part of an agreement reached by Ibaraki City, Ritsumeikan University and Aeon Retail Co., Ltd. to create a disaster-resilient community. The agreement calls for Osaka Gas to supply electricity to a disaster-prevention park located in a city next to Ibaraki in the event of a natural disaster.

Commitment to Helping Solve Regional Issues
PC recycling work at a welfare workshop

The "Hajimaru-kun Personal Computer Donation Program," being organized by Group member OGIS-RI, based on the idea of helping the environment by encouraging the reuse of PCs, is also a social contribution activity that provides employment support for the disabled to whom recycling operations are outsourced, as well as IT support for donation recipients. Since this program started in 2009, it has donated over 3,800 PCs to social welfare organizations. In FY2021, the 11th Daigas Group Hajimaru-kun Personal Computer Donation Program donated 170 "Hajimaru-kun PCs" to 144 welfare facilities in six prefectures in the Kinki District, Japan. In addition, the Group offers proposals to local governments on building towns and cities in which all residents – from children and adolescents to the middle-aged and elderly – can lead active lives and on establishing child-raising networks aimed at "joint child-raising" in collaboration with communities, government agencies, NPOs, and other corporations.

Overseas, the Jacobi Carbons Group, an activated carbon business company that is part of the Osaka Gas Chemical Group, is engaged in exchange with local communities, particularly those in the immediate neighborhood of their plants, and in activities designed to enhance living and educational environments for children.
■ "Hajimaru-kun" Scheme
Collaboration with an NPO Support for Kansai-based "social designers"
Osaka Gas operates "My Pro Showcase Kansai," a program that supports regional projects undertaken by Kansai-based "social designers" and nonprofit organizations, jointly with Greenz, an NPO known as the operator of the online magazine "greenz.jp." The program supports these organizations and individuals working to support child care and education, build communities, and help people with disabilities. Many social issues touch our lives, and these issues are becoming more advanced and complex. Osaka Gas regards the practitioners of "My Project = Starting to Solve Social Issues by Considering Them as if They Were My Own" as future partners in livening up communities in the Kansai region. Osaka Gas disseminates their activities to society and aims to collaborate with various stakeholders.
Since FY2016, Osaka Gas's membership-based website "My Osaka Gas" has been working on "Social Design+," a project that supports Kansai-based social design leaders who are striving to solve social issues.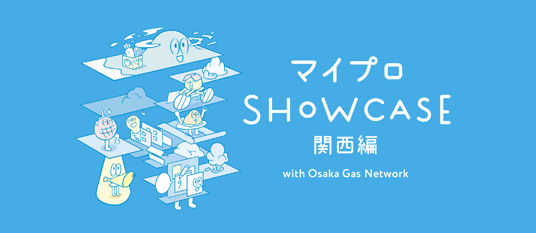 2020 TOPIC) Collaborative activities with NPOs under the COVID-19 pandemic
Online seminar "Restart!," which discussed five themes in order to support NPOs working to solve social issues under the COVID-19 pandemic

In FY2021, in an effort to contribute to the local community, Osaka Gas collaborated with and supported NPOs working to resolve local community issues to help them continue their activities despite the COVID-19 pandemic. We held an online seminar titled "Restart!—Let's Think from the Frontline Reality about 'Resumption of Activities and Countermeasures against the Second Wave' in the With-COVID-19 Era—" in cooperation with intermediate support organizations for NPOs. This seminar offered useful information and expert advice to help NPOs continue their activities under the COVID-19 pandemic.

Also, as part of the Connecting Gas Exhibition, we implemented the Connecting Project to support NPOs engaged, even during the COVID-19 pandemic, in activities to support people in difficult situations (foreign nationals living in Japan, people affected by disasters, children in hospitals, etc.) in proportion to the number of customers who participate in the Gas Exhibition lottery. The Connecting Project is an initiative to donate 10 yen to the target NPOs for each participant in the Gas Exhibition lottery. A total of 407,075 people participated in the lottery, and a total of about 4,070,000 yen was donated to 10 organizations in February 2021.
Sports and Health
NOBY T&F CLUB activities
Activities of NOBY T&F Club,

The Daigas Group has operated the NOBY T&F CLUB, an athletic club led by our Olympian employee Nobuharu Asahara. The club started its activities at the track field owned by Osaka Gas in 2010 with the aim of "promoting the healthy mental and physical development of local young people through sports and contributing to the revitalization of the local community." Currently, the club conducts its activities at three locations: Morinomiya Q's MALL BASE, Yanmar Stadium Nagai and Yanmar Field Nagai. The club conducts activities at the Stadium Nagai and Field Nagai as the Cerezo Osaka x NOBY T&F Club, in accordance with the business collaboration agreements signed with Wakuwaku Park Create Co. Ltd., a subsidiary of Yanmar Holdings Co. Ltd., and the designated management company of Nagai Park, and the Cerezo Osaka Sports Club. By leveraging the know-how gained over the decade, the club is entrusted with projects by municipalities and NPOs.

The NOBY T&F Club will continue to provide a wide variety of exercise programs, thereby aiming to become a comprehensive community sports club where a broad range of citizens, from children to the elderly, can become familiar with and enjoy sports.
Club activities and circle activities
The Daigas Group actively contributes to the healthy growth of children and the vitalization and advancement of society through club and circle activities. The Daigas track and field club holds "kids' time trials" and coaching sessions for running track, while the baseball club coaches kids in baseball.
Also, for the local community, the Osaka Gas Track and Field Club holds joint marathon training sessions for amateur runners, and the Osaka Gas Baseball Club implements the "Heart Ball Project." The project aims to revitalize the local community by asking welfare workshops to repair broken baseballs and donating repaired balls to local high school baseball teams, as well as to contribute to the environment through recycling of baseballs. Also, as part of its efforts to support the employment of people with disabilities, the Daigas Group asks welfare workshops in the area damaged by the Hokkaido Eastern Iburi Earthquake to make "original SDG badges" from broken bats of the Baseball Club.
Moreover, music clubs, including the mandolin club and brass band, perform concerts, and the sign language club carries out activities.
Culture and History
Valuing local culture and history to help build community
The Daigas Group helps to build vibrant local communities in a unique way, by revitalizing local culture and history. Between 1985 and 2003, the Group operated Ogimachi Museum Square (OMS), a multicultural facility housed in a former company building. A core part of the facility was a theater that promoted youth culture. In 1994, on the tenth anniversary of OMS, we established the "OMS Drama Award" as part of a commemorative project. Today, the annual award program continues to help discover and support young and more established playwrights, with 50 to 60 entries each year.
In 2010, the drama series Histoire was started, where reading plays about past leading figures in the Kansai region, written by OMS Drama Award-winning playwrights, are performed in the areas related to their protagonists. In FY2021, a FY2019 production titled Yukima no kusa (lit. "Grass in the Snow") about the 16th-century tea ceremony master Sen no Rikyu, the ninth work of the Histoire series, was reperformed at Sakai Plaza of Rikyu and Akiko. In the same year, a play titled Wasureji no asa (lit. "An unforgettable morning") about the late-19th- to early-20th-century poet Yosano Akiko was produced as a spin-off and was performed in Sakai City in cooperation with Sakai Plaza of Rikyu and Akiko.
Activities of the CEL
The Research Institute for Culture, Energy and Life (CEL) the in-house research institute of the Daigas Group, established in 1986 as one of the projects commemorating the 80th anniversary of the founding of Osaka Gas. The CEL currently focuses on the research fields of "consumers," "regions and communities," "economy and industry" and "urban infrastructure," being engaged in research, practice and proposals to conduct structural analysis of society and solve social issues. The CEL presents findings from its research activities in publications, symposiums, and seminars, lectures on them at universities, and publishes them in newspapers and magazines. It also makes good use of them in outside activities undertaken in cooperation with government agencies, business committees and NPOs. In addition, the CEL actively disseminates information through its triannual magazine "CEL," its website, its official Facebook page and other media. Furthermore, the CEL is taking advantage of a laboratory set up at the Knowledge Capital facility at Grand Front Osaka on the north side of JR Osaka Station for the purpose of studying the attraction of cities. Seminars and study sessions are being held on various themes, such as region/community and super-ageing society.
Storytellers' Theater aims to discover the historical and cultural resources of a city, organize them into stories, and show them with narrations, music and videos. It has performed in the Kinki region, mainly in Osaka, and in September 2019, the project had its first overseas performance in Singapore. A video work for online distribution, "Tenjin Matsuri Japanese Festival" (including English version) was produced in 2020 and has been released on Storytellers' Theater's official YouTube website.
Also launched was the U-CoRo Project, aimed at developing new networks through the effective use of local resources. Specifically, the Project periodically publishes a wall newspaper, "Uemachi Plateau Konjaku Times." Through the newspaper, it is hoped that local people will think deeply about their communities—both their past and future. Other events held under the U-CoRo Project include the regular holding of a forum on various topics.
Uemachi-Daichi past and present forum, which is periodically held under the U-CoRo Project

Tenjin Matsuri Festival, a new Storytellers' Theater work produced for online distribution