Social Contribution Activities
Aspects Determined as Materiality
Principle and Outline
To meet a wide range of needs of regional communities, the Daigas Group actively uses its resources and is engaged in a wide variety of social contribution activities, including the Small Light Campaign. We will take on an active role in resolving issues facing communities and society as a whole and do our part to stimulate regional activity in collaboration with local communities, NPOs and others. As part of communication with the next generation, we provide energy and environmental education, fire education, disaster response education, and food education.
Commitment to Helping Solve Regional Issues
PC recycling work at a welfare workshop

The "Hajimaru-kun Personal Computer Donation Program," being organized by Group member OGIS-RI, based on the idea of helping the environment by encouraging the reuse of PCs, is also a social contribution activity that provides employment support for the disabled to whom recycling operations are outsourced, as well as IT support for donation recipients. Since this program started in 2009, it has donated over 4,174 PCs to social welfare organizations. In FY2022, the 12th Daigas Group Hajimaru-kun Personal Computer Donation Program donated 180 "Hajimaru-kun PCs" to 163 welfare facilities in six prefectures in the Kinki District, Japan. In addition, the Group offers proposals to local governments on building towns and cities in which all residents from children and adolescents to the middle-aged and elderly can lead active lives and on establishing child-raising networks aimed at "joint child-raising" in collaboration with communities, government agencies, NPOs, and other corporations.

Outside Japan, Osaka Gas USA Corporation, which develops and invests in natural gas and power generation projects, etc. in the U.S., works on social contribution activities, including provision of lunch at NPO facilities which support the homeless and reforestation projects in public parks.
■ "Hajimaru-kun" Scheme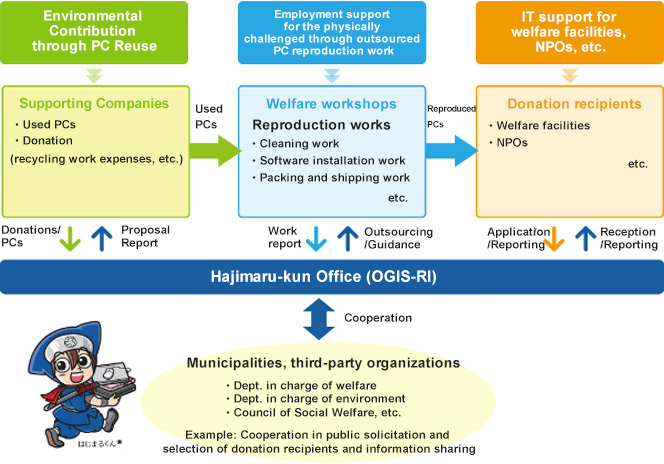 Collaboration with an NPO: Support for Kansai-based "social designers"
Joint operation of "My Pro Showcase Kansai"
Osaka Gas Network Co., Ltd., which is one of the Daigas Group companies, operates "My Pro Showcase Kansai," a program that supports regional projects undertaken by Kansai-based "social designers" and nonprofit organizations, jointly with Greenz, an NPO known as the operator of the online magazine "greenz.jp." The program supports these organizations and individuals working to support child care and education, build communities, and help people with disabilities. Many social issues touch our lives, and these issues are becoming more advanced and complex. Osaka Gas regards the practitioners of "My Project = Starting to Solve Social Issues by Considering Them as if They Were My Own" as future partners in livening up communities in the Kansai region. Osaka Gas disseminates their activities to society and aims to collaborate with various stakeholders.
Since FY2016, Osaka Gas's membership-based website "My Osaka Gas" has been working on "Social Design+," a project that supports Kansai-based social design leaders who are striving to solve social issues.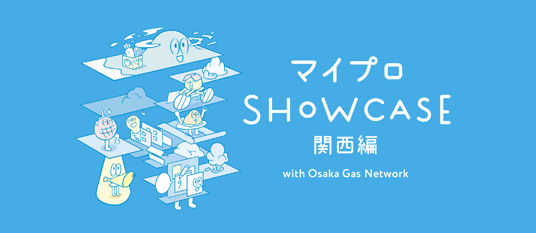 A social design project to seek and embody what only cancer survivors can do
Support for and participation in "DakarakosoCreate"
"DakarakosoCreate" was established in 2015 by Daigas Group employees, who served as promoters and facilitators, as a project in which cancer survivors in the working generation seek and embody what only ("dakarakoso") cancer survivors can do. The Daigas Group supports the "DakarakosoCreate" activities as support for social entrepreneurs and social designers.
In FY2022, it jointly organized online workshops and implemented projects to help people overcome various difficulties in life, such as diseases and disabilities.
Collaborative activities
with NPOs under the COVID-19 pandemic
In FY2022, in an effort to contribute to the local community, Osaka Gas continued to collaborate with and supported NPOs working to resolve local community issues to help them continue their activities despite the COVID-19 pandemic.
At the "Fureai Bazaar," Osaka Gas continued to support employment by selling products produced by groups of people with disabilities, among other activities. At the "Gas Exhibition," Osaka Gas implemented the "Let's Do Something Good for Our Planet Connecting Project" with the aim of realizing a sustainable society with customers and supported groups which worked on environmental activities. The Connecting Project is an initiative to donate 10 yen to the target NPOs for each participant in the Gas Exhibition lottery. A total of 349,261 people participated in the lottery, and a total of about 3,492,000 yen was donated to 10 organizations.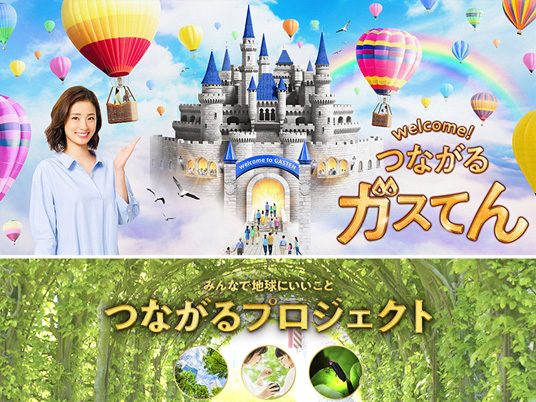 At the "Gas Exhibition," Osaka Gas implemented the "Let's Do Something Good for Our Planet Connecting Project" with the aim of realizing a sustainable society with customers and supported groups which actively worked on environmental activities.

Sports and Health
NOBY T&F CLUB activities
Activities of NOBY T&F Club,

The Daigas Group has operated the NOBY T&F CLUB, an athletic club led by our Olympian employee Nobuharu Asahara. The club started its activities at the track field owned by Osaka Gas in 2010 with the aim of "promoting the healthy mental and physical development of local young people through sports and contributing to the revitalization of the local community."

At present, the club has many coaches who are Olympians and former national team members of Japan, etc. It also undertakes projects from local governments and NPOs, etc. by taking advantage of the know-how acquired through their experience as athletes and their track record in coaching.

In FY2022, the club jointly produced a dance video titled "Dance for Running Faster with NOBY" in collaboration with Sompo Japan Insurance Inc. The dance incorporates elements of the program offered in the "NOBY T&F CLUB" course. In July 2021, the club started to offer "coaching sessions for dancing / track and field" based on the content mainly at elementary schools.

The NOBY T&F Club will continue to provide a wide variety of exercise programs, thereby aiming to become a comprehensive community sports club where a broad range of citizens, from children to the elderly, can become familiar with and enjoy sports.
Club activities
The Daigas Group actively contributes to the healthy growth of children and the vitalization and advancement of society through club activities. The Daigas athletic club holds coaching sessions for track and field, while the baseball club coaches kids in baseball.
Also, for the local community, the Osaka Gas Track and Field Club holds joint marathon training sessions for amateur runners, and the Osaka Gas Baseball Club implements the "Heart Ball Project." The project aims to revitalize the local community by asking welfare workshops to repair broken baseballs and donating repaired balls to local high school baseball teams, as well as to contribute to the environment through recycling of baseballs. Also, as part of its efforts to support the employment of people with disabilities, the Daigas Group asks welfare workshops in the area damaged by the Hokkaido Eastern Iburi Earthquake to make "original SDG badges" from broken bats of the Baseball Club.
Communication with the Next Generation
Energy and environment education
Energy and environment education program
"Rethinking Lifestyles to Make Them More Earth-friendly"
class

Since FY2007, the Daigas Group employees and alumni traveled to elementary, junior and senior high schools to teach lessons on energy and the environment in order to help children think about and understand increasingly important environmental issues. Daigas Group's instructors tour about 246 schools a year to offer two programs, including Eco-Cooking. In FY2022, a total of 294 teaching sessions were held, in which 8,598 individuals (mainly elementary school students) participated.

In addition, Osaka Gas runs the Gas Science Museum (located on the premises of the Senboku LNG Terminal) where visitors can learn about energy and the environment. (The museum has been closed since March 2020 to cope with the COVID-19 pandemic.)
■"Energy and Environment Education" Total Track Record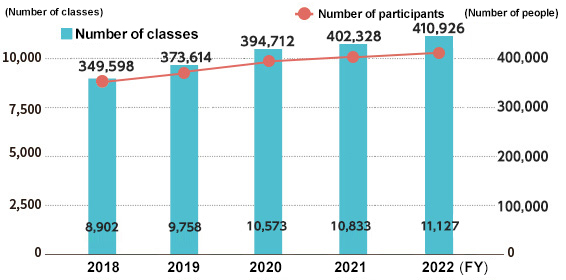 Biodiversity education
Fire education and disaster response education
Left: Learning material for upper grades of elementary school (A4,
40 pages, full color)
Right: Teacher handbook (with worksheets
and supplementary teaching materials for the class, A4,
40 pages, full color)

"Lessons in Disaster Response," in which children learn in a workshop format how their lives can change during a disaster and useful knowledge for disaster preparedness



The Daigas Group has developed two fire education programs for children one workshop style and one classroom style. The aims are to teach children how to start and manage a fire safely and how to cook with flames. By giving children the chance to learn about fire and become familiar with it physically, they will be enriched and develop greater hardiness.

In response to the increased need for disaster response education following the Tohoku earthquake and tsunami of 2011, we created an original textbook for an upper elementary school on the theme of disaster response Lessons in Disaster Response that we distribute to local elementary schools (a revised version was issued in January 2020). The textbook teaches children about natural disasters in Japan. While studying it, children take a workshop designed to impart useful knowledge about the changes that take place in people's lives when a disaster strikes. The textbook also contains a checklist of items to prepare and things to do at home to prepare for emergencies. Over a period of eight years, the textbook has been used widely at junior high schools, high schools, and universities, as well as by local governments and local residents' associations. Over 210,000 textbooks in total have been distributed.

In 2021 to 2022, videos created based on the textbook were uploaded to our website.
Food education
Left: For upper grades of elementary school (A4,
32 pages, full color)
Right: Teachers' guide (with worksheets,
A4, 64 pages, single color)

The Daigas Group also engages in food education. The slogan is "Let's foster healthy minds and bodies though good eating." We hold food education seminars and workshops for schools and childcare providers and produce and distribute the Food Education Book, a teaching text for elementary schools (300,000 copies distributed since 2008). We have developed a Japanese Soup Stock Workshop for teaching Kansai-area cooking flavor/culture, as well as a wide range of cooking workshops in collaboration with local universities and governments on the themes of local production for local consumption and food and health. We also hold a Kinki region contest of the "With Gas National Parent-Child Cooking Contest."

The "Japanese Soup Stock Workshop" was first held in FY2018 as a new area-based, workshop-style traveling program to pass on Japanese-soup-stock-based healthy and rich food culture to the next generation. As of March 31, 2022, 42,553 people had attended 1,300 workshops.
Under the influence of COVID-19, we made available on our website various kinds of information about food education, including cooking videos for elementary school students as well as videos of the food education seminars held for schools and childcare providers.

We plan to continue hosting such food education activities together with local communities as an ongoing initiative.

Elementary school visiting class on how to make soup stock,
which aims to contribute to improving children's eating habits