Developing Environmental Technologies
Aspects Determained as Materiality
Principle and Outline
The Daigas Group views technology as the foundation for its corporate competitiveness and views R&D as one of its most important strategies for differentiating itself from the competition. As an environment-friendly useful energy source that is available for stable supply, natural gas has long been expected to play a crucial role in creating a low-carbon society. We have been committed to researching, developing and putting into practical use various new natural-gas-related technologies that will enable customers to live comfortable lives and develop their businesses. We announced the Daigas Group Carbon Neutral Vision in January 2021 and the Medium-Term Management Plan 2023: Creating Value for a Sustainable Future in March of the same year to further accelerate our efforts toward low-carbon or carbon-free business operations. We will actively tackle a wide range of subjects, from the advanced use of natural gas to the further utilization of renewable energy and the research and development of gas decarbonization technologies such as methanation, to accelerate technological development that will contribute to achieving carbon neutrality.
Efforts to Popularize Independent Dispersed Energy
Smart Energy House
Osaka Gas is working on the development of the Smart Energy House, which is designed to offer comfortable and environmentally friendly living to people by achieving "smart" management of electricity and heat when they are created, stored and consumed. The Smart Energy House runs on three battery — a residential fuel cell, a solar power system and a storage batteries — and uses IT to achieve the goal.
Osaka Gas and Sekisui House Ltd. conducted a living experiment of the Smart Energy House for three years from February 2011. The results of the experiment break down into three main points, which were released after technological studies were conducted to put them to practical use in the future.
1. The experiment conducted under actual living conditions at a 3-cell house (an electric vehicle is used as one of storage batteries) achieved a 103% reduction in CO

2

emissions*, an 82% cut in energy consumption and savings of 310,000 yen in utility expenses and fuel costs for the vehicle.
2. The experiment confirmed the functionality of our Home Energy Management System (HEMS), which is said to be effective in ensuring both comfort for residents and long-term energy savings.
3. The experiment also demonstrated that automatic control systems set up in housing facilities, such as electrically-operated shutters and electric curtains, are effective in increasing convenience and comfort for residents.
Osaka Gas's know-how to optimize the control of these three kinds of cells/batteries and Kyocera Corporation's expertise in electricity storage systems were combined to develop a small and lightweight Smart Energy House Electricity Storage System, which can store up to 3.2 kWh power generated with Ene-Farm type S, a fuel cell system for residential use. The storage system was launched for sale in April 2017. In April 2019, we also began to sell Omron Corporation's Smart Energy House Electricity Storage System (with 6.5 kWh and 9.8 kWh models), which can store surplus solar power in addition to power generated with the Ene-Farm type S residential fuel cell system.
*

Calculation of CO

2

emission reduction
In addition to CO

2

emission reduction to net zero, CO

2

emissions are expected to be further decreased by another 3% through the use of the three batteries and by exporting electricity generated by the solar cell back to the grid.
■ Smart Energy House Conceptual Diagram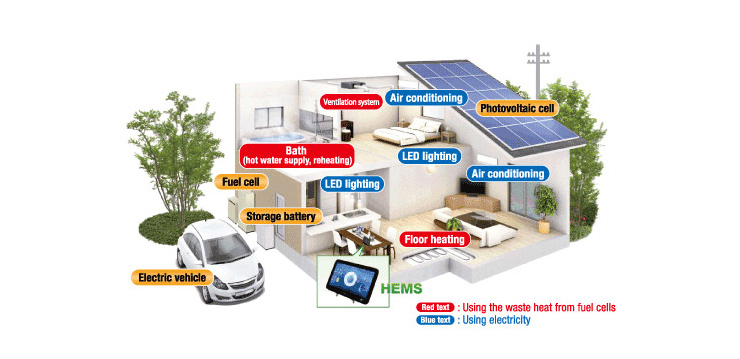 Smart Energy Network
A smart energy network forms an energy community by combining a gas cogeneration system, renewable energy, and ICT, and it brings a low-carbon energy system into reality by providing three types of new value: further promotion of energy saving and CO2 emission reduction, enhancement of energy security, and acceleration of the introduction of renewable energy.
In FY2011 to 2013, Osaka Gas participated jointly with Tokyo Gas Co., Ltd. in the "Dispersed Energy Compound Optimization Demonstration Project" of the Ministry of Economy, Trade and Industry (METI). Osaka Gas successfully completed the demonstration, with cooperation from nine customers.
Also, in the Daigas Group-owned redevelopment area in the Iwasaki district in Nishi-ku, Osaka City, we have built a "disaster-resistant town" and a smart energy network by combining heat supply facilities with a shopping mall, the hu + g MUSEUM (Osaka Gas's facility to disseminate information on food and housing), Kyocera Dome Osaka (a stadium adjacent to the museum), the Osaka Municipal Fire Department, and a general hospital. This network has been in operation since July 2013.
■ Smart Energy Network Conceptual Diagram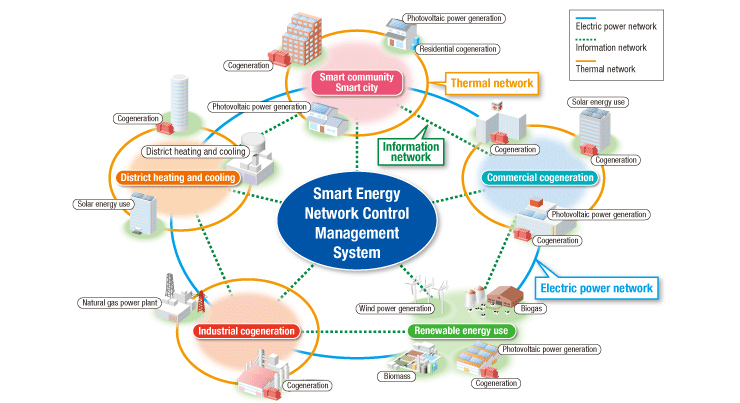 Osaka Gas and Sekisui House to start new living experiment at 3-battery house
In anticipation of a society where renewable energy is the main power source, Osaka Gas started a living experiment, working jointly with Sekisui House, Ltd., at a house equipped with three types of batteries (fuel cell, storage battery, and solar cells) (hereinafter, "3-battery house") for about one year from April 1, 2020, in order to verify to what extent the 3-battery house can contribute to power gird stabilization.
Verification of 3-battery house's potential contribution to power grid stabilization
We will confirm to what extent the 3-battery house can contribute to power grid stabilization in the following aspects.
1) Operation of the fuel cell and storage battery is controlled in accordance with fluctuations in the power generated by the solar cells of the 3-battery house in order to suppress fluctuations in electricity to be sent to the power grid and thereby minimize effects on the power grid.
2) When power supplied from renewable energy sources, such as solar cells, is excessive in the power grid, the amount of power generated by the fuel cell is reduced and excess power is stored in the storage battery to contribute to maintaining a supply-demand balance in the power grid.
3) With the assumption that the 3-battery house is a resource of a virtual power plant (VPP),* we will check if the 3-battery house can provide adjustability required to maintain the supply-demand balance in the power grid in response to simulated instructions from electric utility companies. We will also assess consequent effects on residents to detect any issues.

*

Virtual power plant. It is realized by business operators called "aggregators" using, in a bundle, the adjustment power supplied by distributed power sources
Demonstration of peer-to-peer power transactions among residents in NEXT21 begins
Osaka Gas Co., Ltd. began a peer-to-peer power transaction demonstration among residents at the Osaka Gas experimental residential complex "NEXT21"*1 in March 2019. Currently, surplus power generated by distributed energy systems is supposed to be sold to electricity retailers. In the future, customers who own distributed energy systems centered on renewable energy power generation may be allowed to sell and buy generated power without restriction. For the effective management of these transactions, blockchain technology*2 is expected to be used.
In this demonstration, in order to confirm the effectiveness of blockchain technology in peer-to-peer power transactions, we have used the actual living environment of NEXT21 residents and conducted electric power interchange between the dwelling units with residential fuel cells and photovoltaic power generation. If peer-to-peer power transactions become a reality, we can provide new value that meets customer needs, such as directly connecting sellers of electricity of high environmental performance with buyers who want to choose it. Moreover, in case of a power grid outage, we have established an area (microgrid) where power supply continues with a compact distributed power generation system that uses the VSG function.*3 We have also verified whether records of electric power interchange between customers is manageable with blockchain technology in the event of an outage as smoothly as in normal times.
*1

"NEXT 21"
"NEXT 21" was constructed in October 1993 by Osaka Gas to propose an ideal neo-futuristic urban multiple-unit housing under the concept of "Achieving both comfortable and convenient life and energy-saving / environmental preservation. With Osaka Gas's employees and their families actually living there, NEXT21 has had demonstrative experiments based on themes that fitted with the times. Demonstrative experiments were conducted on a variety of themes, including energy saving for the entire building, its CO

2

reductions, greenery restoration and environmental symbiosis in urban areas, ideal forms of residence that reflect diverse lifestyles, and product development. Also, many proposals and presentations that may lead to ideal multiple-unit housing in the future have been made at a time when the liberalization of the energy market has advanced. Some of the proposals have been commercialized.

*2

Blockchain technology
A technology that allows the management of transaction records on distributed servers. It is highly resistant to falsifications and failures, and also holds promise for achieving automated transactions.

*3

VSG control
VSG stands for Virtual Synchronous Generator. In this demonstration, this virtual technology is used to simultaneously operate multiple distributed power generation systems in the microgrid. With VSGs, there is no need to assign a power generator as the control tower for the entire microgrid. The risk of the entire microgrid losing power is therefore lower when a single "control tower" power generator goes down.
Contribution to Carbon Neutrality
2020 TOPIC) Success in prototyping a new SOEC, the key to innovative methanation, which will contribute to city gas decarbonization
—Developing a technology applicable to highly efficient hydrogen and liquid fuel production as well—
Osaka Gas is engaged in basic research on a highly efficient, innovative methanation technology, which is a promising solution to city gas decarbonization. The Company recently succeeded in prototyping a practical-size solid oxide electrolysis cell (SOEC),*1 the key to realizing innovative methanation, for the first time in Japan.*2 We believe that the SOEC technology can be applied not only to city gas decarbonization but also to the highly efficient production of hydrogen and liquid fuel. We will accelerate our R&D efforts through cooperation between industry, government and academia, and in alliance with various enterprises, with the aim of establishing this SOEC technology by around 2030.
Methanation technology, which will enable the synthesis of methane—a main component of city gas—from CO2 and hydrogen, will help achieve decarbonization despite the continued use of existing city gas supply networks and gas appliances and equipment. Osaka Gas has been conducting basic research on innovative methanation (SOEC methanation*3), which is likely to enable methane synthesis with high energy conversion efficiency using CO2 and renewable energy.*4
Unlike conventional SOECs, which are made of expensive special ceramics, the newly developed SOEC has a sturdy metal support and a thin ceramic layer on its surface, like enamel tableware. Using only 10% of the expensive special ceramic materials of conventional SOECs, the new SOEC is expected to help cut costs. It is also seen as easy to scale up because it is more shock-resistant and sturdier than conventional SOECs.
Moreover, this technology for the new SOEC is considered applicable not only to methanation but also to the highly efficient production of hydrogen, liquid fuel, ammonia, and chemicals. The SOEC technology is now still at the basic research stage, but we will further accelerate our efforts to research and develop it in active collaboration with research institutes and other companies with the aim of establishing it by around 2030.
*1

A solid oxide electrolysis cell (SOEC) is an element that can electrolyze water vapor and CO

2

at high temperatures using a solid oxide.

*2

It has been verified that the prototype SOEC has the potential for the same level of electrolysis performance (strength of the electrolytic current per unit area) as that of conventional SOECs. In addition, Osaka Gas succeeded in prototyping Japan's first practical-size metal-supported SOEC. This research project was partly implemented in collaboration with the National Institute of Advanced Industrial Science and Technology.

*3

SOEC methanation denotes the use of SOEC equipment to electrolyze water and CO

2

into hydrogen and CO using renewable power and then synthesize methane from hydrogen and CO through catalysis. This method involves only small energy loss thanks to the effective use of waste heat from the methane synthesis process, so it is expected to achieve higher energy conversion efficiency—85 to 90%—than that of conventional methanation methods (55 to 60%) and hydrogen production through water electrolysis (70 to 80%).

*4

Details are given on the Daigas Group website.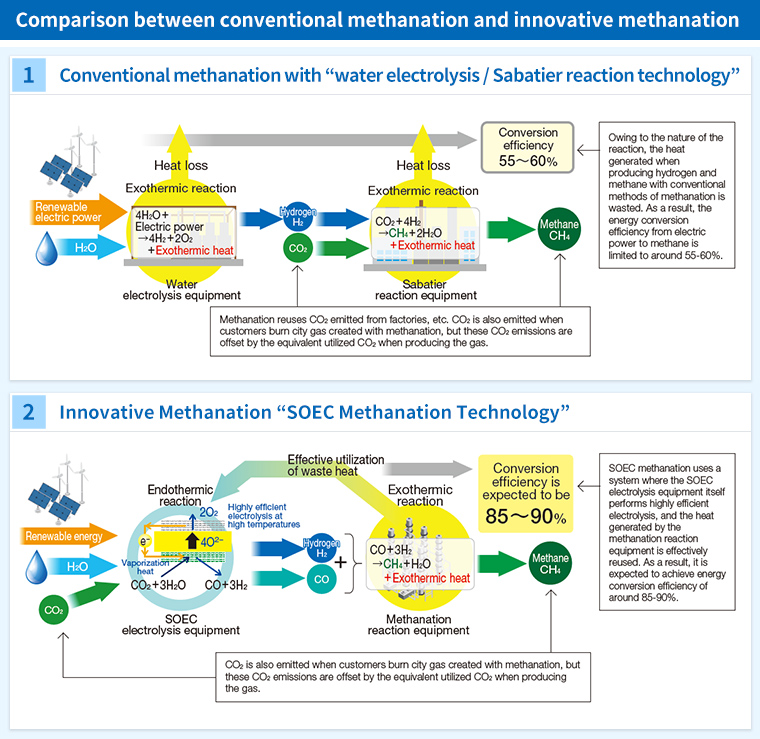 2020 TOPIC) Start of R&D for chemical looping combustion technology, which will contribute to decarbonization
—Toward simultaneous production of hydrogen, electricity, and CO
2

using biomass fuel
In November 2020, Osaka Gas's project to research and develop chemical looping combustion technology, which will contribute to decarbonization, jointly with the Japan Coal Energy Center (renamed the Japan Coal Frontier Organization in April 2021; JCOAL) was selected for commission given by the New Energy and Industrial Technology Development Organization (NEDO).*1 Osaka Gas signed a contract with NEDO to implement this commissioned project in January 2021.
This joint project with JCOAL aims to research and develop a process of simultaneously producing hydrogen, electricity, and CO2 from coal, biomass, and other substances using chemical looping combustion technology.
Chemical looping combustion technology can combust coal, biomass, and other fuels using oxygen contained in metallic oxides, such as iron oxides, instead of oxygen contained in air. This technology is unique in that exhaust gas from this method of combustion does not contain nitrogen or nitrogen oxides derived from air, so high-purity CO2 can be separated and recovered easily. In addition, the metallic oxides lose part of their oxygen content due to their reaction to the fuel and generate high heat, which can be used to produce steam for power generation, in reaction to air, as well as hydrogen in reaction to water. Through this process, the metallic oxides return to their original condition prior to their reaction to the fuel, restoring their ability for a series of reactions. In this way, this method of combustion has a circular and reusable nature, so it is called "chemical looping combustion."
When coal is used as fuel, this technology can produce clean hydrogen and electricity by storing or using separated CO2. When carbon-neutral biomass fuel is used, this technology can generate not only green hydrogen and electricity but also biomass-derived CO2 at the same time.
This commissioned project, which will last until March 2025, comprises the development of elemental technologies and the verification of the chemical looping combustion process with a 300 kW*2 experimental apparatus.
To accelerate the R&D process, Osaka gas is in charge of deliberating on process optimization, collecting experimental data useful for establishing an apparatus control method, assessing the commercial feasibility of the use of biomass, and conducting demonstration tests with the 300 kW experimental apparatus. Meanwhile, JCOAL is in charge of collecting experimental data useful for identifying reaction specificity, assessing the commercial feasibility of the use of coal, and designing and producing the 300 kW experimental apparatus, as well as conducting demonstration tests with it.
The Daigas Group aims to use the results of this project to put into commercial operation a biomass-fueled plant that can produce hydrogen, electricity, and CO2. We expect to provide hydrogen produced at this plant for customers who need affordable green hydrogen and offer CO2 produced at this plant in the forms of liquid CO2 gas and dry ice. Furthermore, in the future, we aspire to provide CO2 as the material of products made through carbon recycling and use it in negative emissions projects*3 through carbon capture and storage (CCS). We will also consider using electricity generated at this plant in Japan's non-fossil fuel energy value trading market and selling it to customers who aim to join RE100.
*1

The project was selected for NEDO's open-call program for commissioned projects to develop carbon recycling or next-generation thermal power generation technology, basic technology for next-generation thermal power generation, or technology for a polygeneration system based on CO

2

separation and recovery.

*2

Amount of power from fuel provided during the unit time

*3

Negative emissions projects" is a collective term for projects to achieve negative GHG emissions by fixing carbon-neutral CO

2

that is not counted in GHG emissions so that it will not diffuse into air.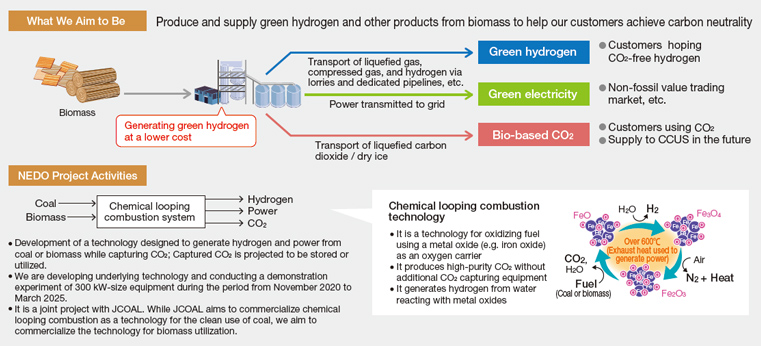 Development of HYSERVE,® hydrogen production equipment, and construction of hydrogen stations
"HYSERVE-300"

"HYSERVE-5"

Kamitoba Hydrogen Station

Osaka Gas has developed a compact on-site hydrogen generator, "HYSERVE-300", which produces hydrogen from natural gas with an output capacity of 300 m³ N/h. The move has been in response to increasing demand in recent years for hydrogen-generating devices for use at filling stations, amid the anticipated spread of fuel cell automobiles, considered to be the ultimate clean car. We have also developed an LPG model, HYSERVE-300P, which went on sale in January 2015.

In April 2019, Osaka Gas Liquid Co., Ltd., a member of the Daigas Group, began selling HYSERVE-5, a small hydrogen generator with a capacity of 5 m3 N/h per hour. For customers with modest energy needs, hydrogen can be supplied in gas tanks or cylinders known as curdles. However, for those customers located a distance away from a hydrogen manufacturing center or delivery station, the price of hydrogen has tended to be higher, as the delivery cost is higher and systems require tanks to be replaced before the hydrogen is fully depleted. HYSERVE-5 enables hydrogen to be produced efficiently on a customer's premises in accordance with the volume required. As a result, hydrogen can be supplied at a reasonable price. In addition, a lot of trouble is saved by eliminating tank delivery and hookup. It is expected that the demand for smaller-sized hydrogen generators will increase with the spread of fuel cell forklifts and other hydrogen-powered equipment. Hydrogen can be supplied for such new usages at reasonable prices by introducing the HYSERVE-5 hydrogen generator. The HYSERVE on-site hydrogen production system series offers a wide range of products that meet various customer needs, from small to large sizes and for both city gas and LPG.

In step with the development of hydrogen-generating devices, Osaka Gas has been conducting empirical research on hydrogen filling stations for their diffusion since FY2002. In April 2015, the company opened Kita-Osaka Hydrogen Station, which is equipped with "a HYSERVE-300" hydrogen generator, in Ibaraki City, Osaka Prefecture. In March 2016, we also opened Kamitoba Hydrogen Station, a movable filling station in Kyoto City. At each filling station, hydrogen generated from city gas is provided to fuel cell vehicles. Osaka Gas will continue to support the creation of a low-carbon society through the establishment of hydrogen-supplying infrastructure and the development and sales of hydrogen generators.
Utilization of Unused Energy
Biogas purification project in Thailand to supply fuel to natural-gas-powered vehicles
Commercial plant in Thailand

Osaka Gas has developed an original biogas purification technology that removes carbon dioxide and other impurities from biogas, aiming to make effective use of biomass resources and contribute to the reduction of greenhouse gas emissions. Agriculture of Basin Co., Ltd. (ABC), a Thai company, uses this technology to purify biogas generated in the process of palm oil production, thereby producing high-purity methane gas and supplying it to natural-gas-powered vehicles. Osaka Gas (Thailand) Co., Ltd. is entrusted with the operation of the purification process.

Since agriculture is one of Thailand's most prominent industries, there is an abundance of biomass resources. These include palm residue, the remnants of sugarcane crushed to extract juice, and food factory wastewater. Natural gas-powered vehicles are also becoming increasingly prevalent in Thailand. Meanwhile, Osaka Gas has been engaged in developing biogas-refining technology since 2012 in the pursuit of effective utilization of unused biogas. The Company is capable of producing high-purity methane gas with the world's highest efficiency in methane recovery at a rate* of more than 99%. It has achieved this through its proprietary hybrid biogas refining system, which combines a CO2 separation membrane with pressure swing adsorption (PSA), a technology that selectively adsorbs and removes CO2.

We will actively offer services that use these original technologies and contribute to reducing greenhouse gas emissions in Thailand and other countries that have biomass resources.
*

Methane recovery rate of 99% or higher
Percentage of methane in high-purity methane gas product relative to methane in biogas from raw material
■ Unique Hybrid Biogas-Refining System Developed by Osaka Gas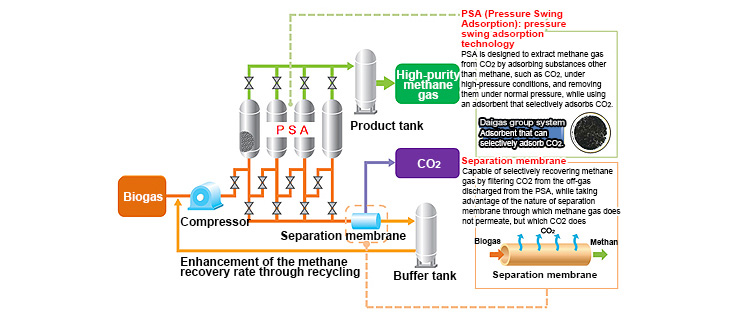 Development of a high-efficiency methane fermentation system to help resolve waste and resource depletion issues
To contribute to solving the issues of waste reduction and fossil resource depletion, Osaka Gas has developed Methasolution, a high-efficiency methane fermentation system that makes full use of biotechnology. This system uses technology (solubilization) that dissolves raw garbage and other organic waste (biomass) at high temperature (80℃), thereby increasing the methane gas generated by 20% over biomass dissolution by conventional fermentation processes. This technology also works for organic waste with a high content of oil and biodegradable plastics, from which methane fermentation is difficult. This technology can be used to solubilize them, enabling stable methane fermentation.
In 2009, we participated in the Kyoto Biocycle Project, a project for developing technology to combat global warming organized by the Ministry of the Environment and supervised by local governments and universities, which verified the effectiveness of ultra-high-temperature solubilization technology using school lunch garbage and other waste. We will consider the application of this technology to methane fermentation from materials from which methane fermentation is difficult and to methane fermentation from garbage bags and trays made of biodegradable plastics.
Verification test for a small-scale biogasification system
Daigas Energy Co., Ltd., a wholly owned subsidiary of Osaka Gas, is developing D-BioGas, a small-scale system for biogasifying a small amount of food waste economically.
From the viewpoints of installation space and costs, conventional biogasification systems have been considered impractical to be introduced into food factories and commercial facilities that generate a small amount of food waste of up to about one ton per day. The small-scale biogasification device under development is inexpensive and compact because it uses a general-purpose septic tank as a biogasification tank. Moreover, high-temperature fermentation at 55°C enables the device to process a large amount of food waste, downsizing the device and improving its economic efficiency.
During the period from FY2018 to FY2019, we conducted the first demonstration test at a food factory and identified technical issues. In FY2020, we started the final demonstration test with a device that had overcome the technical issues, and we are planning to bring it to commercialization by the end of FY2021.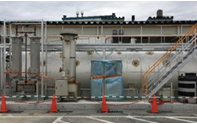 Small-scale biogasification device under demonstration test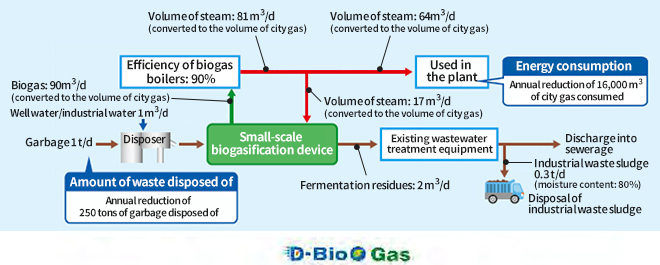 Commercialization of energy-creating wastewater treatment process
Energy-creating wastewater treatment process in commercial operation

Wastewater containing aromatics, which comes from facilities such as semiconductor and chemical plants, has been difficult to process under conventional methods. Combustion treatment is used, but this generates significant CO2 emissions and results in high costs.

Osaka Gas has developed a method that can break down organic substances in wastewater easily and rapidly by passing high-temperature, high-pressure wastewater through a catalyst specially processed using nickel. In this treatment process, a flammable gas is generated and effectively used to power the boilers and other equipment on-site. Compared to combustion treatment, this method reduces CO2 emissions approximately 110%* and results in wastewater treatment costs that are approximately 40% lower.* The system won the Environmental Minister's Award for Global Warming Prevention Activities in FY2015.
*

Calculation of CO

2

emissions and wastewater treatment cost
It is the case when processing wastewater amount is 200 m³ per day.
■ Energy-creating Wastewater Treatment Process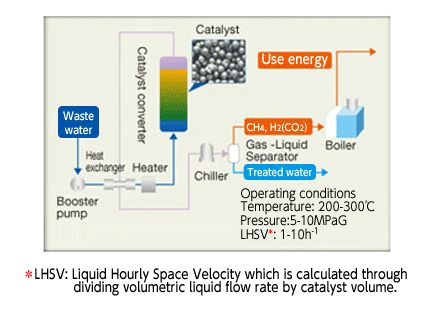 2020 TOPIC) Commencement of business related to radiative cooling material, a new product, by SPACECOOL Inc.
—Also contributing to realizing a decarbonized society with world-class cooling performance—
Radiative cooling material (film)

SPACECOOL Inc. (hereinafter "SPACECOOL"), which is jointly operated by WiL, LLC (hereinafter "WiL") and Osaka Gas, started marketing and advertising a radiative cooling material in May 2021.

WiL and Osaka Gas have a joint stake in SPACECOOL. WiL will support SPACECOOL in business management, while Osaka Gas will support SPACECOOL in terms of research and application development. This is the first project in which WiL and Osaka Gas have a joint stake.


The material is designed to lower the temperature*1 compared to the outside air temperature without using energy by releasing heat into outer space under direct sunlight. The product is also expected to contribute to creating a low-carbon society and a decarbonized society.


A demonstration test conducted by Osaka Gas found that the surface temperature of the material was up to about 6°C*3 lower than the outside air temperature under direct sunlight, realizing world-class*4 cooling performance.
With two types of products (film and canvas) having been developed, SPACECOOL will also develop other products. The material is expected to be deployed as products for implementing measures against global warming, achieving energy conservation and ensuring cooling comfort. Potential applications vary, including canvas-covered structures and container warehouses. SPACECOOL will develop various products.


SPACECOOL is a new company that aims to mitigate the impact of heat on people, goods, and society by offering radiative cooling materials under the corporate philosophy of "achieving coolness like the shade of trees around the world." Through alliances with various companies, SPACECOOL will offer the value of safety and comfort for people, such as preventing heatstroke and keeping the freshness of food, value of economy for goods, such as improving reliability (including reduction of failure of outdoor equipment) and space efficiency and reducing costs, and value of reducing greenhouse gas emissions and improving the environmental performance for society by means of zero-energy cooling.


In April 2018, WiL and Osaka Gas concluded an agreement to invest in WiL Fund II, L.P.,*5 a venture investment fund operated by WiL.
WiL aims to achieve open innovation with partner companies and deploy their R&D products that can help solve social issues around the world, including Japan. Osaka Gas will contribute to realizing a low-carbon and decarbonized society and create businesses in new growth fields through open innovation.
*1

This has been achieved by using Osaka Gas's proprietary optical control technology to develop a material design that reduces the solar heat input and increases heat dissipation through thermal radiation.*2

*2

Thermal radiation refers to a phenomenon in which the heat of a heated object is transferred as electromagnetic waves (light).

*3

The temperature was measured at Osaka Gas Energy Technology Laboratories in Konohana-ku, Osaka (ambient temperature at the time of measurement: approximately 35°C). The temperature on the reverse side of a steel sheet covered with the radiative cooling material was measured.

*4

The survey was conducted by Osaka Gas based on published papers.

*5

The information was released in the press release "Osaka Gas Invests in U.S.-based Venture Fund WiL Fund II" dated April 26, 2018.
Efforts in the Life & Business Solutions Business
Method proposed by Osaka Gas to test activated carbon fibers recognized as being harmonious with ISO International Standards
The Association of Fibrous Activated Carbon, of which Osaka Gas is the representative secretary, has drafted test methods for fibrous activated carbon. They have been approved by the International Organization for Standardization (ISO) and were published in November 2017 as international standards.
Activated carbon fiber, developed in Japan and now under production by companies including Ad'all Co., Ltd., a Daigas Group company, is a product with excellent removal performance of harmful substances. The method was proposed to the ISO based on the Japanese Industrial Standards we have already acquired, using a fast-track proposal method. As a result, the method was recognized two years after the submission of the proposal, much faster than the period of at least three years required under the normal procedure.
With the diffusion of this method around the world, the function of activated carbon fibers of being able to remove harmful substances is likely to be recognized widely, possibly enhancing trust in products containing such fibers that are marketed in Japan. Consequently, environmental preservation will be promoted with safety and security expected to increase regarding people's lives.
Technology to mitigate air pollution
"NNC panel" installed alongside Route 23

Osaka Gas developed the NNC Panel (NOx & Noise Cut Panel), the first of its kind in the world designed to reduce NOx, an air pollutant, and street noise at the same time. The panel, made of carbon materials, has already been installed on soundproof walls erected alongside a section of Route 23 in Nagoya City, marking its first practical use.

In recent years, health concerns from inhaling PM2.5 (fine particles with a diameter of 2.5 micrometers or less) has grown worldwide. NOx is considered one of the main sources of PM2.5 and effective ways of reducing the chemical compound are being explored. The NNC Panel uses activated carbon fiber (ACF*), which is said to be capable of removing more than 70% of the NOx in the atmosphere and is also durable. ACF used in the panel also functions to reduce noise. ACF is a fine textile with a miniscule diameter of 15 micrometers, a characteristic that enables the fiber to absorb sound. The ability of ACF used in the panel to absorb sound is equal to conventional sound-absorbing materials such as fiberglass.

The ACF is shaped like pleats because that shape can increase the fiber's contact with the atmosphere. In addition, the structure of the sound-absorbing panel used in the NNC Panel has been upgraded to enable the effective intake of air. As a result, the noise reduction level reached 33.3 dB, far topping the benchmark 25 dB set by NEXCO, while significant air purification was achieved. (A test to measure the sound transmission loss showed that noise was cut by 33.3 dB for sound sources with a center frequency of 400 Hz.)
Osaka Gas will continue to step up marketing of the NNC Panel through its subsidiary Daigas Gas and Power Solution Co., Ltd., targeting places where atmospheric purification and noise reduction are necessary, such as soundproofing walls on expressways and trunk roads.
*

Activated Carbon Fiber
Osaka Gas previously produced gas from coal. ACF is one of the technologies developed by the company to effectively use coal tar, a by-product of producing gas from coal.
Pilot Project for ACF air purification units in the Republic of Indonesia launched
ACF units installed in Jakarta

Daigas Gas and Power Solution Co., Ltd. (DGPS), a subsidiary of the Daigas Group, started a demonstration project in September 2018 to reduce a roadside air pollutant, nitrogen oxide (NOx), by using an air purification system with activated carbon fiber (ACF) in Indonesia. The project, intended to demonstrate the effectiveness of the system and promote its widespread installation, has been adopted by the Japan International Cooperation Agency (JICA) as one of its Collaboration Programs with the Private Sector for Disseminating Japanese Technologies for the Social and Economic Development of Developing Countries.

Amid intensified traffic congestion due to rapid economic growth and associated changes in the living environment recently, Jakarta, the capital city of Indonesia, has been facing severe air pollution on roadways. In central Jakarta, for instance, the concentration of NOx, a substance that causes respiratory disease, is nearly twice the level set by World Health Organization (WHO) guidelines.*1 The incidence rate of asthma among children aged 13 to 14 is several times higher than in Japan.*2

To improve the environment in Indonesia with the ACF air purification technology owned by the Daigas Group, DGPS has applied for the above JICA project, and, after much consultation with the Indonesian Ministry of Public Works and Housing, it has installed ACF units in front of a general hospital on the main national highway*3 in southern Jakarta.
The system features (1) air purification by using natural wind without using electric power and (2) refreshable NOx removing capacity by hosing with water or naturally by rain, thus providing easy maintenance and long-term benefits and effectively mitigating air pollution in developing countries. With support from JICA, DGPS verified the system's effectiveness in Indonesia's tropical environment for one year. Osaka Gas will continue to step up marketing of the system, targeting other places.
*1

Jakarta Polices Traffic Directorate, BPLHD Jakarta, 2014

*2

International Study Asthma and Allergies in Childhood, 2012

*3

Jalan TB Simatupang, South Jakarta, DKI Jakarta Province
Simulation technology developed by Osaka Gas
Development of highly efficient, compact industrial burner required few prototypes
Osaka Gas applies simulation technology in the development of industrial burners in order to enable customers to achieve higher levels of energy efficiency at their own sites. Among the various types of industrial burner, it used to take a lot of time and effort to determine the optimal operating conditions for large industrial burners and to design such burners. Simulation has enabled the prediction of combustion state under various conditions, including burner shapes, making it possible to obtain the optimum solution in a short period of time.
Temperature increasing as an item is heated

Impulse burner
(Example of a recuperative burner)
Use of predicated power generation at wind farms for the assessment of project feasibility
Hirogawa Myojinyama Wind Farm in Wakayama Prefecture

To assess the viability of wind power, you must be able to predict how much power will be generated with a high degree of accuracy and certainty. And since many wind farms in Japan are in mountainous areas, you must be able to predict how the wind will react to the terrain. Osaka Gas has experience in simulations involving predicting how exhaust gas is dispersed from cogeneration systems around buildings and in urban areas. We applied this expertise to predicting the generating amount of a wind farm, a big help in our development of highly efficient, natural energy system.
■ Amount of Electricity Predicted through Simulations and Actual Amount of Electricity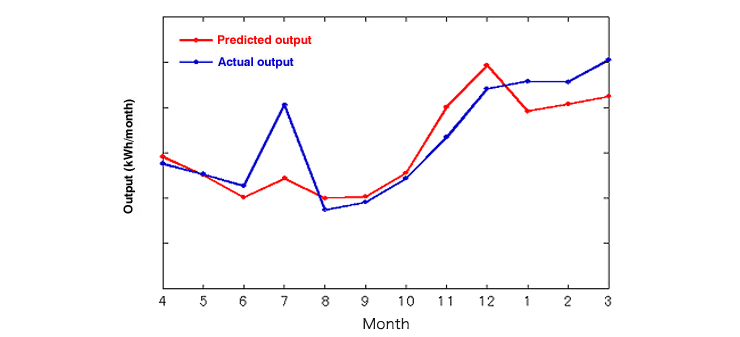 Use of a weather simulation model to forecast energy demand and support operations of renewable energy systems
The consumption of energy such as electricity and gas, and the amount of electricity generated through natural energy sources, such as solar power and wind power, are greatly influenced by weather conditions, prompting Osaka Gas to step up development and implementation of weather simulation technologies.
Osaka Gas uses Weather Research Forecasting (WRF), a weather simulation model developed by a U.S. research laboratory, while combining it with data from the Japan Meteorological Agency' and weather stations outside of Japan. The Company limits the use of WRF to western Japan regions and forecasts their weather and solar radiation quantity within an area of 2 square kilometers, up to about three days ahead. By using WRF in such a manner, Osaka Gas can obtain more accurate and detailed weather data than that which could be expected from standard weather forecasts. The effectiveness of the system has been proven within the Daigas Group, and in September 2018 approval was obtained from the Japan Meteorological Agency for a system to supply customers with weather information.
Example of weather simulation (amount of sunlight)

Example of weather simulation (wind velocity)
Development of biodegradable plastic film composed mainly of plant-derived polylactide plastic
Polylactide plastic bag

Osaka Gas has developed biodegradable plastic film by improving polylactide (PLA) to render it soft and extensible.

PLA is a biodegradable plant-derived plastic, which is traditionally difficult to form (by inflation molding) into a film bag because of its hardness and brittleness. Making use of its long-cultivated resin modification technologies, the Daigas Group has succeeded in producing PLA from which flexible and high-strength plastic films that maintain biodegradability can be manufactured.

Because of the biodegradable characteristics, the developed PLA plastic has various other applications, including bags for throwing garbage into compost bins, and agricultural multi-purpose film that need not be removed from farming land or incinerated. The PLS plastic film is expected to contribute to resource recovery from waste and reductions in both CO2 emissions and fossil fuel use.
Development of a 3HB (ketogenesis) biogas process for organic materials that employs bioprocesses
Halomonadaceae bacteria

In a joint project with the National Institute of Advanced Industrial Science and Technology, Osaka Gas has employed a bioprocess (fermentation) to develop a method of producing (R)-3-hydroxybutyric acid (3HB). 3HB is a bioprocess-specific compound that is difficult to obtain at high purity and low cost in chemical synthesis processes.

3HB has drawn public attention as a process of ketogenesis. It is synthesized within the human body and has various bioactive functions, so it is hoped that it will eventually be possible to use it for new biological functions. And due to its chemical structure, 3HB is also expected to have potential as a material capable of reducing the environmental impact of medicines, food products, and biodegradable plastics by being used as a new raw material for biodegradable polymers or as a polymer additive.

The bioprocess we developed employs a unique type of Halomonadaceae bacteria identified by the National Institute of Advanced Industrial Science and Technology. Aerobic fermentation is used to cause biopolyester (PHB) to accumulate in the cells, after which a switch is made to anaerobic fermentation (culturing the microorganism in the absence of oxygen). This causes the PHB accumulated in the cells to hydrolyze and be released from the bacteria as 3HB.

By separating, concentrating, and purifying the 3HB released from the cells using conventional methods, we succeeded in producing 3HB with a purity of 95% or more at low cost. Although there have been many reports of bioprocesses being used to accumulate 3HB, it is the first time in the world that 3HB has been efficiently generated and isolated.
Development of fluorene cellulose with potential for use as a heat-resistant plastic filler material
Fluorene Cellulose

Osaka Gas has developed fluorene cellulose obtained by causing a chemical reaction between a fluorene derivative and the surface of cellulose fibers.

Cellulose is the most abundant biomass material on the planet, and is the main component of wood and paper. Fiber comprised of cellulose (cellulose fiber) one-fifth the weight of steel yet is five times stronger. In addition, because its linear thermal expansion coefficient* is 1/50 that of glass, it is expected to be usable as a plastic filler material (fiber for strengthening plastic). It would be an alternative to fillers such as glass fiber, and offer superior heat resistance. However, because cellulose fiber is extremely hydrophilic (have a strong affinity with water), it is difficult to combine it with plastic, which is hydrophobic (has a weak affinity with water), which has made it hard to use it as a plastic filler.

However, by causing a reaction between our own fluorene derivative and the cellulose fiber surface, we have succeeded in developing a fluorene cellulose that is hydrophobic. This fluorene cellulose is easily mixed with plastics such as polylactic acid, and as plastic filler derived from biomass, it offers potential for use as an eco-friendly structural material for home appliances and automobiles.

This development project is underway jointly with Osaka Gas Chemicals Co., Ltd., which is in charge of commercialization.
*

Linear thermal expansion coefficient
This coefficient shows the ratio of the increased length when temperature is raised by 1 degree Celsius compared to the original length.
Development of an environment-friendly material geopolymer concrete
Geopolymer concrete being formed at an engineering site from a revolving drum-type mixer

Osaka Gas is working on the development of geopolymer concrete, which has drawn public interest as a new environment-friendly material.

Geopolymer concrete, made from fly ash, an industrial byproduct, is known as next-generation concrete. It has stronger acid and heat resistance than conventional concrete materials. Geopolymer concrete is said to be suitable for use in facilities where strong acids are generated, such as sewage plants, and where temperatures are high, such as steel mills. Since it does not use cement, the concrete emits about 80% less CO2 in its manufacturing process. In view of this environmental friendliness, the industry hopes that geopolymer will become significantly disseminated.

Geopolymer concrete starts hardening faster than other concrete materials, while solidification at high temperatures is necessary for its strength to reach the required level. In light of these characteristics, the concrete has mainly been produced at factories for secondary use at construction sites. However, Osaka Gas has established a method to produce the concrete for on-site use at construction and engineering sites. This achievement, the first in Japan, was made in collaboration with Nishimatsu Construction Co., Ltd. and Obayashi Corp.
Experimental Residential Complex "NEXT 21"
The NEXT 21

Since April 2020, Osaka Gas has conducted a new living experiment at NEXT21*1 experimental multi-unit housing (located in Tennoji-ku, Osaka City, and consisting of 18 dwelling units, one basement floor and six floors above ground, with a total floor area of 4,577 m²). With an eye on multi-unit housing at around 2030, this experiment aims to demonstrate living with the theme of "Comfortable residential space and housing for use in emergencies." Specifically, the following is being evaluated and improved through actual habitation: (1) a net-zero energy house (ZEH) model named "Wellness ZEH"*2 based on double power generation through the combination of the latest model of Ene-Farm and photovoltaic power generation while giving consideration to health; (2) multi-unit housing that is self-sustaining for 72 hours in the event of a disaster or the like; and (3) IoT housing that supports health management in residents' daily lives. Osaka Gas will continue its efforts to identify future social issues and needs and offer comprehensive proposals on living from the perspectives of housing and energy.
*1

Experimental residential complex "NEXT 21"
The "NEXT 21" was constructed in October 1993 by Osaka Gas to propose an ideal neo-futuristic urban multiple-unit housing under the concept of "Achieving both comfortable and convenient life and energy-saving / environmental preservation. "With Osaka Gas's employees and their families actually living there, NEXT21 has had demonstrative experiments based on themes that fitted with the times. Each phase was designed to meet the theme suited to the times. Demonstration experiments were conducted on a variety of themes, including energy saving for the entire building, reducing its CO

2

emissions, greenery restoration and environmental symbiosis in urban areas, ideal forms of residence that reflect diverse lifestyles, and product development. Also, many proposals and presentations that may lead to ideal multiple-unit housing in the future have been made at a time when the liberalization of the energy market is advancing. Some of the proposals have been commercialized.

*2

Refers to a ZEH that maintains a room temperature of 18°C or higher even in the coldest season and limits temperature differences between rooms within 3℃.
Eco-Purge, a Type of Vehicle Equipped with a Medium-pressure Gas Decompressor
On-site decompression

Osaka Gas introduced its first "Eco Purge" vehicle in 2004. The vehicle is designed to return town gas remaining in medium-pressure gas holders or medium-pressure pipes through a medium-pressure pipe network when the gas pressure is reduced from medium pressure to low pressure, by sucking out the gas and compressing it using a gas engine-driven compressor. The fourth model, developed and introduced in 2013, incorporates improved noise reduction. In 2016, we developed and introduced a small noise-reduction vehicle that can be used even on narrow roadways. In 2017, a new vehicle No. 5 with the same performance level as the No. 4 was introduced.

To decompress medium-pressure gas, we had combusted it by burners in medium-pressure gas holders or medium-pressure pipes before the Eco-Purge was developed as a solution for environmental impact reduction. Six Eco-Purge vehicles are currently in operation and help reduce wasteful gas consumption by about 100,000 m³ a year, contributing to an annual CO2 emissions reduction of about 1,670 tons.

*

In April 2022, Osaka Gas Network Co., Ltd. took over the city gas pipeline business of Osaka Gas Co., Ltd.
■ Principle of Decompression

Collaboration with Various Corporate Partners and Startups Both in Japan and Abroad
As part of our efforts to strengthen open innovation, in July 2017 we participated in a program sponsored by Plug and Play, LLC, a leading accelerator for Silicon Valley in the Untied States, in the field of energy sustainability. We are gaining ground with our search for the latest technologies and services, with the aim of accelerating our own technological development and creation of new services.
In April 2018, Osaka Gas invested in WiL Fund II, L.P., a US-based venture capital fund. Through investment in and collaboration with startups based mainly in Japan and the U.S. and the use of WiL, LLC's expertise in new-business creation, Osaka Gas has accelerated its activities for innovation, including the realization of more convenient daily-life services and business solutions that use digital technologies, such as IoT and AI (artificial intelligence), and the advanced operation of infrastructure that uses cutting-edge technologies. In April 2021, Osaka Gas and WiL jointly invested in founding SPACECOOL, a company that develops radiative cooling materials with world-class cooling performance as a promising solution to realizing a decarbonized society. Osaka Gas will continue striving to create businesses in new growth fields through open innovation.
Osaka Gas and OGCTS Conducted LNG Bunkering Trial for the LNG-fueled Tugboat Ishin at the Port of Kobe
In September 2019, at Kobe Port, Osaka Gas and OGCTS Co., Ltd., a Daigas Group company, conducted an LNG fuel bunkering trial for ishin, an LNG-fueled tugboat* owned by Mitsui O.S.K. Lines, Ltd. and operated by Nihon Tug-Boat Co., Ltd. This marked the first LNG bunkering for a ship at the Port of Kobe.
LNG fuel was hauled by a tanker truck from the Himeji LNG Terminal of Osaka Gas and was bunkered to the Ishin berthed at Shinko Pier No. 4 of the Port of Kobe. This bunkering trial was the second the Daigas Group conducted after the one it did at the Port of Sakai Senboku.
In October 2016, the International Maritime Organization decided to introduce tighter regulations on sulfur oxide (SOx) emissions in sea areas including Japan from 2020. Under the leadership of the Ministry of Land, Infrastructure, Transport and Tourism, Japan has been actively promoting LNG bunkering — the supply of liquefied natural gas to ships — increasing the possibility of expanded consumption of LNG, an environmentally friendly fuel in marine transportation in coming years.
The Daigas Group will conduct further study to expand the LNG bunkering business for ships by taking full advantage of the experience of this LNG bunkering trial at the Port of Kobe and the track record at the Port of Sakai Senboku.
*

Tugboat
A tugboat is a small vessel used to assist large vessels and marine structures when they reach or leave the wharf or pier.

LNG bunkering