Principle and Outline
Recognizing the essential nature of the many blessings of biodiversity, the Daigas Group in April 2010 established the "Daigas Group Biodiversity Promotion Policy," revised from the Osaka Group Biodiversity Promotion Policy in March 2018, to serve as a guideline for addressing biodiversity issues both inside and outside Japan through its business activities. The Group is committed to helping build a society harmonious with nature that can conserve biodiversity and enjoy the bounties of nature into the future, and will undertake efforts that promote the conservation of biodiversity and sustainable use.
Adoption of Daigas Group Biodiversity Policy and Efforts to Implement It
Efforts live up to the Policy
The Daigas Group has long been striving to conserve biodiversity through various measures, including protecting rare native plants growing on the LNG terminal sites, reusing soil excavated during gas piping works, building multi-level gardens at the experimental residential complex NEXT 21,* and planting trees in Japan. Since we formulated the Daigas Group Biodiversity Promotion Policy in April 2010, we have made positive efforts in line with this policy and actively provided information thereon. Our efforts to conserve biodiversity, shown in the figure below, have been made under the guidance of the Hyogo prefectural government and other government bodies, research institutes, outside experts, and external consultants. We also exchange information with various research groups, including the Japan Business Initiative for Biodiversity (JBIB) to make progress in our efforts.
Based on its Green Purchasing Guidelines (formulated in 2000, revised in 2022), Osaka Gas works with business partners to promote green purchasing: prioritized procurement of biodiversity-friendly goods and construction works that have less impact on the environment.
In the Daigas Group, every new investment and development project, whether in Japan or abroad, follows an environmental impact assessment at the planning stage when required by law. We survey the water environment, flora and fauna on land, and ecosystems to assess environmental impacts and take necessary measures to achieve a sustainable society.
We have set environmental targets in line with our environmental management system (EMS) and the Group Medium-Term Management Plan 2023, both of which are aimed at the complete implementation of the Daigas Group Environmental Policy, a pledge by the Executive in Charge of ESG Promotion. These environmental targets also include paying due consideration to biodiversity in business activities.
*

Experimental Residential Complex "NEXT 21"
The "NEXT 21" was constructed in October 1993 by Osaka Gas to propose an ideal neo-futuristic urban multiple-unit housing under the concept of "Achieving both comfortable and convenient life and energy-saving / environmental preservation. " With Osaka Gas's employees and their families actually living there, NEXT21 has had demonstrative experiments based on themes that fitted with the times. Each phase was designed to meet the theme suited to the times. Demonstration experiments were conducted on a variety of themes, including energy saving for the entire building, reducing its CO

2

emissions, greenery restoration and environmental symbiosis in urban areas, ideal forms of residence that reflect diverse lifestyles, and product development. Also, many proposals and presentations that may lead to ideal multiple-unit housing in the future have been made at a time when the liberalization of the energy market is advancing. Some of the proposals have been commercialized.
■ Key Biodiversity Efforts in the Value Chain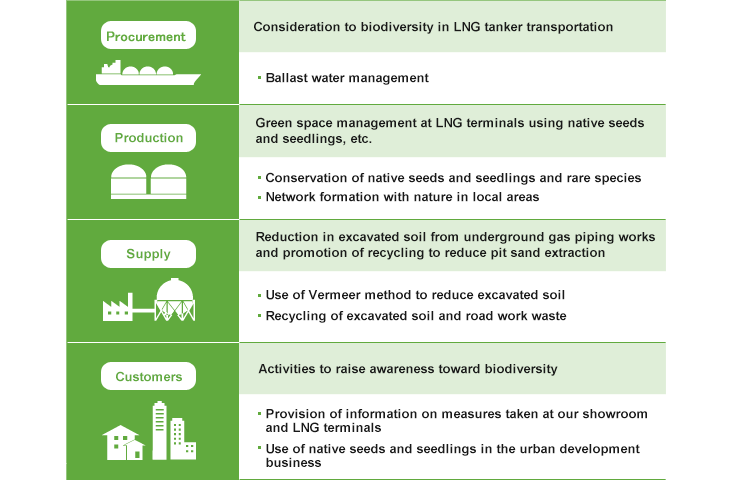 ■ Organizational Chart of Biodiversity Efforts

Biodiversity initiatives at major manufacturing and business sites are as follows.
(A) No. of locations
(B) No. of locations
(C) Percentage of locations addressing biodiversity
(=(B)/(A))
LNG terminals
2
2
100%
Consideration in Resources Development and Procurement
Consideration for biodiversity during LNG tanker transportation
To remain stable during an ocean voyage while not loaded, LNG tankers hold water in their ballast tanks. Seawater drawn at their ports of departure is often used as ballast water and discharged in exchange for load at their ports of arrival. This has aroused growing concern that marine life in ballast water may have adverse impacts as alien species on the local ecosystems at those ports of arrival.
At present, Osaka Gas operates eight LNG tankers for LNG transportation. Osaka Gas manages ballast of LNG tankers it uses in accordance with regulations of the country where the port of call is located. In addition, the eight tankers are equipped with water-processing facilities that meet the conditions set under the International Convention for the Control and Management of Ships' Ballast Water and Sediments stipulated by the International Maritime Organization (enacted in September 2017). We aim to limit the impact of ballast on ecosystems by, for example, replacing ballast taken on at a Japanese port with water from the open ocean before releasing the ballast in a foreign port.
Considerations Made When Gas Pipes Are Installed
The Daigas Group works to reduce the amount of excavated soil and waste asphalt generated as a result of gas pipe installation, which contributes to reduce impact on the ecosystem. Ways to achieve this include the Vermeer method, which requires soil excavation of only two points, and the shallow pipe installation method.
*

In April 2022, Osaka Gas Network Co., Ltd. took over the city gas pipeline business of Osaka Gas Co., Ltd.
Consideration of Biodiversity in its Greening and Planting Activities in the Daigas Group
Osaka Gas Urban Development Co., Ltd.
Development of condominiums introducing the indigenous species in their gardens
Osaka Gas Urban Development Co., Ltd. is a real estate company and is engaged in the development and management of office buildings and condominiums / rented apartments. In addressing "co-existence with the environment," one of its "five focuses" for urban and property development, Osaka Gas Urban Development Co., Ltd., is pursuing a planting plan that takes biodiversity into consideration.
The planting of native seedlings of "Chimakizasa," a species of bamboo grass called Sasa, were introduced to the garden of The Urbanex Kyoto Matsugasaki, which was completed in March 2014. Chimakizasa has been recognized as an endangered plant in Kyoto City as a result of excessive eating by wild deer, whose population in the city has been increasing in recent years. All of the 10 bamboo grass plants that were planted in the garden of the "Urbanex Kyoto Matsugasaki" were donated by the Chimakizasa revival committee, a local team formed to increase numbers of the plant, with members being mainly residents of Sakyo Ward, Kyoto City and researchers from Kyoto University.
At the "Urbanex Kobe Okurayama", completed in February 2016, Osaka Gas Urban Development has planted Japanese blue oaks, gooseneck loosestrife and other local seeds / seedlings with a support from the Museum of Nature and Human Activities, Hyogo. Signs describing plants names and their characteristics have also been put up so that local residents, too, can learn the importance of biodiversity. These combined efforts, including the active use of native seedlings, earned the 2016 Good Design Award.
Since FY2019, Osaka Gas Urban Development Co., Ltd. has transplanted native seeds and seedlings from green spaces at Osaka Gas facilities to the planting areas of condominiums it has developed. Examples of these properties completed in FY2021 are Scenes Osaka Honmachi and Scenes Otemachi. In this way, we share our in-house know-how in conserving biodiversity across the Daigas Group. Osaka Gas Urban Development will continue to standardize biodiversity-friendly planting plans as specifications and work on such plans at the condominiums it develops.
Scenes Tsukaguchi

Sign put up in the planting area
of Scenes Tsukaguchi
(Condominium projects which introduced planting plants while taking regional biodiversity into consideration)
28 condominiums (as of March 31, 2022; including those scheduled to be completed by the date)
Biodiversity-conscious initiatives at the Scenes Tsukaguchi condominium selected for the 10th ABINC Certification and Good Design Award 2020
In February 2021, Scenes Tsukaguchi, a condominium in Amagasaki City, Hyogo Prefecture, developed by Osaka Gas Urban Development Co., Ltd., acquired the 10th Ikimono Kyosei Business Establishment *2 certification organized by the Association for Business Innovation in harmony with Nature and Community (ABINC)*1.
The ABINC certification aims to foster harmony between nature and human beings in business activities. ABINC conducts a third-party assessment of biodiversity-conscious initiatives to create, manage and use green spaces, and it certifies eligible business sites as "Business Sites in Harmony with Nature." Osaka Gas Urban Development constructed Scenes Tsukaguchi while implementing biodiversity-conscious initiatives in cooperation with experts, including those from the Museum of Nature and Human Activities, Hyogo. On the condominium site, native plant species, such as the bamboo-leaf oak and the sawtooth oak, were planted to create green spaces in consideration of local vegetation. These green spaces were designed to create a network with other small green spaces dotted nearby and help birds and butterflies find places to inhabit. In addition, seedlings thinned in the planting management process on land owned by the Daigas Group were transplanted to the condominium site to help preserve the genes of plant species native to the Rokko mountains.
Scenes Tsukaguchi also won Good Design Award 2020 organized by the Japan Institute of Design Promotion. Following Good Design Award 2016, this was the second time that Osaka Gas Urban Development had won the same award. The 2020 award came to the company in recognition of its success in facilitating interactions between the condominium and the neighborhood and creating a linkage between residents and the local community by designing the condominium to be open under the concept of "Re:CONNECT," and in fostering communication between people from different areas or age groups in the living environment abundant with rich natural features by building three gardens with different themes on the condominium site.
*1

ABINC (Association for Business Innovation in harmony with Nature and Community)

*2

"いきもの共生事業所" (lit. "Business Sites in Harmony with Nature") is the registered trademark of the Japan Business Initiative for Biodiversity (JBIB).
[Biodiversity Initiatives at Scenes Tsukaguchi]
(1) Creation of an ecosystem network
Located next to Kamisakabe West Park with an area of about 27,000 m² (6.7 acres), Scenes Tsukaguchi is in a downtown neighborhood with relatively thick forest. The condominium site with many flowering or food plants grown is playing a role in providing a network of habitats for birds and butterflies with other small green spaces dotted within a radius of a few kilometers.
(2) A high percentage of native plant species grown
On the condominium site, native tree species, such as the bamboo-leaf oak and the sawtooth oak, are planted in accordance with the Daigas Group Biodiversity Reference and studies on local vegetation. While green spaces with 50% or higher of native species would achieve the maximum score according to the biodiversity standard, native species account for 83% of medium-size and tall trees and for 63% of herbs grown on the Scenes Tsukaguchi site.
(3) Consideration for water circulation
It is said that a heavy, intensive downpour beyond the capacity of drainpipes, which has recently become more frequent than before, will deteriorate water quality. Scenes Tsukaguchi is equipped with catch basins that enable water to penetrate into soil and with passages paved with permeable concrete in order to reduce the impact of rainwater on drainpipes in due consideration of water circulation.
(4) Cooperation with experts
The green space plan and the management policy for Scenes Tsukaguchi were formulated in consideration of biodiversity in cooperation with experts, including those from the Museum of Nature and Human Activities, Hyogo, and BO-GA K.K. Even after the completion of the condominium, a relationship of cooperation still remains so that the condominium management company can seek advice from experts through Osaka Gas Urban Development.
(5) Consideration for the conservation of genetic diversity
Seedling thinned in the planting management process on Daigas Group-owned land in the Rokko mountains were utilized for the green spaces on the condominium site. After being raised at the Museum of Nature and Human Activities, Hyogo, over about one and a half years, the seedlings were transplanted to the green spaces on the condominium site with the aim of helping preserve the genes of plant species native to the area.
Scenes Tsukaguchi
ABINC certification

Good Design Award
Kyoto Research Park Corp.
Tree planting based on biodiversity
The Kyoto Research Park (KRP) is a large-scale business hub consisting of 18 buildings. As a place for attempts at innovation, including new business and R&D, it currently has 500 tenant companies and organizations.
Kyoto Research Park Corp., which runs the KRP, strives to offer an "arena for attractive interaction." From a tangible perspective, it has established offices, laboratories, conference rooms, and data centers. From an intangible perspective, it plans various events, exchange meetings, and workshops. In the KRP No. 9 complex of the Kyoto Municipal Institute of Industrial Technology and Culture, which opened in October 2010, tree-planting is being carried out that considers biodiversity and that adheres to the history of the land.
In the district where KRP is located, remains have been discovered of the homes of aristocrats of Japan's Heian Period (794 to 1185). To respect its link with history, the KRP has established a classical garden. Plants mentioned in the famous novel "Tale of Genji" have been used to create a garden fashioned after the house where Genji, a character in the novel, lived. Plants representing the four seasons include double-flowered cherry trees, Japanese Judas trees, maple trees, and a plum tree as the main symbol tree.
Among the trees native to the region are mulberry trees, which are intricately tied to Kyoto's traditional industries.
In October 2016, Wing 9 of Kyoto Research Park received a Green Building certificate from the Development Bank of Japan for its friendly design to the environment and society.
In February 2021, KRP Building No. 10 was completed. Comprising office spaces on the first to seventh floors, a restaurant area on the first floor, and a basement parking area, Building No. 10 is a complex featuring a Kyoto-style design. Miyako Somagi,* lumber produced in Kyoto City, was used in some common areas to promote the local consumption of local specialties, reduces the environmental impact of the building, and contributes to preserving forests in a sound manner. In the green spaces on the building site, designed to be friendly to biodiversity, plants mentioned in The Tale of Genji, such as the Japanese kerria (yamabuki), balloon flower (kikyo), and yellow patrinia (ominaeshi), add beautiful seasonal colors to the site. Along the passage between Wing (Building) No. 9 and Building No. 10 are many planting areas combined with benches and counters, providing people with places to enjoy greenery. Moreover, endangered plant species, including the fragrant eupatorium (fujibakama), which is one of the "seven fall herbs" long loved in Japan, are also raised on the building site to help conserve those species.
*

The term "somagi" originally means lumber of wood cut from somayama (mountains covered with lumber forests).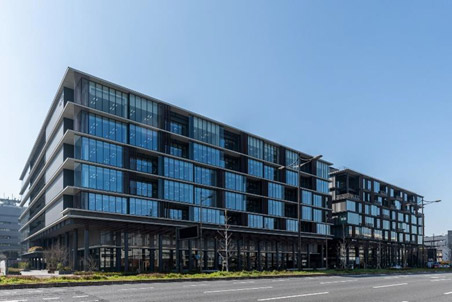 KRP Buildings No. 10 (left) and 9 (right), which create a continuous urban landscape
Use of native seedlings in green space management at LNG terminals
At Senboku LNG Terminal: Green belt planted with Cogon Grass

Biotope at Himeji LNG Terminal

At Osaka Gas LNG terminals, we are conducting afforestation activities that recreate the area's original ecosystems and are capable of supporting a high level of biodiversity. We are also regularly conducting biodiversity monitoring studies to verify the effectiveness of our biodiversity efforts.

At the Senboku LNG Terminal, our concept is "a network of greenery that brings us closer to the community." We are striving to create a green belt that will be home to a diverse range of life through efforts such as planting native seedlings in a green area, the "Senboku no Mori," and planting a field of Japanese blood grass as described in "The Pillow Book," an ancient Japanese essay written in the Heian Period.

Since 2002, under the guidance of the Museum of Nature and Human Activities in Hyogo Prefecture, the Himeji LNG Terminal has been preserving rare plants native to the area of Nishi Harima, Hyogo Prefecture. We are currently growing rare plants including Gardneria multiflora Makino and the Honshu wood mint (both rated level 2 endangered on the Ministry of the Environment's endangered species list). The new biotope created in FY2014 reproduces satoyama woodlands, grasslands and marshes with plants indigenous to Nishi Harima, preserving such rare species as the Platycodon or Japanese Bellflower and Thoroughwort.

These native species are originally suited to the local climate and are easy to grow. Therefore, they do not require any special consideration or burden in the management of green spaces in the plant to conserve rare species.

As there are indications that these efforts are resulting in an increase in the number of insect and bird species, it is hoped that these trends will also spread to neighboring green belts.

In the future, we will continue to monitor these areas under the guidance and advice of experts.
■ Results of Butterfly Monitoring Surveys at Senboku LNG Terminal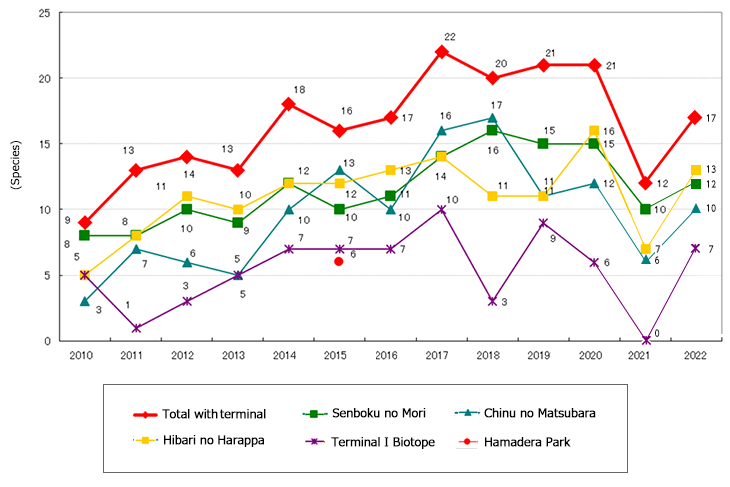 *

It is thought that in FY2021, a change in the number of surveys due to the COVID-19 pandemic had an impact on the number of butterfly species observed.
■ Changes in Butterfly Species Confirmed at Himeji LNG Terminal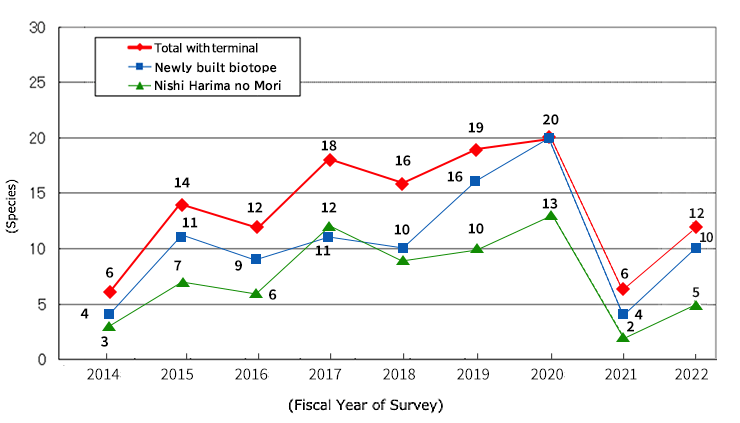 *

It is thought that in FY2021, a change in the number of surveys due to the COVID-19 pandemic had an impact on the number of butterfly species observed.
Cultivating a rare species of plants at the company biotope and transplanting them back into their natural habitat
Planting unran

Under the guidance of the Museum of Nature and Human Activities, Hyogo, and the University of Hyogo, in December 2013, Osaka Gas transplanted stocks of Linaria japonica (unran), a coastal plant, from where they were being cultivated at the company's Himeji LNG Terminal back to Keino Matsubara, Minami-Awaji, in an effort to restore the plant population there the only natural habitat for unran left on the Seto Inland Sea side of Hyogo Prefecture.

Due to a decline in the unran plant population, in 2006 the Museum of Nature and Human Activities, Hyogo, moved some of the naturally growing plants from Keino Matsubara to its gene farm for protection and proliferation. In order to diversify the risk, in 2010, 39 of the protected unran seedlings were transplanted to the Himeji LNG Terminal grounds for continued cultivation. With an increase in the number of these plants to about 150, in 2013, 20 were transplanted back to Keino Matsubara under the guidance of the museum and the University of Hyogo.
Stakeholder Comment: Osaka Gas is becoming a model for the creation of green belts on plant premises using native seeds and seedlings
Yoshinobu Hashimoto
Head Researcher,
Division of Ecological
Restoration / Plant
Development Research
Group, Museum of Nature
and Human Activities, Hyogo

The number of companies working to promote biodiversity has been increasing year by year, whether those actions are related to the company's main business or carried out as part of its environmental activities. It is still rare, however, for companies to take biodiversity into consideration on the premises of their own plants, and fewer still are attempting to create green belts on their land in Japan using seeds or seedlings native to the locality. A green space in a factory can be an environment for a valuable ecosystem that serves as a habitat for native organisms, and it is a place, especially for rare species, to escape from the danger of losing their original habitat. If, on the other hand, a green tract of land has mistakenly been planted with many invasive plants or plants from non-local regions, that tract is in danger of producing ill effects on the surrounding ecosystem as a source of contamination.

The Osaka Gas Himeji LNG Terminal has created a number of ecosystems on its premises, including a wooded area, grassland, and pond. It runs a leading-edge project to convert the existing green land area over to local, native plant species. Not only does this green belt serve as a habitat for wild creatures, but it has the potential to be a place for local environmental study. We have high hopes for it to serve both as a leading model for other companies and as a local hub for biodiversity protection and environmental study.
Biodiversity Education for Children
Turning the roof of the "hu+gMUSEUM" into a place providing the opportunity of valuable experience and learning
Rice planted only by volunteer staff due to the declaration of a state of emergency

Visiting class "Living organisms observation session"

The hu+gMuseum, an Osaka Gas showroom designed to disseminate information about food and housing, has a rice field of about 100 m2 and a vegetable garden patch of about 12 m2 on its rooftop. Since FY2016, these areas have been open mainly to local elementary school children as part of the Daigas Group's initiatives for environmental communication with local communities and environmental education.

In FY2022, our environmental education program through rice cultivation experience for local fifth graders was cancelled due to the COVID-19 pandemic. Instead, Osaka Gas employees visited elementary schools to give lectures in classes. In the classes, students learned about organisms which inhabit rice fields and the relationship between plants and insects, in particular. In January 2022, rice science seminars were held to help students learn about the importance of food. The annual environmental education program is planned and run by the hu+gMuseum staff and volunteers from among the staff of nearby Daigas Group business sites. They help elementary school children plant rice seedlings and harvest rice in hands-on experience sessions, as well as making daily efforts to observe, manage and maintain the rice field. Hug-san's Ichioshi Blog (in Japanese) on the hu+gMuseum website gives updates on what is happening on the hu+gMuseum rooftop.