Incorporating Customer Opinions
Principle and Outline
Osaka Gas has received a large number of opinions from customers on various occasions and has reflected them in its efforts to improve its service quality and business operations. Voices of customers that reach our customer centers, our website, and our showrooms are incorporated into the "C-VOICE" database system and are shared by all employees. We will use the information accumulated in the database to respond not only to existing needs but also potential and future needs.
The Daigas Group strives to provide value that can satisfy customers by setting the CS Code of Conduct.
In addition, we have established a Privacy Policy that sets out the principles related to the handling of customer information to properly protect the information.
Improving Customer Satisfaction
Prompt, precise phone service connects customers to the relevant company division
In 1985, Osaka Gas opened its "Customer Centers" as a one-stop service portal for customers with inquiries and applications for service. The center takes telephone inquiries on all matters relating to gas and electricity, such as starting and stopping a gas and electricity service, inquiries about gas and power bills, requests to change payment methods, and repair of gas appliances. On the Osaka Gas "Internet Reception" page, customers can easily apply for services related to moving to a new home, inquiries on gas bills, and changes in the day of equipment surveys. And for the hard of hearing, we have a facsimile service for handling inquiries.
With our company-wide "Hello System," applications and inquiries are relayed from the "Customer Centers" to the relevant Osaka Gas division to ensure that customers always get a prompt and appropriate response. For the sake of greater customer convenience, we have been offering toll-free numbers and a phone service even on Sundays and holidays to take gas appliance repair requests 24 hours a day. In April 2020, we launched a new service whereby artificial intelligence (AI) automatically responds by voice to phone calls made by customers to arrange a schedule change for gas equipment inspection, using the Voice Digital Transformation (DX) Consulting Model* provided by NTT Communications Corporation.
Aiming to further improve service in additional ways, we will optimize the assignment of Customer Center operators and introduce an automated attendant system to ensure that phone calls can be answered at all hours. We will also continue our efforts to further enhance our system for accepting requests, applications, etc. online.
*

The Voice Digital Transformation (DX) Consulting Model is a solution that automates the entire process, from response at the contact center to clerical processing, by combining an interactive AI engine and application programming interface (API; a system for sharing the functions of software)
■ "Hello Network" of Osaka Gas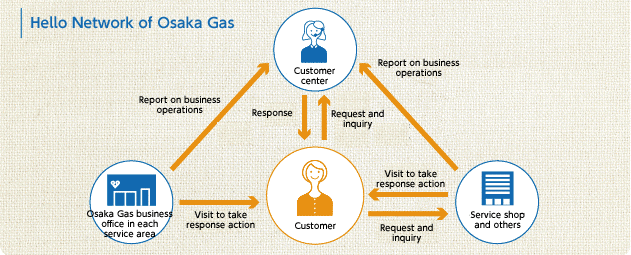 Management of Energy Contact Center
Contact center for customers using our gas air conditioners

To serve as a contact point for customers who use our commercial-use gas air conditioners, Osaka Gas operates the contact center dedicated for such customers. Our knowledgeable staff are ready to provide a high-quality service 24 hours a day, 365 days a year. They respond appropriately to telephone inquiries from customers about repair, inspection and renewal. Customer information is shared with our technical departments and local sales people, enabling us to take prompt action in the unlikely event of a gas air conditioner fault and to improve our service so that customers can continue to use our gas air-conditioning equipment free from worry.
Sharing customer voices throughout the company
Osaka Gas has established a database system called "C-VOICE" to share customer opinions and demands among all employees. The company has reflected such customer voices in its business operations, product development and service quality.
Customers' voices reaching the Company daily, including both positive and negative comments, are sorted out by the end of each day and filed into the "C-VOICE" system, to be shared later with all management and employees. In particular, with regard to complaints, we try to share not only the factual process and the status of our response to customers, but also measures to prevent recurrence and improve our systems.
■ Overview of C-VOICE

Examples of improvement in product development and service quality based on customers' comments
At Osaka Gas, we work to develop various products and improve the quality of services based on comments from our customers. In FY2022, we focused on improving our mechanisms at digital contact points (our official website, My Osaka Gas site, etc.)
Our efforts to improve our products and services are reported to our customers. Our website introduces various examples of improvements with the aim of attracting more comments from customers.
Efforts to reflect the voices of customers in our efforts to improve business operations
The Daigas Group deals directly with customers through various operations, including opening of gas lines, repair of gas appliances, sales and installation of appliances, regular security patrols (gas facilities inspections), and response to telephone inquiries (at the customer centers). We endeavor to enhance customer satisfaction through these operations.
To grasp the degree of customer satisfaction of our services and reflect it in our efforts to improve business operations, we have conducted the "Customer Satisfaction Survey" since 1988, covering five operations that deal directly with customers. The results of this survey are reflected in our efforts to improve daily operations and enhance CS awareness among Group employees and Osaka Gas service chain employees.
The results of this survey are also reflected in the materiality indicators. We manage our progress toward achievement of our goals and redouble our efforts to achieve higher levels of customer satisfaction.
Dialogue with Consumer Groups
Expansion of Customer Service through our Website
Support using a chat system started
An invitation to a chat shown on the screen

Osaka Gas has been offering expanded customer support using a chat system for customers using the Osaka Gas website and message APP.

An invitation to a chat will be shown on the screen to customers who are viewing "FAQ & Inquiry," "Electricity Service," or "Products and services" of the "Residential Customers" page. Customers' questions are answered by a robot (artificial intelligence [AI]).

For our customers using the message app LINE, we are providing a service that enables them to file inquiries to us under the "chat" format from the "talking" page.

We hope this support system will provide quick solutions to customers' problems, and increase satisfaction with our service. We will work harder to deepen customers' understanding of our services and efforts to improve our services.