Safety and Security 4: Consumption Stage
Aspects Determined as Materiality

Customer Health and Safety

416-1
Principle and Outline
Ensuring safety and security in providing gas services to customers is a city gas provider's mission. Osaka Gas conducts periodical checks and inspections of gas facilities set up on the customers' site. The company has also put in place more advanced safety measures against possible large-scale earthquakes and other disasters. In order that customers can use gas with peace of mind, Osaka Gas also strives to disseminate information and to enhance the safety of equipment and services and promote their spread.
Products and Services Ensure Safe Use by Customers
Informing customers about gas appliance safety
To ensure that customers can use their gas appliances with peace of mind, we take every opportunity to talk to them about the safety of their appliances: during regular safety inspections, when providing a new gas service, and when conducting repairs.
The Osaka Gas website has a section with important announcements on gas appliances, where we talk about the proper use of gas appliances, and post prompt notices about product modifications or defects.
Developing and promoting the use of safer gas appliances
Osaka Gas strives to bring customers products and services that ensure the safe use of gas.
Osaka Gas would like to remove from the market all old gas appliances that lack safety mechanisms. In particular, we visit customers who are still using old appliances that are not equipped with incomplete combustion prevention devices, such as small tankless gas water heaters and wire-mesh gas stoves, and recommend that customers upgrade to safer gas appliances.
To promote the safer use of gas, in 1992 we developed an automatic shut-off device for gas stoves and in 1999 a small gas water boiler with interlock mechanism*.
To eradicate fires originating from gas stoves, since April 2008 all products have been equipped with an auto shut-off function to automatically turn off the gas when the user forgets to. We have been working to spread the use of this product, called the "Si" Sensor-Equipped Cooking Stove. We also provide gas alarm systems that warn residents of a gas leak or carbon monoxide, and offer a range of safety-related services, including the dispatch of staff to a home when trouble is detected.
As of 1999, 86.9% of gas stoves in Osaka Gas's service area had this auto shut-off safety feature and the number has been increasing ever since. In FY2022, it reached 96.3%. Almost all new models have this feature.
*

Interlock mechanism
A device that stops the ignition process after the incomplete combustion prevention mechanism is triggered three times
■ Changes in the Rate of Use of Water Heaters with an Incomplete Combustion Prevention Device and Gas Stoves with a Function of Automatically Turning off the Flame
| | FY2018 | FY2019 | FY2020 | FY2021 | FY2022 |
| --- | --- | --- | --- | --- | --- |
| Water heater with an incomplete combustion prevention device | 99.9% | 99.9% | 99.9% | 99.9% | 99.9% |
| Gas stove with a function of automatically turning off the flame | 95.9% | 96.0% | 96.1% | 96.2% | 96.3% |
High praise received for safety and security measures of "AVANCE" built-in gas stove
Osaka Gas has developed a new safer and securer gas stove named AVANCE*1 in cooperation with Paloma Co., Ltd. to reduce users' anxiety about clothing catching fire*2 during cooking. The product has been on the market since June 2019.
The new gas stove is equipped with area sensors*3, an industry-first technology. When a sleeve or other object comes close to the flame, the sensors detect it, lower the flame automatically, and sound a voice alert.
In recognition of Osaka Gas's safety and security efforts embodied by the product, the AVANCE received the Excellent Award (the Minister of Economy, Trade and Industry award) in the 13th Kids Design Award. The Kids Design Award is intended to commend kid-friendly and parent-friendly products, spaces, services and research. Furthermore, the product obtained recommendation certification as a fire-prevention and disaster-management product that can be used effectively in the fields of fire prevention and disaster management from the Fire Equipment and Safety Center of Japan, the first time for a cooking device. This system is designed to recommend products that can be recognized as effective and useful in the fields of fire prevention and disaster management and promote the use of such products for fire prevention and disaster management activities.
For many years, Osaka Gas has developed technologies to improve the safety of gas stoves such as top burner overheat protection control pilot safety shut-off device, incorporating these devices into our products in stages. Osaka Gas hopes to further increase customers' safety by adding the area sensors.
*1

AVANCE
Registered trademark pending for Paloma Co., Ltd.

*2

Clothing catching fire
A sleeve, for example.

*3

Area sensors
It is a registered trademark of our company.
Recommending replacement for gas appliances not equipped with safety devices
In FY2008, Osaka Gas began replacing customers' gas appliances not equipped with incomplete combustion prevention devices to prevent accidents involving carbon monoxide poisoning.In addition to recommending appliance replacement for greater safety at every opportunity in daily business activities, rounds were set up to visit individual customers and information was distributed through direct mail, newspaper advertisements, and flyers handed out by meter readers to warn people of the dangers of carbon monoxide poisoning. In addition, the company has been subsidizing the cost of replacement.
For the remaining older gas appliances that have not yet been replaced, we will continue to recommend replacement at every opportunity and encourage customers by direct mail.
■ Informational Materials to Inform Customers How to Use Gas Appliances Safely and How to Replace Them with Safer Equipment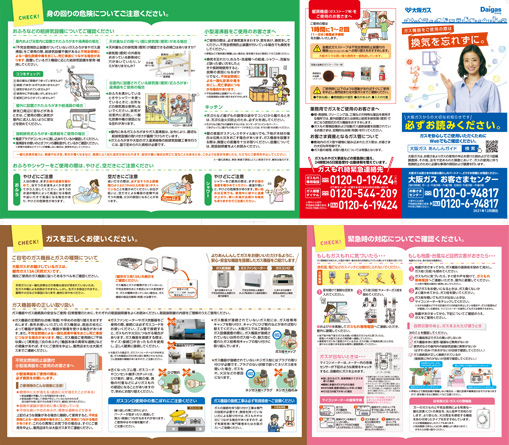 Gas alarm systems and safety services for residential customers
By providing various services, Osaka Gas has helped people continue their daily life safely and without concern, even in the event of an accident.
In 1980, the Company began selling the "Piko Piko" residential gas alarm system, which detects and warns of gas leaks. Since that time, various functions have been added to the original "Piko Piko" system to spread the use of alarm systems, including a function that warns of carbon monoxide emissions caused by incomplete combustion. Also added were a function that detects heat from fire and a function that detects smoke. In May 2015, Osaka Gas launched a battery-driven gas alarm system as part of another efforts to diffuse alarm systems. Such upgraded "Piko Piko" systems have mainly been used in kitchens.
In response to home fire alarms now mandatory under Japan's revised Fire Defense Law, we launched the "Kemu Piko" home fire alarm system, which is installed in bedrooms and stairways as smoke detectors. We also offer home security systems such as "Osaka Gas SP (Security Partner)" in which homes are connected through the Internet to our monitoring center, which dispatches staff when problems are detected. In October 2017, we launched "Miru Piko," a new gas safety service, by integrating "Ru Ru Ru Call M" and "Kuru Piko," both operated through telecommunication devices to ensure the safety and security of gas appliances. The new service will be incorporated into our "Sumikata Service," a one-stop home support service we have developed to address problems facing customers regarding their housing facilities, with the aim of ensuring their housing safety and security.
In May 2016, we began offering fire extinguishers for household use as part of our further efforts to ensure the safety and security of customers' lives. The agent used in the fire extinguishers is not powder but liquid, rendering them environmentally-friendly and safer for our health, and making cleaning after injection easier. Compact in size, the extinguisher is easy to install and has many color variations.
Agreement with municipal fire departments on cooperative educational activities on fire prevention
Osaka Gas signed an agreement with the Osaka Municipal Fire Department in February 2019 to cooperate on fire prevention education. Under the agreement, the two parties will work together to promote the installation of residential fire alarms and the replacement of old ones that were installed 10 or more years ago.
Residential fires kill over 800 people nationwide annually, with about half of the victims failing to escape in time.*1 Residential fire alarms, which detect smoke and heat, sound an alarm, which helps residents to put out a fire at an early stage and enables them to escape in time.
For this reason, fire alarms are required by law to be installed in all housing units.*2
Osaka Gas has been selling the Kemupiko residential fire alarm system since 2006. We keep track of the replacement date for customers who have the Kemupiko system installed and inform them when the time for replacement approaches.
In FY2020, the Company also signed similar agreements with the Kyoto, Kobe and Sakai Municipal Fire Departments. In cooperation with these municipal fire departments, Osaka Gas intends to reach out to users of residential fire alarms from other manufacturers to widely publicize the need to maintain and replace old residential fire alarm systems and ensure that all systems function properly when they are needed most. We will continue to promote the use of residential fire alarms and the replacement of out-of-date ones, thereby reducing fatalities from being unable to escape in time from residential fires, which contributes to a safe and secure living environment.
Major activities decided upon in the Agreement on Cooperative Educational Activities on Fire Prevention:
(1) Develop publicity materials to promote the installation and maintenance of residential fire alarms
(2) Post and distribute these publicity materials to inform the public about fire prevention, monitor the progress of the installation and maintenance of residential fire alarms, and promote their use
(3) Educate the public about fire prevention in other ways based on mutual consultation
*1

Source: "2018 White Paper on Fire Service" released by the Fire and Disaster Management Agency of the Ministry of Internal Affairs and Communications

*2

Fire alarm installation in newly built housing units became mandatory in June 2006. Installation in existing residences also became compulsory in May 2011 according to municipal ordinances.
Launch of IoT-compatible alarm device "Sumapiko" and cooperation with the Osaka City Government and the Osaka Prefectural Police regarding provision of disaster and crime prevention information
Sumapiko

In August 2020, Osaka Gas Co., Ltd. and its wholly owned subsidiary Osaka Gas Marketing Co., Ltd. launched the internet-connectable alarm device "Sumapiko," which was developed by providing an internet connection function to their conventional household gas alarm device "Pikopiko." This product is Japan's first internet-connectable household city gas alarm device.

In addition to the conventional gas leak and CO detection functions, Sumapiko has such functions as providing weather and crime prevention information useful for daily lives and offering family tracking services.

We have also signed the Agreement on Provision of Disaster Information with the Osaka City Government and the Agreement on the Provision of Crime Prevention Information with the Osaka Prefectural Police. Based on the agreements, we receive disaster information from the Osaka City Government and deliver it to users living in the city* in voice form from Sumapiko. For crime prevention information, we receive "Anmachi Mail" issued by the Osaka Prefectural Police and communicate the information as voice messages from Sumapiko.

The Daigas Group aims to improve the safety and security of customers' homes through collaboration with the Osaka City Government and the Osaka Prefectural Police to disseminate information on disasters and crime prevention.
*

To users who live outside Osaka City, disaster information provided by a private company will be distributed.
Free rental of ventilation alarms for commercial gas kitchen appliances
Ventilation alarm for commercial gas kitchen appliances

Carbon dioxide poisoning accidents occur every year across Japan in restaurants and drinking establishments because ventilation equipment is either deficient or not used.

Many people work at such establishments, and at times kitchen appliances are used without sufficiently checking if the ventilation equipment is functioning properly. Poor ventilation, whether due to the available equipment not being used or the equipment being inadequate to do the job, leads to accidents.

For this reason, since January 2009 Osaka Gas has rented a ventilation alarm (CO sensor) for commercial gas kitchen appliances at no charge to approximately 100,000 customers who are using commercial gas kitchen equipment (commercial kitchens such as meal-serving inns, bakeries, and food supply facilities), when we deem it necessary.

In light of the effectiveness of these CO sensors for commercial gas kitchen appliances in preventing accidental carbon monoxide poisoning, we plan to continue replacing the units that have been installed and systematically installing new units and renting them at no charge.*
*

Free rental
The period of rental is six years from installation
Accuracy in Advertising
Ensuring complete accuracy and honesty in advertising based on the code of conduct
Recognizing that our customers rely on our advertisements and product descriptions to make informed decisions when choosing products and services, Osaka Gas strives to provide accurate information on its products and services in line with the item No. 9 (Ensuring safety of products and services) of the "Daigas Group Code of Business Conduct."
Responding to rising popularity and demand among our customers for environmentally friendly products, whenever the degree of environmental friendliness of a product is printed in our catalog, as a rule we ensure the accuracy by double-checking the manufacturer's claims of the product's performance data and confirming those numbers internally.
As for the safety of products and services offered by Osaka Gas, we are managing their development and quality control as well as labeling and information disclosure in line with the technological standards stipulated under the Gas Business Act and the Law Concerning the Securing of Safety and the Optimization of Transactions of Liquefied Petroleum Gas, and guidelines set by the Japan Industrial Standards (JIS) and the Japan Gas Appliances Inspection Association (JIA) as well as in-house rules.
When Problems Occur
Prompt announcements, inspection and repair
When there is a product accident or other problem with a gas appliance that Osaka Gas sold, installed, or repaired, we immediately inform the media and place notices in newspapers and on our website. At the same time, we proceed with the inspection of the product in question and if necessary repair it or replace parts.
Response to a problem in FY2022
In FY2022, we made an announcement and took action on "Voluntary parts replacement work for 'gas bath boilers and hot water supply and heating units' made by Purpose Co., Ltd." (changes and additions made to the announcement in FY2020).
Gas Equipment Inspections
Expanded scope of gas equipment inspections
We ask for cooperation from customers in our inspections of their gas facilities, which are important for the maintaining safety and security of our service.
During our regular safety patrols* to carry out legally required gas equipment inspections, we check not only the condition of gas equipment and whether there are any gas leaks but also the inflammation of certain appliances, as well as measure the level of carbon monoxide emissions.
We have also been endeavoring to give people reminders on using gas safely.
*

Frequency of regular safety patrols
We patrol general buildings at least once every 40 months and specified underground malls/rooms at least once every 14 months
"All-Employee Gas Safety Initiative" Ensures Customer Safety
Employees with safety knowledge ensure safety for customers
Osaka Gas believes that the foundation of the gas business is the pursuit of safety by each and every employee. That's the reason behind our "All-Employee Gas Safety Initiative." The initiative is aimed at giving all employees the knowledge to handle customer inquiries about gas and to eliminate the risk of gas accidents caused by leaks and products with no safety features.
The Company intranet offers information about safety measures and basic knowledge about gas and gas appliance safety in order to raise all employees' awareness and provide them with thorough employee education. Our website has a wealth of ways for employees to learn about safety and provides a training course on how to find gas appliances with no safety device for preventing incomplete combustion and how to recommend that customers replace such appliances.