Safety and Security 3: Distribution Stage
Aspects Determined as Materiality

Customer Health and Safety

416-1
Principle and Outline
To ensure stable city gas supply, Osaka Gas has renovated the processing facilities and has built gas pipeline networks in accordance with meticulously devised plans. In so doing, we have strengthened our foundation to secure a higher level of gas supply.
We work to improve aging gas pipes and implement flood damage measures for pressure regulators (governors) in order to improve resilience in the event of large-scale disasters. We have an emergency repair dispatch system that operates 24 hours a day, 365 days a year, enabling us to respond to emergencies at any time. We also strive to develop human resources in the area of security to enhance the skills of security staff and carry their expertise forward into the future.
Furthermore, on April 1, 2022, the gas pipeline division was spun off into Osaka Gas Network Co., Ltd.
Flow of city gas supply
Gas produced at LNG processing terminals is sent to a gas holder via high-pressure or medium-pressure pipes for stockpiling. Gas is then sent to a pressure governor, a device used to adjust gas pressure to a certain level, before it is delivered to customers.

Development of a Wide-Area Gas Pipeline Network
Building a wide-area gas pipeline network
The Daigas Group has a gas pipeline network extending more than 60,000 km, covering the entire Kinki region. Gas is sent from the terminal at high pressure, which is then gradually reduced to medium and low pressure by gas pressure regulators located throughout the pipelines. This system ensures that customers throughout the network whether they are in homes, office buildings, or factories get a safe and stable supply of gas.
Osaka Gas Network Co., Ltd. expands the gas pipeline network in line with the long-term supply plans.
*

In April 2022, Osaka Gas Network Co., Ltd. took over the city gas pipeline business of Osaka Gas Co., Ltd.
■ Daigas Group City Gas Business Area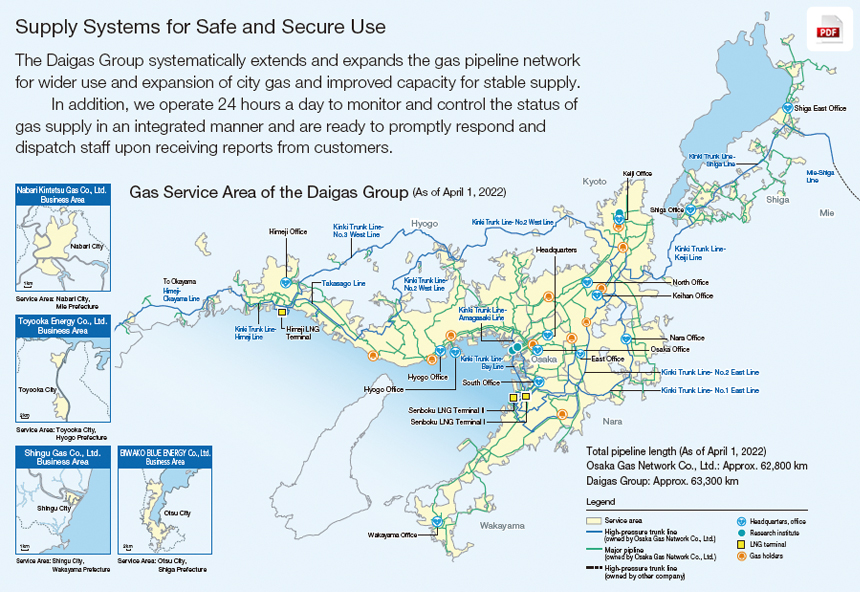 Safety Measures During Supply
*

In April 2022, Osaka Gas Network Co., Ltd. took over the city gas pipeline business of Osaka Gas Co., Ltd.
Monitoring and replacing gas pipes
Pipelines made of polyethylene exhibit superiorstrength

City gas is delivered to customers via the gas pipeline network. Therefore, Osaka Gas Network Co., Ltd. recognizes that keeping the gas pipes safe and properly maintained is one of the most important matters and is constantly replacing old metal pipes with pipes made of polyethylene, which is highly durable and earthquake resistant.
Security measures to prevent accidents
Regular inspection of gas pipes on bridges

Osaka Gas Network Co., Ltd. ensures that the following security measures are taken to prevent the occurrence of accidents including gas leaks.

1.Regular inspection of gas pipes along the pipelines to ensure there are no gas leaks
2.Inspection and repair of facilities including regulators, valves, and gas pipes on bridges
3.Meetings with contractors who are doing excavation work for water and sewage pipes, and electrical and phone lines near Osaka Gas pipelines, as well as inspection of the work sites, before, during, and after the work
Integrated system for monitoring and controlling the gas supply
Central Control Room

The Central Control Room of Osaka Gas Network Co., Ltd. ensures a stable and safe supply of gas 24 hours a day, 365 days a year.

We have a gas supply monitoring and control system that keeps a constant watch on gas, from the LNG terminals to every corner of the pipeline network. The system constantly gathers data on gas pressure, flow volume, and irregularities from points around the gas pipeline network, providing integrated control through remote operation that controls production and supply and detects any problems.
Improving response capabilities to sand blasting
On June 20, 2011, a gas supply accident occurred due to sand blasting in Rakusai New Town, Nishikyo-ku, Kyoto City. Acting on the accident, Osaka Gas developed and installed an anti-accident system called "BRIDGE," which is aimed at supporting response action in the initial stage of supply outage, from the receipt of a report of the incident, to identifying the areas subject to supply suspension.

Osaka Gas will continue to conduct drills against sand blasting and further enhance safety and security measures.
Emergency Response System and Anti-disaster Measures
*

In April 2022, Osaka Gas Network Co., Ltd. took over the city gas pipeline business of Osaka Gas Co., Ltd.
Taking calls and responding all day, every day
Central Control Room (emergency call reception)

It is particularly important to establish an initial response system in the event of accidents and natural disasters and act appropriately in response to such events.

Osaka Gas Network Co., Ltd. has established a unified security system covering the entire supply area. Under the system, if gas leakage occurs, the Central Control Room will take charge of all relevant duties, including receiving an accident report and dispatching security staff to the accident site. Specifically, the Central Control Room will order the dispatch of the emergency vehicle that can reach the accident site the fastest by taking various factors into consideration, such as availability of vehicles and their locations.

The Central Control Room accepts emergency reports, such as a gas leakage, around the clock via dedicated telephone lines set up in the Room. After an accident is reported, emergency staff will be sent to the site immediately and work in close collaboration with local police and fire departments.
Three types of response to emergency calls
To ensure that security measures are prompt and appropriate, Osaka Gas has the following three types of emergency response to a call from a customer. We carry out constant training of employees to improve their ability to handle emergencies.
1. General response: When there is no danger of an accident occurring, we dispatch a service patrol car to the scene.
2. Emergency response: When an accident has occurred or is likely to occur, as a rule we dispatch a team of two or more people to the scene in an emergency vehicle.
3. Special response: When a serious accident has occurred that cannot be handled by an emergency response, a special three-phase response is launched to match the type of accident.
Measures against possible large-scale earthquakes
A company-wide disaster drill

Daigas Group has taken a range of measures for dealing with large earthquakes, including installing earthquake-resistant polyethylene pipes (PE) and intelligent meters that detect vibrations from the earthquake and shut off the gas supply and securing an emergency communications network. In addition, the Great Hanshin-Awaji Earthquake of 1995 has prompted us to step up these measures.

We have installed seismometers in the Osaka Gas service area, which allow us to quickly determine the seismic intensity and other information. The service area is divided into blocks. In the event of the detection of ground shaking that may cause damage to gas pipelines, to prevent secondary damage, gas supplies are shut off block by block. This is possible thanks to a system of automatic gas shutoff devices equipped with a seismoscope as well as remote gas shutoff devices that are activated by command from the Central Control Room. If the Central Control Room is physically damaged, the Central Control Subcenter set up with a similar function will take over its task.

We also make constant efforts to improve employees' ability to respond to emergencies, including conducting company-wide disaster drills and providing disaster prevention education through e-learning, in addition to taking physical countermeasures against earthquakes as described above.

In FY2022, as a company-wide disaster drill, we conducted a company-wide earthquake drill and business continuity plan (BCP) training simultaneously, continuing from last year, to identify issues arising from conducting disaster response and business continuity operations at the same time. In the drill, which was based on the scenario of an earthquake with a maximum seismic intensity of 6 upper hitting the area of Osaka Gas's operation, a task force, headed by the President, was formed at the Head Office. We worked to strengthen our initial disaster-response capabilities and share the disaster response flow until the completion of restoration in case of disaster under the COVID-19 pandemic. Approximately 2,000 employees participated in this practical drill.
Osaka Gas concludes the Agreement on Coordination and Cooperation in the Event of a Large-scale Wide-area Disaster with the Union of Kansai Governments
On March 26, 2020, Osaka Gas concluded the Agreement on Coordination and Cooperation in the Event of a Large-scale Wide-area Disaster with the Union of Kansai Governments.
We will thereby, together with the Union and its constituent prefectures and government-designated cities, proceed to develop an information-sharing system for normal times and a coordination and cooperation system for use in times of disaster so that the daily lives of residents will be less disrupted and that the gas supply will be promptly restored in the event of a large-scale wide-area disaster.
Weather data collection system enabling Osaka Gas to grasp information on accumulated rainfall during typhoons, torrential rain and landslide disasters in an integrated manner
Osaka Gas developed a system to obtain weather information, such as accumulated rainfall during typhoons and torrential rain and landslide disasters, in an integrated manner. The system, dubbed the "typhoon and torrential rain information system," began operation in July 2015.
Previously, we had collected weather information by separately referring to websites operated by such organizations as the Japan Meteorological Agency and the Ministry of Land, Transportation and Tourism. The new system enables us to gather weather data of our service area in an integrated manner and more expeditiously.
In addition, in preparation for intensifying typhoons and heavy rains, like we have had in recent years, we promote measures against inundation of gas supply facilities and measures against sediment-related disasters to minimize the risk of city gas outage. We have also built a system to grasp the risk of river flooding at an early stage and have started operation since April 2021. If we identify the risk of inundation of gas supply facilities due to river flooding, we will establish an emergency system and take preventive measures for the facilities to ensure the safe supply of gas for our customers.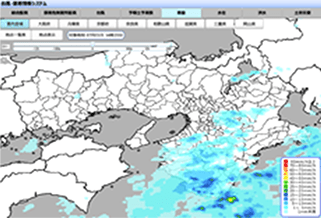 Typhoons and torrential rain information system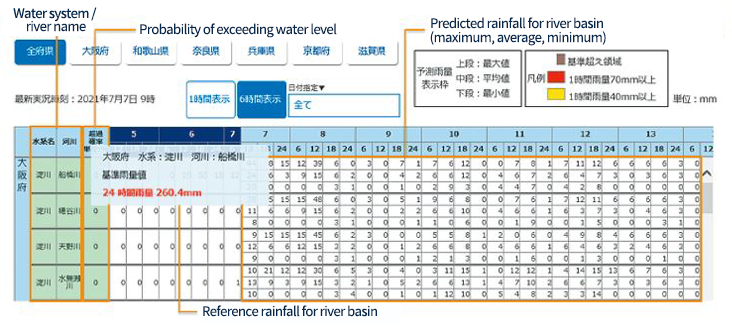 River flooding prediction system
Operation of "BRIDGE" disaster recovery support system and "OG-DRESS" mobile-based reporting system for support of disaster recovery
Various in-house organizations must work in close cooperation to restore gas supply suspended because of a disaster or accident. This requires that information on conditions at trouble spots be shared immediately.
Osaka Gas developed the "BRIDGE" disaster recovery support system to centrally manage real-time information from the onset of a disaster/accident through recovery, and put this system into operation in April 2012. The system links up map information with customer information, making it possible to "visualize" recovery actions by centrally managing on-site progress and reducing the time needed to complete recovery work.
In addition, the "OG-DRESS" mobile-based reporting system aimed at supporting disaster recovery has been established, enabling reporting on completion of recovery work via mobile phone. Based on such a system, we will make our response actions in the event of a disaster expeditious.
Our Recovery Visualization System
Recovery Visualization System

Osaka Gas has developed a "recovery visualization system" that provides easy-to-understand information on the restoration of gas service to customers living in areas where gas supply is cut off due to a major earthquake. In the event of a major earthquake, the top page of our website switches to an emergency-use page that provides status updates on gas supply stoppage and restoration using this system.

The recovery visualization system has two types of browsing functions: a map on which the gas recovery status is shown color-coded by stage and a list that shows the gas recovery progress by area.

We will continue to work to improve our disaster prevention and mitigation measures against earthquakes and other natural disasters and to deliver city gas to our customers with greater safety and stability.
Announcement of Joint Development of a Smart Meter System
In December 2020, Osaka Gas Co., Ltd., Tokyo Gas Co., Ltd., and Toho Gas Co., Ltd., which are city gas companies, agreed to jointly develop a smart meter system for the city gas business with the aim of increasing the efficiency of gas meter reading and gas line closing operations in normal times and improving disaster resilience.
The introduction of communication-enabled smart meters will increase the efficiency of on-site work through remote gas meter reading and gas line closing. The smart meters will also enable remote gas shutoff operations (gas line closing) in the event of gas leakage as well as remote safety measures (gas line closing) and gas restoration operations (gas line opening) in the event of a disaster. This will further help enhance safety and improve resilience in supplying city gas.
Based on the agreement, the three gas companies will jointly develop a system for exchanging signals between smart meters and various business systems to achieve further reduction in the development costs. We will continue to strive to improve social benefits.
Passing on Advanced Knowledge and Skills in Safety and Disaster Prevention
*

In April 2022, Osaka Gas Network Co., Ltd. took over the city gas pipeline business of Osaka Gas Co., Ltd.
The Daigas Group strives to nurture human resources with a high level of knowledge and skills in the areas of safety and disaster prevention.
At natural gas processing terminals, we introduced an operation training simulator (OTS) in FY2005 to train employees to be able to respond to emergencies, including technical glitches, expeditiously. In FY2017, a virtual reality (VR) function using animation was added to the OTS, enabling trainees to experience serious accidents, such as fire, under the VR setting, a situation they rarely face in the real world. The upgraded OTS has been instrumental in improving employees' safety and disaster-prevention skills to be passed on to the next generation.
The Technical Skill Development Center of Osaka Gas Network Co., Ltd. is promoting structured and systematic human resources development to build a framework (safety culture) that prevents accidents and educational efforts to spread "know-why" that teaches the meaning and background of work procedures. To convey the lessons learned from various past failures, we have also set up experiential-type training facilities that reproduce the circumstances at the time of these failures.
In addition, since 2015, we have held the Skills Championships, where staff compete in skills and knowledge in pipeline operations to ensure a higher level of security.
Also in the Energy Solutions Business Unit, the Human Resources Development Center in charge of security work for gas appliances provides various training programs to improve the quality of work.
Virtual reality (VR)-based education,
provided using an operation training
simulator (OTS)

Scene of a pipeline work contest sponsored by the Human Resources
Development Center of the Pipeline Business Unit
Four Safety Principles
The ultimate mission of the Daigas Group is to ensure that customers can use gas safely and with peace of mind. To this end, in November 2009 we established the Four Safety Principles to strengthen actions we had previously been taking, such as our All-Employee Gas Safety Initiative. The aim is to reduce accidents and problems by meticulously following four universal codes of conduct: Adherence to rules, Effective communication, Double checking, and Stop-work responsibility. We will follow these provisions to help make ourselves continuously aware of our responsibility to customer safety.