Safety and Security 2: Processing Stage
Aspects Determined as Materiality

Customer Health and Safety

416-1
Principle and Outline
Gas processing is the core and a vital part of the Daigas Group's business operations. Its Senboku LNG Terminal and Himeji LNG Terminal process LNG into city gas and supply it to customers in a stable manner in order to respond appropriately to their city gas demand. At the LNG terminals, all facilities are operated and monitored 24 hours a day, 365 days a year for all processes, from receipt of LNG and vaporizing of the gas to delivery of the product, so that customers can always use stable energy without worry. We also work to take measures against emergencies, such as natural disasters.
We promote the renovation and repair of our aging gas-processing facilities to secure facility safety and stable gas supply over the coming decades. We also strive to devise more advanced safety and anti-disaster measures.
City gas-processing flow
LNG, used as a raw material of city gas, is transported by LNG tankers and stockpiled in tanks set up at processing terminals. The LNG brought in is vaporized into natural gas, using heat from seawater. Its calorific value is adjusted and gas odor elements are added before it is delivered to customers as city gas.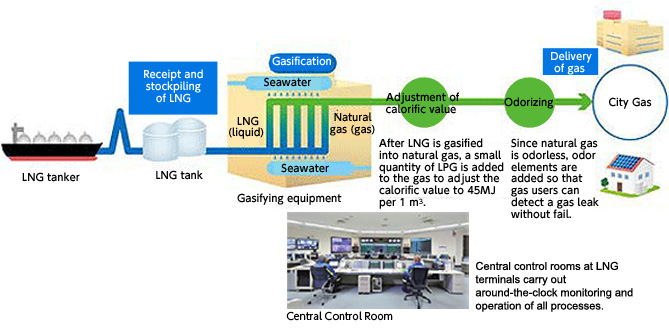 ■ No. of Facilities in City Gas Processing Terminals
Senboku
Himeji
LNG vaporization capacity (1,000 m3 / hour)
1,870
858
Main facilities
LNG vaporization facility
19 units
5 units
LNG tanks
17 units
8 units
Total LNG tank capacity
1,660,000 kl
740,000 kl
Main materials
LNG
LNG
Safety Measures at LNG Terminals
Our system docks LNG tankers safely
At the Osaka Gas LNG terminals at Senboku and Himeji, we strive for complete safety on site and in the surrounding areas. This safety begins as soon as the tankers carrying LNG dock at dedicated piers at the LNG terminals.
The tankers bringing LNG from around the world are docked with the utmost concern for safety. Osaka Gas developed its own system specifically for safely docking tankers through a series of processes.
This system uses a GPS to monitor in real time the position of the tankers to an accuracy of 10 cm as they enter and leave the port, and dock and undock.
LNG tank safety measures
High-expansion foam discharge and water curtain facilities along the dike around an LNG tank

The LNG transported by tanker is fed into LNG tanks from the dock. To ensure a stable supply of natural gas, our two LNG terminals have a total of 25 LNG tanks, including one of the world's largest land-based tanks. Tanks are equipped with advanced earthquake-proof technology. Should there be a gas leak, the tanks have dikes to stop the LNG from flowing to the outside. And there are high-expansion foam discharge systems and water curtain facilities to contain any spilt LNG.
Development and commercialization of a LNG tank using state-of-the-art technologies
The No. 5 LNG tank at the Senboku LNG Terminal

At the Senboku LNG Terminals, there is one of the world's largest LNG tanks, with a capacity of 230,000 m3, which has been used since December 2015. Its inner tank is made of 7% nickel steel plates, whose content of nickel as a rare metal is about 20% smaller than previous types of nickel steel plates. As a result, this selection of material has helped reduce the material cost and conserve rare metal resources.
The outer concrete wall of the tank was constructed with the slip forming method, the first time for an LNG tank in Japan. This method helped drastically reduce the time required for the construction works.
Odorization aids gas leak detection
At Osaka Gas's two LNG terminals, the LNG brought in by tankers at a temperature of -160℃ is vaporized using the heat of sea water, then the heating value of the gas is adjusted before it is delivered to customers. Because natural gas is odorless, it is given a specific odor so that it can be detected in case of a gas leak.
Monitored 24 hours a day, 365 days a year
Central control room at an LNG terminal

Central control rooms at LNG terminals carry out around-the-clock monitoring and operation of all processes from receipt of LNG, vaporizing of the gas, to delivery of the product.


These central control rooms also carry out monitoring and operation of all of the incident detectors and surveillance cameras so that problems are detected promptly and prevented from spreading. If an incident detector picks up a problem, an alarm is sounded in the central control room and staffs are on the scene immediately.
Disaster Prevention at LNG Terminals
Regular emergency drill
In addition to periodic operating drills using an operational control simulator, the LNG terminals hold drills to prepare for disasters and other emergency situations. We use these drills to continuously raise safety awareness among employees and improve their ability to safely manage our operations.
We hold a range of disaster drills as often as possible. These include fire drills using our on-site fire engines at each terminal, company-wide earthquake drills that are designed to deal with damage from an earthquake, spot drills with no prior notice given of the time or content of the drill, and joint drills with other companies operating in the neighborhood and local governments.
Fire drills

Oil boom extension drills

Earthquake drills
Developing a Business Continuity Plan to Take Effect During a Large-scale Disaster or Accident
In July 2013, the Daigas Group formulated a Business Continuity Plan (BCP) to be implemented in the event of a large-scale disaster or accident. This BCP, which we have disseminated throughout our Group, outlines responses to identified risks.
It assumes a situation in which the company and society at large are affected by an earthquake or tsunami resulting in a paralysis of various functions, or a functional failure due to problems with raw materials suppliers and our equipment. According to the terms of the "Act on Special Measures for Pandemic Influenza and New Infectious Diseases" (enacted in April 2013), the company shall respond promptly and accurately to the outbreak of a new strain of influenza or the like to prevent infection of employees and to protect public health. We have established company regulations "Pandemic Influenza and New Infectious Diseases Preparedness Action Plan" in order to ensure the stable supply of gas in such a situation.
In principle, we review our BCP annually and promote employee awareness by implementing BCP training, earthquake drills, and education and training incorporating e-learning.
In the event of an earthquake, we must respond by upholding business continuity in parallel with implementation of disaster response operations, so clearly advanced disaster response capabilities are required as well. By simultaneously implementing earthquake drills and BCP training in FY2022, we were able to identify the challenges of maintaining business continuity concurrently with disaster response operations, thus strengthening our overall disaster-response capabilities.