Principle and Outline
The Daigas Group has supplied city gas to the Kansai region in a stable manner while branching out into peripheral business fields. By doing so, the Group has grown together with the region.
To make customers' lives and businesses more fruitful and attain sustainable development and growth that address the needs of the environment and society, the Group will create new value and provide a wider range of services and new technologies to customers in collaboration with various stakeholders.
Wide Range of Pricing Plans
Pricing plans to suit a range of customer and societal needs
Osaka Gas offers various pricing contracts to match the gas equipment and volume of gas being used. We offer the users of ENE-FARM, a residential fuel cell cogeneration system, and other specific equipment, such as a gas-based hot-water floor heating system, with a beneficial pricing plan according to the equipment type with the aim of encouraging the use of energy-efficient gas equipment. Further optional discounts may be applicable, as well, in combination with other gas appliances.
A large number of customers have already taken advantage of the "Motto Wari" discounted pricing plan for high gas usage.
On April 1, 2021, we started accepting applications for "carbon neutral city gas," which is supplied to corporate customers who promote decarbonization efforts. Daigas Energy Co., Ltd., a wholly owned subsidiary of Osaka Gas, accepts applications for carbon neutral city gas as an agency of Osaka Gas. "Carbon neutral city gas" uses "carbon neutral LNG," whose CO2 emissions in the processes of drilling, transport, production, and combustion of natural gas are offset by CO2 credits*.

We will strive to offer optimal gas equipment and affordable pricing plans to meet the needs of customers and society.
*

CO

2

credit
The CO

2

reduction effects in environmental conservation projects in respective regions around the world are certified as CO

2

credits by highly reliable verification institutions.
Electricity pricing plans to match usage and lifestyles
Osaka Gas offers electricity pricing plans to match the usage situation of a range of customers. Our affordable pricing plans include "Basic Plans A–G" designed for customers with Osaka Gas contracts and a special household gas power generation plan for customers who have adopted an ENE-FARM residential fuel cell cogeneration system.
In recent years, various new pricing plans have been added. "Style Plans," added in FY2019, are pricing plans for electricity charge selection according to the lifestyle, including "Style Plan P," which gives access to the Amazon Prime membership program. "With Plans," added in FY2020, are designed to support a happy and fulfilling life, including the beneficial "With Radiko Plan," which includes "Radiko Premium," a membership program provided by Radiko Co., Ltd.
In FY2021, we added two new plans to the electricity rate plan "Style Plan E-ZERO" in response to the growing needs of society toward decarbonization. The new plans are "Style Plan E-ZERO B" and "Style Plan E-ZERO Power Sources" for customers whose electricity consumption is high. We started accepting applications on March 30, 2021. Style Plan E-ZERO is a rate plan for electricity that combines electricity generated by renewable energy sources owned by the Daigas Group with electricity purchased from post-FIT customers*1, along with non-fossil fuel certificates*2 derived from renewable energy. Customers can use electricity derived 100% from renewable energy*3 free of CO2 emissions. Style Plan E-ZERO also meets the requirement "procurement of electricity derived 100% from renewable energy" to receive subsidies under the Model Project for Advanced Adoption of Zero Carbon Lifestyle and Workstyle Using Renewable Energy Electricity, Electric Vehicles, Fuel Cell Vehicles, etc.*4 implemented by the Ministry of the Environment, Government of Japan.
The introduction of Style Plan E-ZERO B, which is available for both general households and commercial facilities whose electricity consumption is high, and Style Plan E-ZERO Power Sources, which is designed for customers who use power sources such as elevators and air-conditioning equipment, has enabled more customers to use electricity derived 100% from renewable energy.
We have also set up the following new electricity rate plans: "Plan for Power Sources: Air," "Plan for Power Sources: Air Double," and "Plan for Power Sources: Safety Plus" to help business customers solve their various problems.
For corporate customers who promote decarbonization, we started accepting applications for the D-Green series, a new electricity rate plan to supply electricity derived 100% from renewable energy (hereinafter, "renewable electricity"), on April 1, 2021. Daigas Energy Co., Ltd., a wholly owned subsidiary of Osaka Gas, serves as an agency of Osaka Gas to accept applications for the D-Green series.
"D-Green Premium" is an electricity rate plan that offers non-fossil fuel certificates for newly installed power sources, which do not use the feed-in tariff system for renewable energy (hereinafter, "the FIT system"), in combination with renewable electricity. The use of this rate plan contributes to promoting the development of new renewable energy power sources. Moreover, the requirements of RE100*5, an international initiative, can be met by providing attribute information indicating the name, location, method of generating power, amount of power generated, and timing of power generation of power plants on the non-fossil fuel certificates. Customers can designate a power plant from which a non-fossil fuel certificate is derived on a prefectural basis from the list of power sources that the Daigas Group can offer.
"D-Green RE100" is an electricity rate plan that supplies non-fossil fuel certificates for power sources, which use the FIT system, in combination with renewable electricity. This plan also can meet the RE100 requirements by providing attribute information on the non-fossil fuel certificates. Through these pricing plans, which meet the needs of customers and society, we will support customers' lifestyles and businesses.
*1

Customers who have reached the end of the feed-in tariff period for renewable energy under the Act on Special Measures Concerning Procurement of Electricity from Renewable Energy Sources by Electricity Utilities

*2

A certificate of the environmental value of electricity derived from non-fossil energy sources, which is procured by a retail electric utility and provided to the customer, and is recognized as the customer's reduction of CO

2

emissions.

*3

Making electricity supply 100% derived from renewable energy by using non-fossil fuel certificates (designated as renewable energy sources) for electricity generated from renewable energy without thermal or nuclear sources.

*4

A subsidy project under the auspices of the Ministry of the Environment, Government of Japan, to expand the use of electric vehicles and fuel cell vehicles and spread zero-carbon lifestyles using renewable electricity, as well as charging-discharging equipment and electric vehicle power systems that can be used both in daily lives and in the event of an emergency, in order to help achieve a green society

*5

An international initiative by a group of companies that aim to procure 100% of electricity used in their business activities from renewable energy sources. This plan meets the requirements of the RE100 Technical Criteria.
Providing Services to Customers through "Kurashi Plus" Osaka Gas Service Shops
Building relationships with local customers and enhancing their living environment
"Kurashi Plus" Osaka Gas service shops

"Kurashi Plus" Osaka Gas service shops are partner companies that serve as a bridge between Osaka Gas and local customers. Since 1955 we have been outsourcing gas service administrative functions to partner companies. These companies are able to provide a number of other services as well, including the sale and repair of gas appliances, bath, kitchen and other home renovations, and the sale of fire alarms.

As of March 31, 2021, customers in our gas supply area are being served by 121 "Kurashi Plus" Osaka Gas service shops.
New services, such as "Raku-Toku Lease"and "Raku-Toku Warranty Service"
Osaka Gas offers an equipment lease system that allows customers to use the latest built-in gas cooking stoves and other gas equipment for a monthly leasing fee. This can be combined with a warranty service that covers the lease period of up to 10 years, during which time customers can take advantage of a free repair service and periodic inspections for their gas water heater, gas stove, and other equipment. These are affordable systems that allow customers to safely use and enjoy the latest gas equipment.

Currently, approximately 60,000 households have signed up for the lease system and 800,000 for the warranty system as of March 31, 2021.
Services to Meet a Range of Customer Needs
"Sumikata Services"
A range of home repair and other services to support comfortable, safe living
Osaka Gas provides a wide range of services under the umbrella of "Sumikata Services" for residential customers, which extend beyond gas and electricity, to support the comfort and safety of people's home living environments.
Sumikata Services include plumbing repair, air conditioning repair, home repair, house cleaning, and other services as part of "Kaketsuke Service," which involves the dispatch of personnel to the customer's home. Other services include disaster-management and crime-prevention services covering gas alarms, fire alarms, home security, and more. For example, personnel from the Osaka Gas service chain, with expertise gained through the repair of gas equipment, quickly accept and respond to service requests to repair water-related problems in the kitchen, bath, sink area, or toilet.
In June 2020, we started providing services, such as housekeeping and garden tree care, in collaboration with Duskin Co., Ltd., and from October the same year, we began the provision of services to respond to trouble with PCs and IoT devices in partnership with Japan PC Service Co., Ltd.
Through Sumikata Services, we respond to a wide range of problems faced by our customers in collaboration with the Osaka Gas service chain and diverse alliance partners. The membership of the services currently exceeds 400,000.
IoT service for factories launched
Osaka Gas provides "D-Fire," a service that uses IoT to offer solutions that lead to higher plant productivity.
Manufacturers face a wide range of issues, from how to improve quality and production efficiency to labor shortages due to the aging of experienced technicians. IoT can be a solution to these issues. However, there are obstacles to its implementation, including high capital costs and lack of systems experts.
We have accumulated strengths in simulation and sensor technologies in the gas business, and we also have access to the Daigas Group's skills in system development and data analysis. Making use of these advantages and further deepening our consulting sales activities at customers' sites, we will offer IoT systems that resolve plant-wide issues for customers.
Specifically, we provide a one-stop IoT service through D-Fire, selecting optimal devices and sensors and offering data visualization and analysis tools. This service is expected to minimize unexpected equipment failures by monitoring trends in equipment operation data and to maintain stable quality by checking processing conditions against product quality data. It also makes it possible to digitize the know-how of skilled technicians, leading to support for skill transfer.
By combining our own expertise with artificial intelligence (AI), IoT, and other advanced technologies, we will continue to expand our services that are helpful for our customers to grow their business and to resolve any issues they may have.
■ "D-Fire," an IoT Service for Factories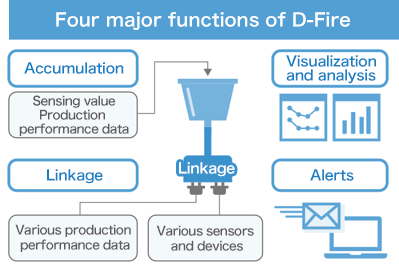 Useful ICT services for business customers: "ekul" and "HelloOG!"
The Daigas Group offers various services to business customers (such as Eneflex and Motto Save) to provide a visual view of energy usage and energy-saving control capabilities using information and communications technology (ICT).

In July 2016, we introduced a simplified data measurement service for business use—"ekul"—to provide a range of customers with a low-cost measurement service that alerts them to wasteful use, allowing them to take energy-saving measures that reduce costs. The "ekul" service uses wireless technologies and battery-powered measuring equipment to inexpensively and easily monitor gas and electricity usage and send the data to users in real time. The system can also measure such data as water usage, number of customers, temperature, and humidity for customers who are keen to see such information.

Now, as a comprehensive energy provider, the Daigas Group has begun offering the "HelloOG!" member-only free service for sharing useful information gathered by the company with individual customers. "HelloOG!" was started as a service for restaurants and other businesses to be able to see their usage of gas and electricity and price information through an individualized information distribution system. Plans are in place to expand the service to other industries and give individual customers greater choice in the content and display of information.

The Daigas Group will continue to propose optimal solutions to be the best energy partner for our customers.
2020 TOPIC) New partnership in water treatment business
—Service expansion with "D-Aqua" one-stop services—
Daigas Energy Co., Ltd., a wholly owned subsidiary of Osaka Gas, signed business partnership agreements on March 23, 2021 with Miura Co., Ltd. and Aquas Corporation to provide customers with one-stop water treatment services in addition to energy-related services.
Making use of its technological capabilities* cultivated in the gas business, Daigas Energy has provided a large number of customers with water treatment services, including the treatment of irrigation water and wastewater. In response to the recently growing customer needs for environmental measures, Daigas Energy has formed the business partnerships with Miura and Aquas to make its water treatment services one-stop by expanding the offering of products and equipment maintenance. Daigas Energy has named the water treatment services "D-Aqua" and will strive to further improve them.
Miura boasts excellent technical and engineering capabilities in the fields of well water and industrial water utilization with water treatment equipment based on boiler technologies. Meanwhile, Aquas is a comprehensive manufacturer in the field of treatment of wastewater and other water. Aquas manufactures water treatment plants and chemicals, analyzes water, and maintains water treatment plants.

Through collaboration with the two companies, in addition to its energy and environmental technologies, Daigas Energy will provide customers with one-stop services covering all of the utilities, including well water and industrial water utilization and wastewater treatment. Daigas Energy will also contribute to strengthening customers' BCP measures, including continued factory operation in the event of a water outage due to a natural disaster, as well as to decreasing the costs of clean water and wastewater treatment and reducing environmental load.
Daigas Energy will further collaborate with various business operators to promote comprehensive solutions, ranging from water treatment to environmental measures, including biogas generation and effective use of waste. Through these efforts, Daigas Energy will solve customer issues, including the reduction of energy usage and waste disposal, and will also contribute to building a decarbonized society, which is a social issue.
*

Including the technology of treating wastewater generated when city gas is produced from coal
■ Example of One-stop Service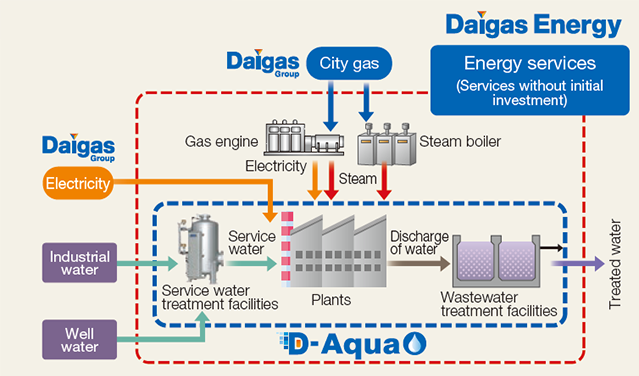 2020 TOPIC) Announcement of commencement of commercial operation of a liquefied carbon dioxide production plant in Nagaoka City, Niigata Prefecture
On November 16, 2020, Nagaoka Carbonic Co., Ltd., which was established in September 2018 with 100% ownership by Osaka Gas Liquid Co., Ltd., a wholly owned subsidiary of Osaka Gas Co., Ltd., started commercial operation of a liquefied carbon dioxide production plant in Nagaoka City, Niigata Prefecture.
Nagaoka Carbonic started the construction of the plant in March 2019 with the aim of starting commercial operation in April 2021. Since the construction work proceeded smoothly, commercial operation started five months ahead of schedule. In January 2021, commercial operation of a dry ice production plant also started.
In the industrial gas field of the Daigas Group, the plants represent the first project outside the Kansai region that encompasses construction, production, and sale. Nagaoka Carbonic acid will manufacture and sell liquefied carbon dioxide gas and dry ice (hereinafter, "liquefied carbon dioxide, etc."), receiving the supply of carbon dioxide gas as a raw material from an adjacent plant operated by INPEX CORPORATION.
The supply of carbon dioxide gas has been decreasing due to a decrease in the number of oil refineries and reduction in production of ammonia in Japan. Thus, there has been a chronic shortage of supply of liquefied carbon dioxide, etc. across Japan. Meanwhile, the Tohoku and Hokushinetsu areas, including Niigata Prefecture, depend on long-haul transport for the supply of liquefied carbon dioxide, etc. from the Kanto and Kansai areas. Under these circumstances, the operation of the plants will contribute to building a stable supply system of liquefied carbon dioxide, etc. in the relevant areas.
Ohgishima City Gas Supply Co., Ltd.'s city gas production and supply facility put into commercial operation
On April 1, 2020, Ohgishima City Gas Supply Co., Ltd., which is jointly funded by Osaka Gas Co., Ltd., JERA Co., Inc. and JXTG Nippon Oil & Energy Corporation, started the commercial operation of its city gas production and supply facility (calorific value adjustment facility) in the Ohgishima area in Kawasaki City, Kanagawa Prefecture.
This facility produces about 1.1 million tons of city gas per year using natural gas and LPG as materials. The city gas produced at the facility is mainly used by JERA as fuel for power generation at its Shinagawa Power Station and by JXTG Nippon Oil & Energy and Osaka Gas for city gas retail. The city gas produced there is also used as a material of hydrogen production in the hydrogen station project in the Oi area, Tokyo, in which JXTG Nippon Oil & Energy and JERA participate.
At this facility, JERA is responsible for supplying natural gas and operating the facility, and JXTG Nippon Oil & Energy is in charge of supplying LPG used for calorific value adjustment, while Osaka Gas provides support by imparting the know-how that it has so far accumulated about the operation of calorific value adjustment facilities. The facility is run and managed mainly by Ohgishima City Gas Supply, with the highest priority placed on safety.
Website for Customers
Providing information deemed useful for people's lives through the website in an easy-to-see form
Website for registered members "My Osaka Gas"
"My Osaka Gas" website for registered members

In 2009, Osaka Gas began offering the "My Osaka Gas" website to residential customers of its gas and/or electricity services. The website is designed to enhance customer satisfaction and convenience. The number of members reached 1.5 million as of January 31, 2021.

After customers sign up for the website, they can check online their gas and power* consumption, gas and electricity bills, and service appointment dates, as well as various contract information. We have enhanced the functions and contents of the website to enable customers to more easily follow various procedures online.

Beginning with the launch of a remodeled loyalty point program on March 1, 2021, we have further improved the website so that it can be more beneficial, more convenient, and safer for users, including introducing the "Point Mall," an online store portal combined with the loyalty point program, and adding and upgrading other functions and contents.

Members can earn loyalty points not only by checking their gas and electricity charges and reading columns but also by using the newly released Point Mall and various other services, including Sumikata Services. Accumulated points can be used to apply for prize promotion and donate to NPOs as before and also can be exchanged for points in six coalition loyalty programs.

The My Osaka Gas members have so far been able to access instruction manuals only for Osaka Gas-produced gas appliances on the website. After the improvement, however, instruction manuals for gas appliances produced by other companies have been added to the list of gas appliance instruction manuals accessible on the website.

Moreover, two-factor authentication has been introduced to enhance information security. This can prevent unauthorized third-person logins by authorizing each login with not only the ID and password but also an authentication code.
We will continue to reflect customer feedback and strive to offer customers greater convenience and satisfaction.
Osaka Gas website
The Daigas Group uses various media to provide customers with a wide variety of useful information for daily life regarding energy saving so that they can use energy efficiently.
"Kashikoi Kurashi no Hinto Zukan" on the Osaka Gas Website contains a collection of hints regarding measures aimed at promoting energy saving at households and their expected benefits. Users of the Website can access the content of a guidebook called "Anshin Guide," detailing how to use gas safely, which they are to receive from Osaka Gas staffers visiting their homes for regular safety checks.
In 2018, the Website's English pages for household customers were upgraded, while the Chinese-language site (written in simplified Chinese characters) and the Korean-language site were launched.
We have set up an online site called "Daigas STUDIO" to deepen people's knowledge of Osaka Gas and increase their favorability of our company. Users of the service can access the most updated information about the Daigas Group and relevant topics through the website, Facebook and Twitter.
Co-creation of New Service Value through Innovation
2020 TOPIC) Collaboration between our IoT-compatible gas appliances and IoT devices of other companies
—Various services of other companies enabling remote control of IoT-compatible gas appliances—
Since introducing IoT technology to the field of home gas appliances for the first time in Japan in April 2016, Osaka Gas has merchandised ENE-FARM residential fuel cell cogeneration systems, residential gas water heaters, and other products that are always connected to the internet. With more than 100,000 appliances connected to the internet to date, we have provided various IoT services, including remote control of appliances via a dedicated smartphone app, remote monitoring of appliances, and visualization of energy consumption.

We have also focused on collaboration with other companies' services, such as smart speakers, with the aim of improving customer convenience. In 2020, we achieved collaboration with Sharp Corporation's smart life app "COCORO HOME" (May 2020) and Sony Network Communications Inc.'s "Multifunction Light" (August 2020) to realize collaboration with devices centered on home appliances. This collaboration has enabled the users of our IoT-compatible residential fuel cell ENE-FARM system and residential gas water heater to issue a command to fill the bathtub with hot water and turn on floor heating via the apps of both companies.

We will continue to consider how to create new value for customers with various alliance partners.
■ Image of Services through IoT-compatible Gas Appliances of Osaka Gas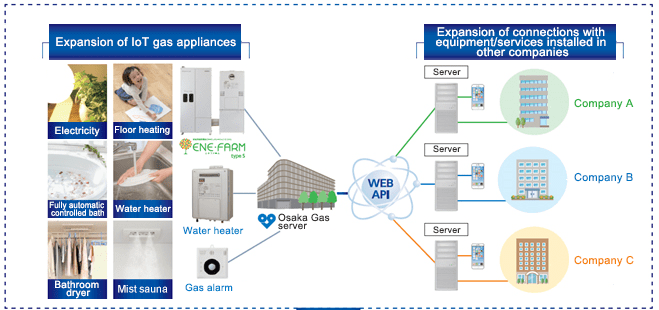 2020 TOPIC) Launch of "Prizero," a print handouts management application, and collaboration with Toyonaka City on child rearing and childcare support
Osaka Gas has developed PriZero, a smartphone app for managing the many handouts that children receive from school, as a new business to help customers solve their problems with digital technology. The app started to be distributed from the app store on April 19, 2021.
Recently, it has become increasingly difficult for families to manage and store the many handouts distributed by school and afterschool teachers and manage schedules of events due partly to an increase in the number of double-income families with children. To solve such problems, we have developed a new service that enables families to comprehensively manage and share handouts, events, and tasks using a smartphone. In the development project, 150 employees who are raising children were involved as testers, and their feedback based on their actual experience was reflected.
We aim to study the possibility of promoting the use of the service through partnerships with local governments and schools. As the first step, we concluded a partnership agreement regarding child development and child care support with Toyonaka City, Osaka Prefecture, on March 29, 2021. We also hope to contribute to identifying and solving social issues by organizing workshops for child-rearing households.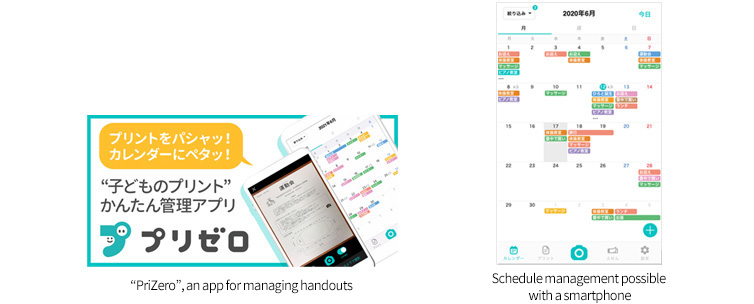 Two businesses released from "TORCH," a program for helping in creating new businesses
In 2017, Osaka Gas initiated a program named TORCH to encourage young employees to take the initiative in creating new businesses. They present their business ideas at a contest with all employees as the jury, and if their ideas are highly rated, they will strive to commercialize the ideas in cooperation with those involved inside and outside the Company.

In February 2020, a team of program participants released RAMUNE, a topic sharing app developed jointly with GOCCO. Co., Ltd. RAMUNE is an app for posting and browsing light topics that give the users tips about how to refresh their minds and to add a joyful touch to their same old daily routine.

In December 2020, "taknal," an app developed with ebisu Inc. that turns "passing people" into "encounters with books." "taknal" is a service that allows users to exchange information on recommended books when they pass each other online.

We will continue our efforts to develop human resources, mainly focusing on young employees, through TORCH and other programs to create new businesses beyond the framework of existing businesses.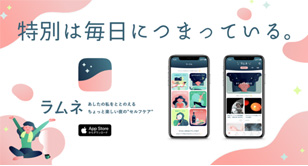 RAMUNE, a mobile app for posting and browsing light, mind-refreshing topics
Click here for more details about RAMUNE.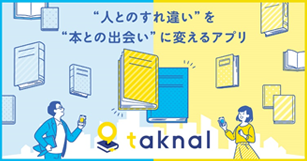 "taknal," an app that turns "passing people" into "encounters with books"
Click here for further information on "taknal."
Promotion and Support of Technological Development
Developing the "Digital Manometer WM-1000," a new digital pressure gauge
In collaboration with Aichi Tokei Denki Co., Ltd., Osaka Gas has developed the "Digital Manometer WM-1000" , a new model of a digital pressure gauge used in airtightness and leakage tests for gas pipes.

The Digital Manometer WM-1000 is equipped with a Bluetooth wireless communication function, which enables users to operate the manometer and manage pressure measurement data via a mobile device, resulting in higher efficiency of work. It can also be used in combination with the GPS function and camera of the mobile device, helping increase traceability.

We will spread this device to gas operators around Japan to ensure that customers can use safe gas with a feeling of security. We will also further develop technologies for digital pressure gauges and other devices.
*

In April 2022, Osaka Gas Network Co., Ltd. took over the city gas pipeline business of Osaka Gas Co., Ltd.
Main unit of the manometer

Tablet
Developing the "AI Radar Locator," in which AI judges the location of buried pipes
By introducing AI diagnostic imaging technology, Osaka Gas has developed the "AI Radar Locator," which allows anyone to easily and accurately determine the location of buried pipes.

Since various infrastructure facilities are buried under roads, care must be taken not to damage buried pipes during excavation work for gas facilities. We use radar locators to accurately identify the location of buried pipes. Radar locators emit radio waves into the ground and create exploration images by reflections from buried pipes. Locator operators estimate the location of the buried pipes by reading the waveform in the images. However, since judgment may sometimes be difficult depending on the piping conditions and soil quality, skillful techniques are required to reliably grasp the location of buried pipes.

In this development, AI learns the judgment of skilled operators. This has enabled radar locators to automatically judge the location of buried pipes without relying on the know-how of operators.

We will strive to further develop technologies to improve gas safety so that customers can use safe gas with a feeling of security.
*

In April 2022, Osaka Gas Network Co., Ltd. took over the city gas pipeline business of Osaka Gas Co., Ltd.
Exploration image of buried pipes

Exploration examples where it is difficult to determine the location of buried pipes

Example of AI judgment of the location of buried pipes
Technology development with improved efficiency through open innovation
Open innovation refers to an efficient approach used to seek solutions outside the company to technology development problems that Osaka Gas is unable to solve independently and to speed up technological development for higher efficiency.
Osaka Gas has pioneered this approach since 2009. Our efforts have led to the building and expansion of a network of partnerships (Open Innovation Platform) with universities, public research institutes, small enterprises, large corporations, ventures and overseas companies.
To find outside partners to work with, we have revealed details of our technology to-do list, something we have rarely done in the past, in order to solicit promising technical ideas from outside parties. For 12 years after we launched full-fledged open innovation activities in FY2010, the total number of technological proposals we received amounted to about 7,500 by FY2021, of which about 590 proposals have been put into practice through new collaboration.
One example of the establishment of a high-altitude training studio with as high an oxygen concentration as 2,500 m above sea level. This project was implemented in a partnership between OG Sports Co., Ltd., a Daigas Group company, and a manufacturer with a technology of creating low-oxygen spaces. Another example is the use of drone technology for facility inspections. We thus create added value through the combination of in-house and outside technologies.
The task ahead is to introduce some of the efficient technologies that we obtained externally through the Open Innovation Platform, and together with our alliance partners, actively move forward with R&D and creating new business.
■ How Open Innovation works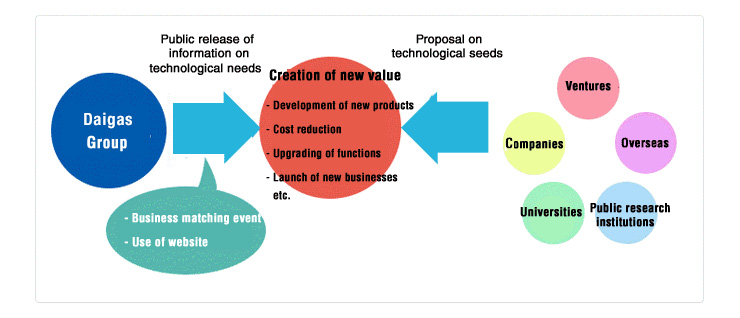 2020 TOPIC) Osaka Gas releases "D-Solar," a self-consumption solar power generation service
Daigas Energy Co., Ltd., a wholly owned subsidiary of Osaka Gas, released the self-consumption solar power generation service "D-Solar" in June 2020 with the aim of realizing a decarbonized society.
D-Solar is a service that helps customers realize the reduction of CO2 emissions and strengthen BCP measures with zero initial investment. Daigas Energy installs a solar power generation system on the roof of a customer's facility and supplies the generated power to the customer. Customers pay only the monthly service fee according to the amount of power generated by a solar power generation system.
The power generated by a solar power generation system has zero CO2 emissions. By adopting a D-Green electricity rate plan for the remaining electricity, customers can have all of the electricity supplied from renewable energy sources. Even in the event of a power outage, a solar power generation system can secure power during the day, leading to business continuity and early business resumption. In addition, a solar power generation system can be included in the environmental facility area stipulated by the Factory Location Act. It can also be expected to reduce the air conditioning load by the heat shielding effect through the installment of solar panels. As an option menu, Daigas Energy has prepared a plan to further strengthen BCP measures by introducing storage batteries (power can be distributed even after the evening and in cloudy weather) and a plan to purchase surplus power when solar generation exceeds on-site power demand.
The Daigas Group will strive to improve customer satisfaction by realizing the optimal charge / discharge control of storage batteries based on forecasts of solar power generation and on-site power demand through the release of AI control of storage batteries (charging before a typhoon and demand cut).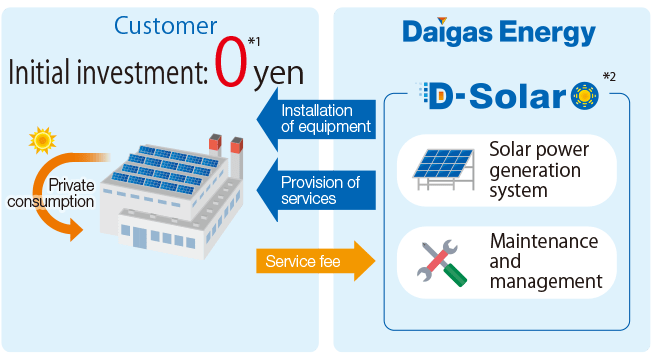 *1 "Initial investment" here refers to construction-related expenses associated with the introduction of D-Solar (construction fees, equipment fees, design and technical expenses, etc.). There may be separate expenses associated with revenue stamps depending on the amount of the contract, structural calculations to assess whether it is possible to install solar panels on the building, etc.
*2 Prescribed screening is required when entering into contracts.
2020 TOPIC) Initiatives for the electricity demand response project that contributes to the spread and expansion of renewable energy power
While the spread of renewable energy is increasing, it has the drawback of being affected by weather and other conditions. Accordingly, it is an urgent issue to stabilize the supply-demand balance of grid power. Demand response is a mechanism that adjusts the balance between electricity supply and demand by suppressing the use of electricity on the customer side when supply and demand are tight. The Daigas Group aggregates electricity that customers have suppressed and builds a virtual power plant (VPP) to stabilize the power system.
The Daigas Group has participated in an open call for adjustment power organized by a general power transmission and distribution business operator since FY2018 and plans to join the capacity market operated by the Organization for Cross-regional Coordination of Transmission Operators (OCCTO) from FY2025 onwards, increasing the number of participating customers year by year. We ask the participating customers to implement demand response when electricity supply and demand are tight, and we pay rewards according to the response results.
Customers can participate in social contribution activities, such as the stabilization of the power system and the spread and expansion of renewable energy power, while receiving rewards, and they can also contribute to the achievement of the SDGs, which have been attracting attention these days.
The Daigas Group will continue to work to earn stronger public support for demand response toward the realization of a decarbonized society.