OGIS-RI Group
OGIS-RI traces its roots back to developing and managing systems for the gas business of Osaka Gas Co., Ltd. After various acquisitions, it organized a group of system providers to offer services to the manufacturing and financial industries. By sharing the expertise of each company in the group, we provide comprehensive IT services ranging from consulting, design, development, and operation of corporate information systems to data centers, cloud services, and security.
What We Aim to Be in FY2031.3
Through high-level innovation in information and communications technologies, we aim to be a corporate group that provides new value and grows sustainably with customers.
Efforts Toward Sustainable Growth
Our strategy is to differentiate ourselves with a priority placed on the fields of finance, manufacturing, and energy as we expand service businesses for the domains of IoT, cloud technology, and authentication. We will apply our cumulative expertise and introduce new technologies to improve the competitiveness of the Daigas Group.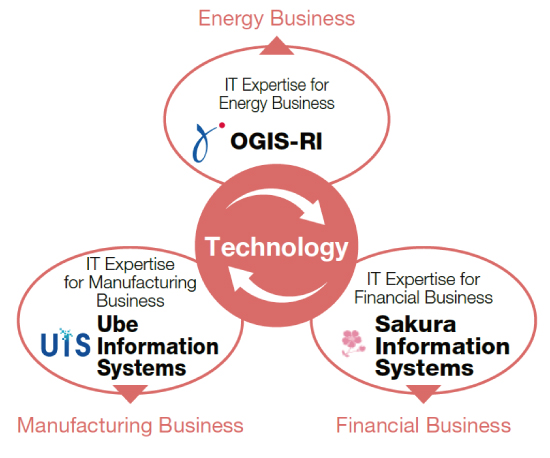 Launch of AI-based Decision Support Tool
We have commenced the provision of "ThothPlus-DecisionManager," an AI-based decision support tool that is suited to operations requiring business impact analysis and that enables the structuring of unstructured data such as e-mails.
This service automatically captures e-mails and other large volumes of data that have no set format and converts them into databases after analyzing their contents with AI. It also uses its own rule-based AI technology to determine the importance and business impact of the data, providing strong support for customers' decision-making. Through this and other services, we will realize digital transformation (DX) and create new corporate value together with our customers.