Osaka Gas Chemicals Group
We develop, manufacture and sell highly functional materials based on our own coal chemistry technologies and pharmaceutical- and agrochemical-related technologies. In 2014, we acquired activated carbon producer Jacobi Carbons AB (Sweden) and are developing our business globally.
What We Aim to Be in FY2031.3
Engaged primarily outside of Japan, we aim to become a manufacturer of functional materials with a top position in niche markets that contributes positively to industry, life, and the environment.
Efforts Toward Sustainable Growth
We aim to establish a stable earnings base and achieve sustainable growth by developing and expanding sales of products with high added value in a diverse product offering,
while also pursuing synergies and developing new markets. We will also be working on substitutions in our business portfolio on a continuous basis to adapt to changes in the times.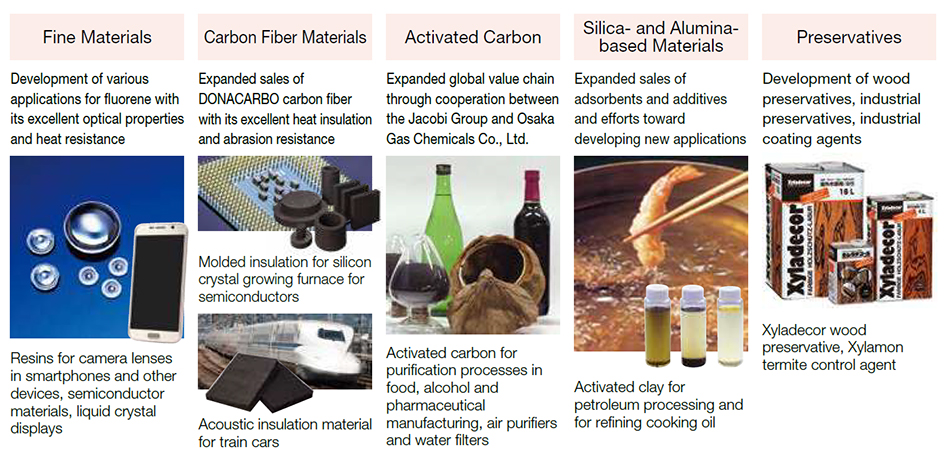 Strong Performance by Carbon Fiber Materials Business
Osaka Gas Chemicals' carbon fiber insulation materials possess excellent insulating properties due to the properties of the material and the advanced formation and machining technologies used to make them. They have been adopted for use in high-temperature furnaces such as silicon crystal growth apparatus for semiconductor substrates. Given the thriving semiconductor market of late and the brisk demand for sapphire glass for LEDs, sales of these products have been strong. We will continue to provide high-quality material solutions in our efforts to respond to customers' requirements, including the development of products with even higher insulating properties.