Green Hydrogen Production Project in Australia
In April 2022, Osaka Gas concluded an agreement with Australian company, Aqua Aerem Pty. Ltd., for the joint development of the Desert Bloom Hydrogen Project in Australia's Northern Territory. This project will use water captured from the atmosphere and off-grid solar power to produce green hydrogen,*1 with the aim of supplying it to power plants in Australia and exporting it to other countries. This initiative of using off-grid electricity to produce hydrogen is extremely advanced, making it one of the most highly anticipated hydrogen developments in Australia.*2 The long-term aim of the project is to build multiple hydrogen production plants that will produce a total of 400,000 metric tons of green hydrogen per year.
*1

Hydrogen that has been produced without generating CO2 in its production process, using renewable energies, etc
*2

The Desert Bloom Hydrogen Project has been given major project status in the Northern Territory as part of the Territory Government's Renewable Hydrogen Strategy.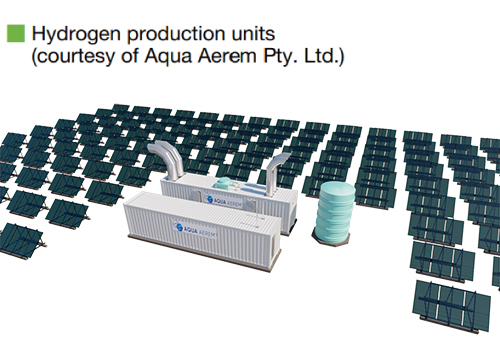 Joint Methanation Study in Australia
In December 2021, Osaka Gas Australia Pty. Ltd., a subsidiary of Osaka Gas, signed a Memorandum of Understanding with ATCO Australia Pty. Ltd. and launched a joint study on the viability of a methanation business in Australia. ATCO Australia is a subsidiary of ATCO Ltd., which conducts energy infrastructure businesses in over 100 countries. The concept of this business is to produce synthetic methane at methanation plants using green hydrogen and CO2 captured from carbon emitting facilities such as power plants or the atmosphere. The synthetic methane would be supplied to Australian gas markets via existing gas distribution network and exported to Japan and other overseas markets.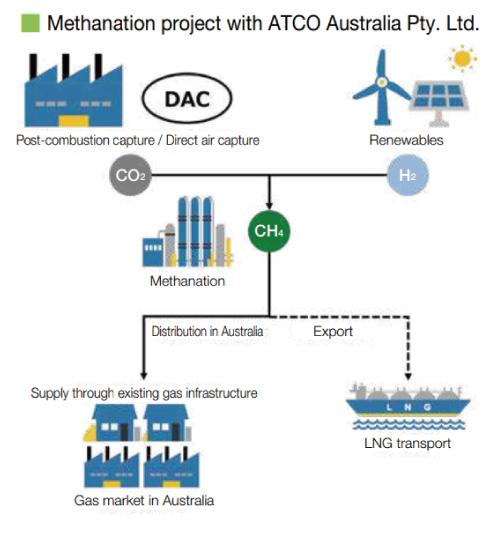 Methanation Feasibility Study in Singapore
In March 2022, Osaka Gas Singapore Pte. Ltd., a subsidiary of Osaka Gas, entered into an agreement with energy-related companies in Singapore including City Energy Pte. Ltd. and City-OG Gas Energy Services Pte. Ltd. to conduct a feasibility study on a methanation project in Singapore.
The joint study will explore business models and conduct economic evaluation over an approximately six-month period for the production of synthetic methane from hydrogen sourced from either overseas or in Singapore and CO2 captured in Singapore, and the supply of that synthetic methane to meet local gas demand using existing gas infrastructure.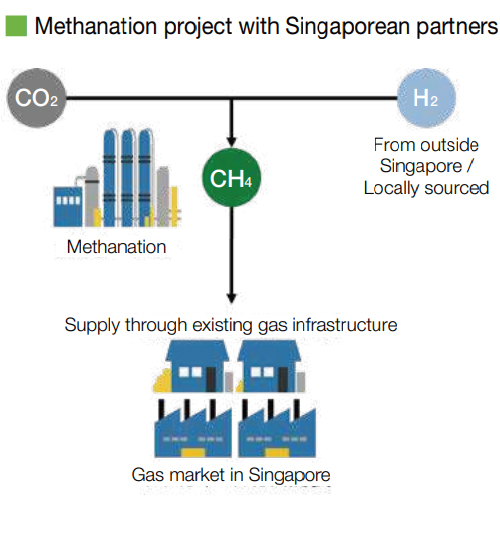 Participation in Renewable Energy Projects Overseas
Osaka Gas has invested in several IPP projects overseas, including natural gas power plants and wind power and solar power plants in North America and Australia, etc. Investments in FY2021.3 include the Three Rivers Energy Center (under construction) in Illinois in the United States for natural gas-fired power plants and SolAmerica Energy, LLC, a U.S. distributed solar energy project developer. In FY2022.3, we signed a contract with Summit Ridge Energy, LLC for the joint implementation of a distributed solar energy project in Maine and reached an agreement with NOVI Energy, LLC, a U.S.-based power project developer, to jointly develop a portfolio of utility-scale solar power projects. Further, the Brighter Future Solar Project in North Carolina, U.S.A., in which we invested in 2021, began commercial operation in January 2022. We will continue to consider opportunities to participate in renewable energy power sources that are expected to expand into the future.
Investment in Jedlix,
an Electricity Balancing Service Platform Developer in Europe
In November 2021, through our wholly owned subsidiary Osaka Gas UK, Ltd., we signed an agreement to underwrite a capital increase of Jedlix B.V., a startup that operates electricity balancing*1 services in Europe. In doing so, we have participated in Europe's balancing market,*2 which is one of the most highly developed in the world.
Solutions to the grid frequency stabilization has been increasingly needed as the amount of renewable energy production, which often fluctuates depending on weather conditions, has been on the rise in recent years. Europe is a frontrunner in the introduction of renewables and their balancing markets are the most highly developed in the world. Jedlix has been in aggregator*3 business in Europe, and uses a balancing service platform it has developed to remotely control electric vehicle (EV) batteries. The startup was established in 2016 and has gradually expanded its business into seven countries, including the Netherlands and France. It plans to further expand its business by pursuing partnerships with EV manufacturers, charge point operators, and energy retailers.
*1

Power grid balancing needs to be constantly maintained by matching power supply to demand to avoid causing blackouts and damaging infrastructure. Electricity charging and discharging to maintain that balance is known as electricity balancing.
*2

Balancing markets provide power grid operators with electricity reserves necessary to match the power supply to demand or maintain grid frequency stabilization. Power grid operators issue grid balancing orders to electricity generators and aggregators, who receive fees for these services.
*3

Aggregators provide grid balancing by remotely controlling their customers' electricity generation units in accordance with the grid operators' balancing orders.
Participation in Rooftop Solar Generation Business in Vietnam
In October 2021, Sojitz Osaka Gas Energy Company Ltd., a joint venture company* between Sojitz Corporation ("Sojitz") and Osaka Gas Co., Ltd., partnered with Looop Inc. to establish a new joint venture company, SOL Energy Company Limited ("SOL Energy").
SOL Energy plans to install rooftop solar panels that can provide over 10 MW of solar power to customers at the Sojitz-operated Long Duc Industrial Park in southern Vietnam's Dong Nai Province. Installation of solar panels is expected to reduce CO2 emissions for Long Duc Industrial Park as a whole by approximately 5,800 tons annually. In addition to supplying customers with solar power over the long term, SOL Energy will use the surplus electricity to supply the industrial park's operating companies. In doing so, SOL Energy will contribute to the utilization of renewable energy and decarbonization at the Long Duc Industrial Park. The company also plans to expand its solar business beyond Long Duc Industrial Park. By actively promoting the spread of renewable energy through SOL Energy's rooftop solar power generation business, we will contribute to Vietnam's sustainable development and the realization of a low-carbon society.
*

Equity ownership of Sojitz Osaka Gas Energy Company Ltd.: Sojitz Group 51%, Osaka Gas Singapore Pte. Ltd. 49%. (Osaka Gas Singapore Pte. Ltd. is a fully owned subsidiary of Osaka Gas Co., Ltd.)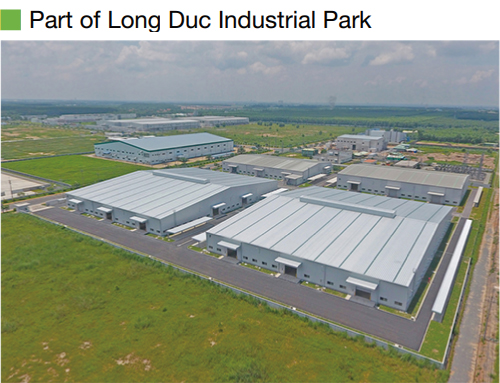 Osaka Gas Becomes the First Japanese Company
to Participate in City Gas Distribution Business in India
Together with the Japan Overseas Infrastructure Investment Corporation for Transport & Urban Development, Osaka Gas has become the first Japanese company to participate in the city gas distribution business conducted by AG&P LNG CGD HoldCo Pte. Ltd. in India. It has done so by investing in AG&P CGD HoldCo SPV3 (Singapore) Pte. Ltd. through its subsidiary, Osaka Gas Singapore Pte. Ltd.
This city gas business, promoted by the AG&P Group, has already obtained exclusive rights to a vast swath of southern India roughly equivalent to 3/4 the area of Japan. The use of LNG lorries as the main gas supply system, which is introduced for the first time to India, will shorten the time for the development and roll-out of city gas infrastructure. The venture also plans to promote city gas demand for CNG vehicles as well as for household, commercial and industrial uses. The aim for the future is to realize a city gas business that is equivalent to approximately half of Osaka Gas's city gas sales volume in Japan.
Osaka Gas aims to develop this city gas venture in India into one of its core businesses in Asia and to contribute to carbon emissions reduction and stable energy supply in India.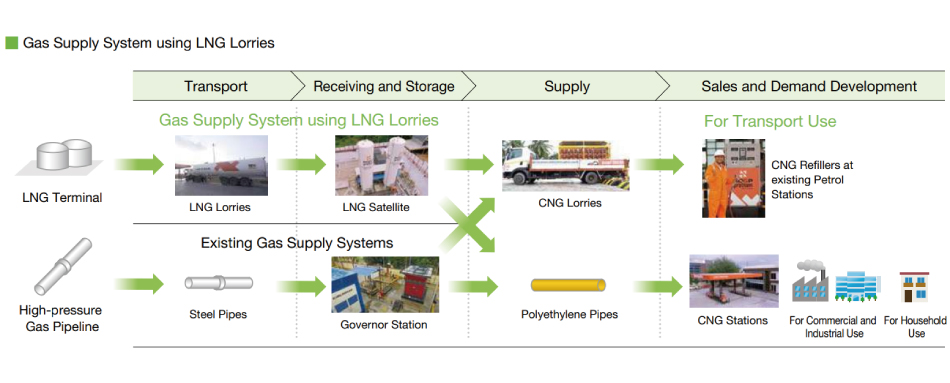 Switching Fuel at Garment Factory in Thailand
In September 2021, Osaka Gas (Thailand) Co., Ltd. entered into an agreement with Parfun Textile Co., Ltd., a subsidiary of Parfun Co., Ltd., for the delivery of compressed natural gas (CNG) to Parfun's garment factory in Thailand.
This project involves the installation of highly efficient gas-fired once-through boilers to replace the existing coal-fired water tube boilers at Parfun's Nakhon Pathom garment factory. This will achieve reductions in the factory's greenhouse gas emissions.