Toward the Practical Application of Technology Enabling Carbon Neutralization of City Gas
In October 2021, INPEX Corporation ("INPEX") and Osaka Gas jointly launched a technical development business targeting the practical application of a CO2-methanation system toward the carbon neutralization of gas. This initiative is based on a subsidized project commissioned to INPEX by the New Energy and Industrial Technology Development Organization (NEDO). The joint technical development business is scheduled to be carried out at a newly built location connected to the Koshijihara Plant at INPEX's Nagaoka Field Office in Nagaoka City, Niigata Prefecture. INPEX and Osaka Gas will jointly take part in the business by entering an operating agreement. By manufacturing synthetic methane from green hydrogen produced with renewable energy and CO2, it is possible to realize the carbon neutralization of city gas. Synthetic methane can use existing city gas infrastructure and facilities and be deployed to sectors where electrification is a challenge. The business is scheduled to consist of a demonstration test involving the production of synthetic methane using CO2 extracted from within INPEX's Nagaoka Field Office from the second half of FY2025.3 into FY2026.3, and introducing the produced synthetic methane into INPEX's city gas pipeline network. The synthetic methane production capacity of the CO2 methanation facility to be developed by this business is expected to reach approximately 400 normal cubic meters per hour, which would make it one of the world's largest scale operations* by current standards.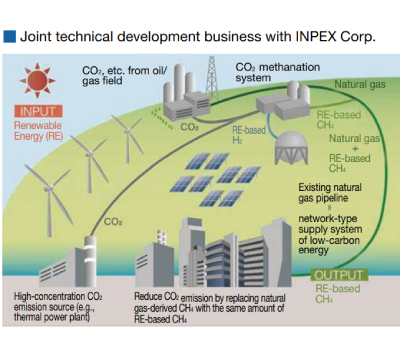 Establishment of Carbon Neutral Research Hub as a research and development site for carbon neutral technology
We have established a Carbon Neutral Research Hub as a research and development site for carbon neutral technology in the Torishima district of Osaka City, the birthplace of R&D at Osaka Gas. The Company works on research and development aimed at achieving carbon neutrality by 2050 and thoroughly reducing carbon dioxide emissions by then. To accelerate these R&D activities, Osaka Gas will strengthen technical collaboration within the Daigas Group and promote joint research with its alliance partners. At the same time, it will enhance its experimental facilities for various carbon-neutral technologies.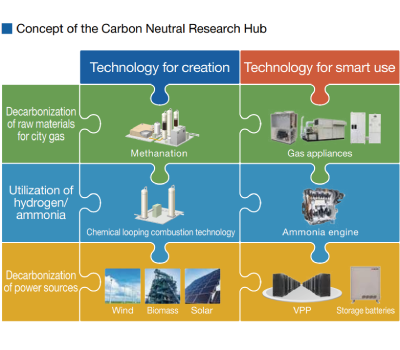 Commencement of Service of D-Bio Methane, an On-site Biogasification System
Daigas Energy Co., Ltd., a wholly owned subsidiary of Osaka Gas, has developed D-Bio Methane, an onsite biogasification system to produce biogas by processing food waste.
The system produces methane gas by fermenting food waste at a high temperature of 55°C. Methane gas produced by the system will be used as fuel to operate gas boilers and gas engines to produce carbon-neutral steam and electricity, which will be used at customers' facilities. Target facilities include large commercial facilities and food factories where one to two tons of food waste is generated per day. This significantly reduces greenhouse gas emissions compared to conventional composting and power generation through incineration.
Daigas Energy Co., Ltd. began accepting applications for this service in October 2021. In principle, this will be an energy service* in which Daigas Energy will install the system at customers' facilities to process food waste into biogas.
*Energy service: Daigas Energy installs its equipment at customers' facilities, saving the customer from buying it, thus eliminating the initial cost.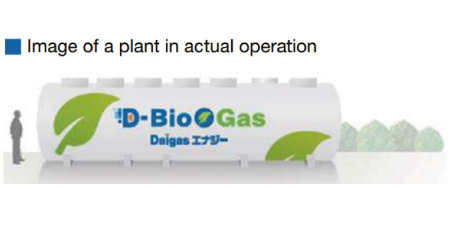 "D-Bio Steam" Biomass Boiler System that Uses Tea Grounds as Fuel
Daigas Energy Co., Ltd. has recently developed the biomass boiler system "D-Bio Steam" by combining a fluidized bed furnace* manufactured by Okawara Mfg. Co., Ltd. and an exhaust gas boiler manufactured by Miura Co., Ltd. and making use of Daigas Energy's own combustion technology and waste treatment technology. This system enables stable self-sustaining combustion of tea grounds, making it possible for users to utilize steam generated by an exhaust gas boiler for their production process. At the Kainan Plant of Wakayama Nokyo Foods Industry Co., Ltd., the amount of waste is expected to decrease by about 90% annually by using tea grounds as fuel, and CO2 emissions are expected to decrease by about 600 tons annually by using carbon-neutral steam. The construction of the system is underway with the aim of starting operations in May 2023.
*Fluidized bed furnace: A combustion furnace that can stably burn even substances with a high water content by causing combustion in high-temperature sand fluidized by the force of air blown from the bottom.
Development of In-vehicle Camera Capable of AI-based Automatic Recognition of Construction Sites
- Simultaneously Improves Productivity of Gas Pipe Patrol Operations and Gas Pipeline Safety Quality -
Various infrastructure, including waterworks, sewerage, electricity, and communications cables, are buried under roads alongside gas pipes. The operators of this infrastructure need to perform excavation work for maintenance purposes. When business operators other than Osaka Gas* perform such work near gas pipelines, we request them to hold consultations with us in advance to avoid damage to gas pipes during the excavation. In some cases, however, such construction work is performed without notifying us. For this reason, our inspection staff drive around in patrol cars to check for unnotified works.
By installing the newly-developed AI cameras on fixed-route buses, they can replace conventional patrol operations and thus improve the productivity of patrols. Also, because fixed-route buses drive on the same route multiple times a day, the patrol frequency will be higher, which is expected to enhance safety quality.
*Since April 2022, the city gas supply business has been conducted by Osaka Gas Network Co., Ltd.

Offering One-stop Everyday Services Commencement of Services on Sumai LINK Digital Platform
In March 2022, Osaka Gas launched "Sumai LINK," a new digital platform business that enriches customers' daily lives. In collaboration with business operators carefully selected by Osaka Gas, Sumai LINK will offer products and services that are useful for customers' daily lives via personal computers and smartphones.
In addition to online services, including shopping via the Internet, Sumai LINK will offer a wide variety of offline services that enrich customers' time spent at home, including medical care and housekeeping services. In August 2022, we also launched a TV stick exclusively for Osaka Gas customers that allows the whole family to enjoy online shopping and entertainment content on large screens of their home television or PC monitor. Going forward, we are planning to roll out these services to various partner companies across Japan.
The Daigas Group uses digital technology to propose added value in quick and flexible response to changes in customer needs, further promoting digital transformation (DX). The Group also keeps a close eye on changes in customers' lifestyles and business styles and provides optimal services and solutions for individual customers, aiming to help the customers establish a lifestyle and business style that correspond to the new normal amid the changes.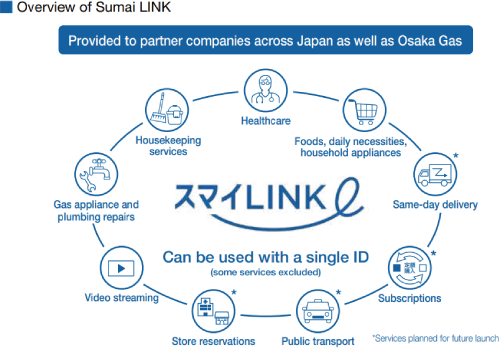 Osaka Gas's "Sasuga Net" Internet Services
Osaka Gas has addressed a wide variety of customer needs by providing one-stop services, including not only the supply of energy, such as gas and electricity, but also "Sumikata Services," which help customers with home-related issues, such as gas equipment repairs and renovations.
With these new Internet services, Osaka Gas will meet the request of customers who want a package deal contract for home necessity services.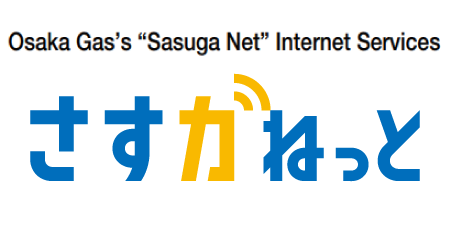 Prizero, an App for Managing Handouts as Part of Efforts to Solve Problems at Home
Recently, it has become increasingly difficult for families to manage and store the many handouts distributed by school and afterschool teachers and manage schedules of events due partly to an increase in the number of double-income families with children. To solve such problems, Osaka Gas has developed "Prizero," an app that enables families to comprehensively manage and share handouts, events and tasks using a smartphone. In the development of the app, 150 employees of the Daigas Group, both mothers and fathers, who are in the midst of raising children were involved as testers, and their feedback based on their actual experiences was reflected in the development.
Osaka Gas aims to study the possibility of promoting the use of the service through partnerships with local governments and schools. As the first step, Osaka Gas concluded a partnership agreement regarding child development and child care support with Toyonaka City, Osaka Prefecture in March 2021. Osaka Gas also hopes to contribute to identifying and solving social issues by organizing workshops for child-rearing households.