Customer Privacy (FY2021 Report)
Management Approach
Why the topic is material
As an energy business operator which supports a core infrastructure of society, the Daigas Group recognizes the vital importance of protecting customers' information and managing that information appropriately.
Boundary
Within and beyond the Group
Management systems and performance
Indicator (GRI Standards: 418-1)
Total number of substantiated complaints regarding breaches of customer privacy
Commitment
In accordance with the Daigas Group Code of Business Conduct which incorporated code of conduct and guidelines concerning the handling of private information set by the Ministry of Economy, Trade and Industry and the Japan Gas Association, we strive to ensure safety regarding the privacy of customers abiding by in-house rules, such as Rules for Personal Information Protection, Privacy Policy, Manual for Handling Personal Information.
(International and domestic standards)
・Act on the Protection of Personal Information
・Act on the Prohibition of Unauthorized Computer Access
・Act on the Regulation of Transmission of Specified Electronic Mail
(In-house policy and standards)
・Daigas Group Code of Business Conduct
・Rules for Personal Information Protection
・Privacy Policy
Responsibilities
The Vice President in charge of the General Affairs Department is appointed as the Chief Privacy Officer (CPO). Placed under the Vice President to ensure the protection of private information involving the Daigas Group are Personal Information Managers, who supervise Business Units, the Human Resources Department, Osaka Gas affiliated companies and contractors working for Osaka Gas.
■ Personal Information Protection Structure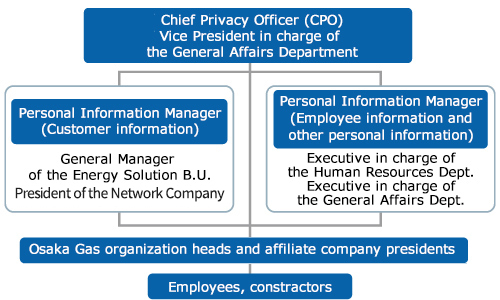 In addition, the Information Security Subcommittee, which was established under the ESG Committee (chaired by the ESG Promotion Executive), has been put under the Cyber Security Committee, which was established as one of the Company-wide committees in August 2019, to strengthen the system for information security measures throughout the Daigas Group.
■ Information Security Management System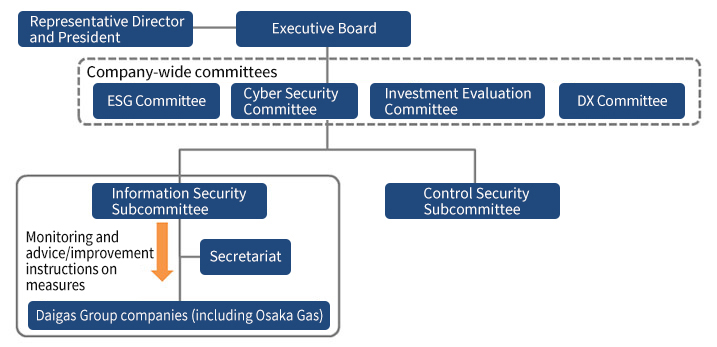 Performance
In FY2021, the Daigas Group did not receive any reasonable complaints for breaches of customer privacy. We will continue our efforts to thoroughly manage customer information.
Specific actions taken regarding materiality
Mechanism to protect personal information
We are doing all we can to prevent the leakage of personal information of customers and other incidents affecting private information by improving the Group's information management system, inspecting the implementation of the system as part of our risk-management efforts, carrying out regular audits of the Group's business operations, and taking company-wide action in the event of incidents such as the loss of customer data, including information sharing and mobilization of all organizations to conduct inspections. In FY2021, we conducted e-learning courses to help employees learn the importance of information security, information security measures, and related laws and regulations including the Personal Information Protection Law. In addition, we have enhanced the content of case studies related to personal information protection that can be used for meetings and training at each organization. The Information Security Subcommittee also introduced a system for checking the storage status of data files containing customer information, which is being carried out systematically.