Economic Performance (FY2021 Report)
Management Approach
Why the topic is material
The Daigas Group recognizes that climate change has the potential to impact business revenue and expenditures. We understand the business risks and opportunities presented by climate change, and believe that implementing countermeasures, and making our responsibility to do so clear to our stakeholders, will lead to the sustainable development of both our business and local communities.
Boundary
Within and beyond the Group
Management systems and performance
Indicator (GRI Standards: 201-2)
Financial implications and other risks and opportunities due to climate change
Commitment
We are committed to efforts that reduce greenhouse gas emissions based on the Daigas Group Environmental Policy, and will take measures to disclose information concerning risks and opportunities related to climate change.
(International and domestic standards)
・ISO14001
・Act on the Rational Use of Energy
・Act on Promotion of Global Warming Countermeasures
・TCFD recommendations
(In-house policy and standards)
・Daigas Group Code of Business Conduct
・Daigas Group Environmental Policy
・Rules for Environment Management Systems
Responsibilities
The Environment Subcommittee, the ESG Promotion Committee, and the ESG Council (Executive Board) take responsibility for reporting, following up on, and managing risks and opportunities related to climate change in our business plan, using GHG emissions indicators and targets.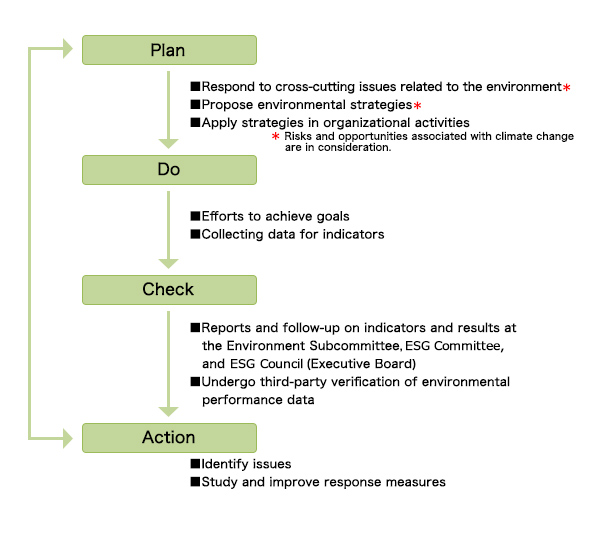 Performance
We publish on our website the page "Climate Change Initiatives: Recognition of and Action on Risks and Opportunities" which reports details associated with climate change in the areas of governance, strategy, risk management, and indicators and targets—the core elements recommended by the Task Force on Climate-related Financial Disclosures (TCFD).
Specific actions taken regarding materiality
The Daigas Group announces major risks and opportunities related to climate change, their impact on business and finance, and the methods used to manage them.