Energy / Emissions (FY2021 Report)
Management Approach
Why the topic is material
As an energy business operator, it is vital for the Daigas Group to promote more efficient use of energy resources and reduction of curtail greenhouse gas emissions through the entire range of our business activities and value chain, from the procurement of natural gas and other raw materials and fuels to the production and supply of city gas and generation of power, extending to the supply to customers, where consumption takes place.
Boundary
Within and beyond the Group
Management systems and performance
Indicator (GRI Standards: 305-5)
Amount of reduction in CO2 emissions
Commitment
We work hard to reduce the greenhouse gas emissions of the Group as a whole, based on the Daigas Group Environmental Policy. In order to manage the efforts, we have set long-term CO2 emissions reduction targets for FY2031, as well as medium-term environmental action targets, of which progress is monitored to assure its achievement. Also, we calculate GHG emissions annually in group activities across the value chain, and use that information to promote efforts to reduce those emissions.
(International and domestic standards)
・ISO14001
・GHG Protocol
・Act on the Rational Use of Energy
・Act on Promotion of Global Warming Countermeasures
(In-house policy and standards)
・Daigas Group Code of Business Conduct
・Daigas Group Environmental Policy
・Rules for Environment Management Systems
Responsibilities
The Daigas Group uses indicators and targets to help reduce GHG emissions in each business domain. The performances as well as actions for such indicators and targets are supervised by the Environment Subcommittee, ESG Committee, and ESG Council (Executive Board). The PDCA (plan-do-check-act) cycle is used to manage such actions.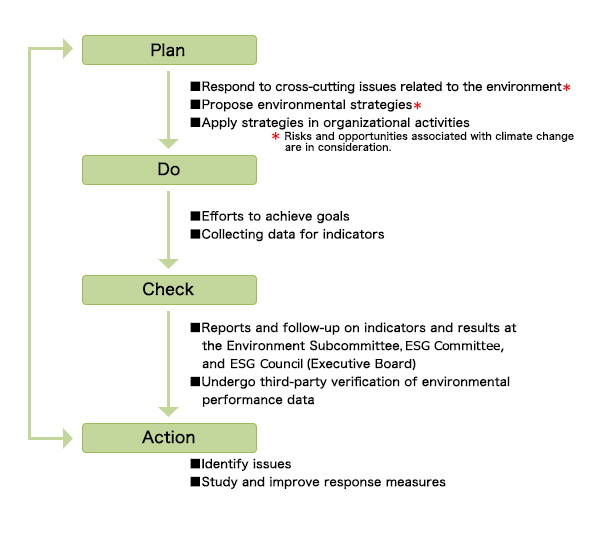 Performance
Several new initiatives have been taken from FY2018 to FY2021. The initiatives in Japan include: cryogenic power generation at our LNG terminals, the introduction of renewable energy sources in Japan and high-efficiency thermal power generation in both Japan and abroad, the introduction of fuel cells and gas-powered air conditioning and high-efficiency hot-water heaters at customer sites, and conversion to the use of natural gas as a fuel in both Japan and abroad. These efforts have resulted in a total reduction in CO2 emissions of approximately 5.6 million tons.
Specific actions taken regarding materiality