Local Communities (FY2021 Report)
Management Approach
Why the topic is material
The Daigas Group conducts businesses rooted in the local communities and is supported by them. Therefore, we believe various kinds of contribution to the local communities will lead to a favorable cycle that brings the development in both the Group and the society.
Boundary
Management systems and performance
Indicator (GRI Standards: 413-1)
Percentage of operations with implemented local community engagement, impact assessments and development programs
Commitment
Based on the "Daigas Group Code of Business Conduct", we care about the issues faced by society and strive to contribute to the local community recognizing what we are expected to act as a member of the society.
(International and domestic standards)
(In-house policy and standards)
・Daigas Group Code of Business Conduct
Responsibilities
Under the umbrella of the ESG Committee, the Social Contribution Subcommittee deliberates and reports on cross-sectional social contribution activities within the Daigas Group. The Subcommittee met three times in FY2021.
Organizations in charge of promoting co-creation with local communities formulate wide-area activity plans, while each business site implements various initiatives, taking advantage of local networks.
■ Social Contribution Promotion structure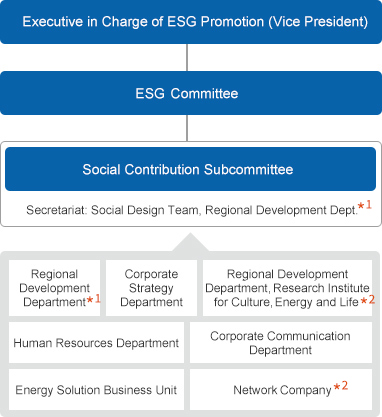 *

Organizational system as of FY2021.3.

*1

Effective April 2021, the Secretariat of Social Contribution Subcommittee was changed to the Administration Team of the General Affairs Department, and the Regional Development Department, an affiliated organization of the Subcommittee, to the General Affairs Department.

*2

Effective April 2022, Osaka Gas Network Co., Ltd. was incorporated as a result of the legal separation of Network Company, the former pipeline business unit of Osaka Gas.
Performance
In FY2021, all major business offices undertook activities tailored to local stakeholders' characteristics. We promoted communication-enhancement activities to deepen the public's understanding of business projects run by the Daigas Group. In addition, we filed proposals aimed at building resilient cities and communities while developing programs for making regional communities attractive by adding new value.
Specific actions taken regarding materiality
The Daigas Group strives to help develop a sustainable regional society and create value for society through various forms of communication with society, including the Small Light Campaign, efforts to build vigorous communities, and cooperation with NPOs and other organizations.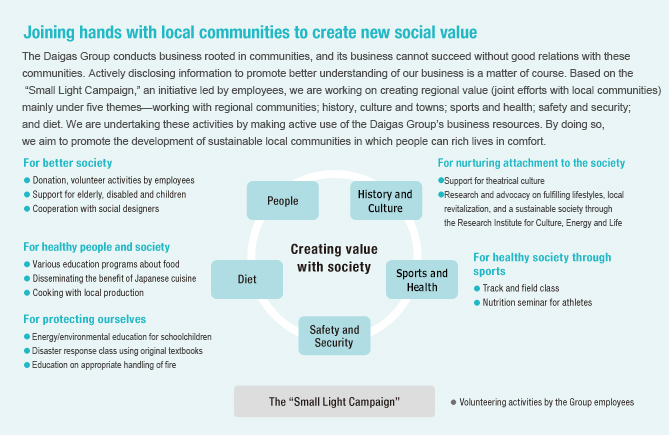 Daigas Group's "Small Light Campaign"
This is the Daigas Group's initiative to conduct corporate volunteer activities in various fields, including assistance for disaster-hit areas and support for people with disabilities. The Group has continuously run the campaign since 1981, the International Year of Disabled Persons.
■ Examples of Volunteer and Donation Activities
Topic
Examples of activities
As a good corporate citizen
"Charity calendar donations"
Donation of funds for disaster relief, donation of goods to local governments
Community bazaar
Midosuji Tohoku Recovery Assistance Bazaar, etc.
Recycling (books, DVDs, clothes, etc. )
Social design forum
Social design workshops
"Osaka Gas Tomoshibi Club"
Charity concert by employee music club
Collection and donation of used stamps/cards
Collection and donation of unused/spoiled postcards
Running race volunteers (Osaka, Kyoto, Kobe, Nara, etc.)
Blood donation, bone marrow bank donor registration
"Hajimaru-kun" program of donated PC / employment support for disabled
Osaka Gas Baseball Club's "Heart Ball Project"
"My Osaka Gas" content: "Social Design+"
Cleaning activities
Together with children
"Tomoshibi Children's Cooking"
Volunteer confectionery making
"Tomoshibi Children's Theater"
"Come together! Piccolo Plaza"
(Theatrical performance workshops for children in child care facilities)
"Preparing Meals with Love"
Osaka Gas alumni activities
Charity collection at Osaka Gas Suzurankai (an association of former Osaka Gas employees)
Suzurankai charity fairs and donation activities at Suzurankai general meetings
Osaka Gas Suzurankai (alumni association)
Cooperation with volunteer activities through a volunteer club
Together with the disabled
Community bazaar held to sell goods made at a sheltered workshop to support the work of people with disabilities.
Cooking class sessions for disabled groups
Employee volunteer club
"Tablecloth" sign language club
Education of Youth
For the education of young people, who are to play key roles in the next generation, we are undertaking activities aimed at promoting energy and environmental education, food education, and fire education and disaster response education.
Our energy and environmental education programs started in 2006, followed by other educational programs—food education, and fire education and disaster response education. To promote food education, we have compiled a "Food Education Book" and distributed copies to elementary schools. In FY2018, we started a new seminar promoting soup stock for Japanese food, enabling participants to taste such soup stock. Our fire education seminar provided an opportunity for participants to experience fire building to familiarize them with "fire," and to help them learn about "fire."
In our disaster response education that started in 2014, we have compiled an original anti-disaster booklet developed as education material, titled "Thinking about disaster response class," and distributed its copies to local elementary schools and other facilities.
Contribution to developing and building stable, high-quality and resilient cities and communities
The Daigas Group has been collaborating with municipal governments in building resilient cities and communities while taking advantage of the Group's strong points. Specifically, we have disseminated information regarding energy policies and disaster-prevention plans formulated by municipalities while putting forward our own proposals on these issues.
Publicize the attractive points of regional culture and history, and contribute to revitalizing regions
We utilize the Daigas Group's resources to boost the cultural and historical appeal of the Kansai region, and we cooperate with local governments, communities and organizations to revitalize the region.