Osaka Gas Singapore Pte. Ltd.(OGS), a wholly owned subsidiary of Osaka Gas, was established in March 2013 to manage and operate gas and energy service businesses in South East Asia.
Full-scale operation began when it acquired a 49% stake in City-OG Gas Energy Services Pte. Ltd., a joint venture with City Energy Pte Ltd.
It also established Osaka Gas (Thailand) Co., Ltd. in October 2013 to provide energy services to industrial customers in Thailand. The company's energy solutions incorporate Osaka Gas' extensive engineering technologies for natural gas.
Going forward, Osaka Gas Singapore will leverage the diverse expertise of Osaka Gas to capitalize on new business opportunities in South East Asia.
Structure of Osaka Gas Group in Southeast Asia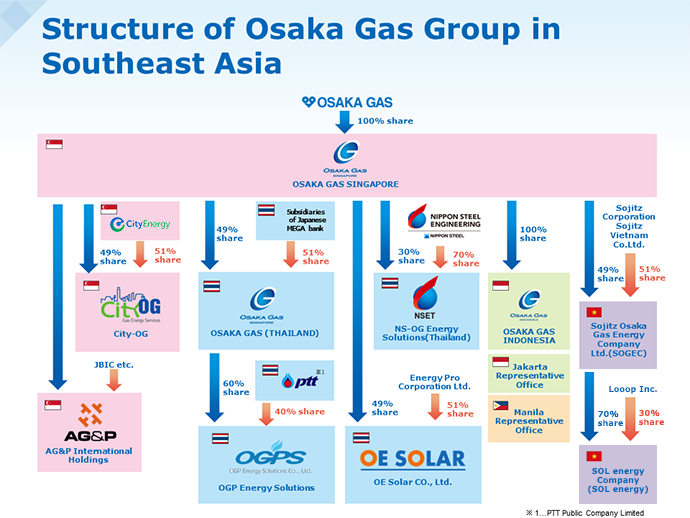 Gas business in Singapore
Osaka Gas and Singapore's City Energy Pte Ltd agreed to launch joint sales of natural gas in Singapore. Osaka Gas concluded a contract to buy an equity stake in City-OG Gas Energy Services(City-OG), a new company set up by City Energy to sell natural gas for industrial use. Under the agreement, Osaka Gas began selling gas in Singapore in August 2013, marking the company's first overseas gas sales.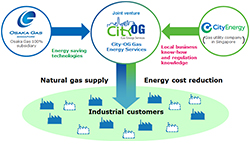 A total of ten staff—five from Osaka Gas Singapore (OGS) and five from City Energy—belong to City-OG as of June 2022. OGS members are strong in proposal-oriented marketing, especially in conversion of boiler fuels, while City Energy members have prowess in approaching potential local customers and in local business procedures. Since the business in Singapore started in August 2013, more than 40 contracts have been concluded with local customers. A total of more than 50 industrial customers receive gas from us as of June 2022.
Affiliated Company & Representative Office
Company details
contact information

City-OG Gas Energy Services Pte. Ltd.

26 Senoko Avenue Singapore 758312

Phone+65-6578-7765/7766

FAX+65-6578-7768

NS-OG Energy Solutions (Thailand) Ltd.

909 Ample Tower, 20th floor, Debaratna Road, North Bangna,
Bangna, Bangkok 10260 Thailand

Phone+66-2744-1880

FAX+66-2744-1330

Sojitz Osaka Gas Energy Company

Level 6, CJ Building, 2 Bis 4-6 Le Thanh Ton, Ben Nghe Ward, District 1,HCMC, Vietnam

Phone+84-283-9390194

OE Solar Co., Ltd.

4th Floor, Shell HO 2, The Shell Company of Thailand Limited,10 Soonthorn Kosa Road, Khlong Toei, Bangkok 10110

Phone+66-2-249-0524

FAX+66-2-249-0526

Jakarta Representative Office

Gedung Summitmas I, lantai 9
Jl. Jend. Sudirman Kav 61-62
Kelurahan Senayan, Kecamatan Kebayoran Baru Jakarta Selatan, 12190, Indonesia

Phone+62-21-2526833

FAX+62-21-2526834

Manila Representative Office

26F Twenty Four Seven Mckinley Building, 24th street corner 7th avenue, Bonifacio Global City, Taguig City, Philippines 1630

Phone+63-2-864-4187

FAX+63-2-864-4101